Actions and Detail Panel
PERFECTSaturdays - Hosted by Hasan of Facetstudio
Sat, Apr 16, 2016, 10:00 PM – Sun, Apr 17, 2016, 1:30 AM PDT
Description
---
21+ EVENT
---
Perfect Gentlemen SF & Facetstudio & Balancoire Nightclub Present:
PERFECTSaturdays
PHOTOSHOOT - Model Search for Facetstudio
Enter the contest to WIN a FREE Facet Studio Photoshoot!
PLEASE CAREFULLY READ THE RULES BELOW:
1) Email your pictures along with your model name to perfectsaturdayssf@gmail.com

2) You will have a custom flyer made, share it throughout the week, invite your fans and tag @PERFECTSaturdays.
3) You must arrive by MIDNIGHT to win Photoshoot.
4) FREE VIP ENTRY w/ Wristband for you + 1 ONCE YOU HAVE BEEN ENTERED IN THE CONTEST.
20 LADIES will be chosen to Enter. ONE WILL WIN! SERIOUS ENTRIES ONLY PLEASE.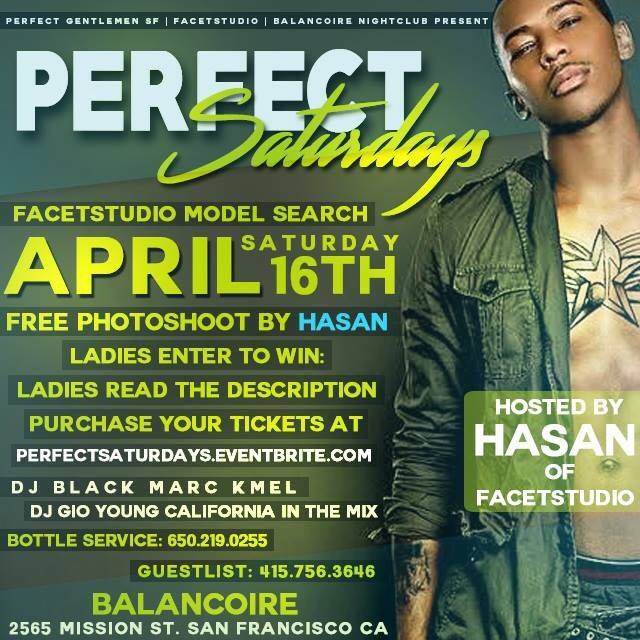 HOSTED BY HASAN of Facetstudio
PERFECTSaturdays is known to be the biggest weekly HIPHOP / TOP 40 / RNB / OLD SCHOOL Party in San Francisco. THIS WILL BE THE BIGGEST PERFECTSaturdays YET! Please get your tickets ASAP as the prices are subjected to change fast!
---
EARLY ARRIVAL SUGGESTED EVEN IF YOU HAVE A PRESALE TICKET!
Saturday April 16th. 2016
Music By:
DJ Black Marc of 106.1 KMEL | DJ Gio of Young California
Playing the best of Hip Hop. Top 40. R&B. Reggae. Dance Hall. Trap. EDM.
Hosted By:
Priceless Da Roc (TPE) | GB Gwap | Tenley Johnson | DS Events | Sonniemae Ent.
DRESS CODE BELOW WILL BE STRICTLY ENFORCED
No Baggy Jeans. No Jordans. No PLAIN Tees.
SECURITY WILL BE IN FULL-EFFECT
BOTTLE SERVICE:
Please contact 650.219.0255 // perfectsaturdayssf@gmail.com
---
ABSOLUTELY NO REFUNDS!!!!!
---