Description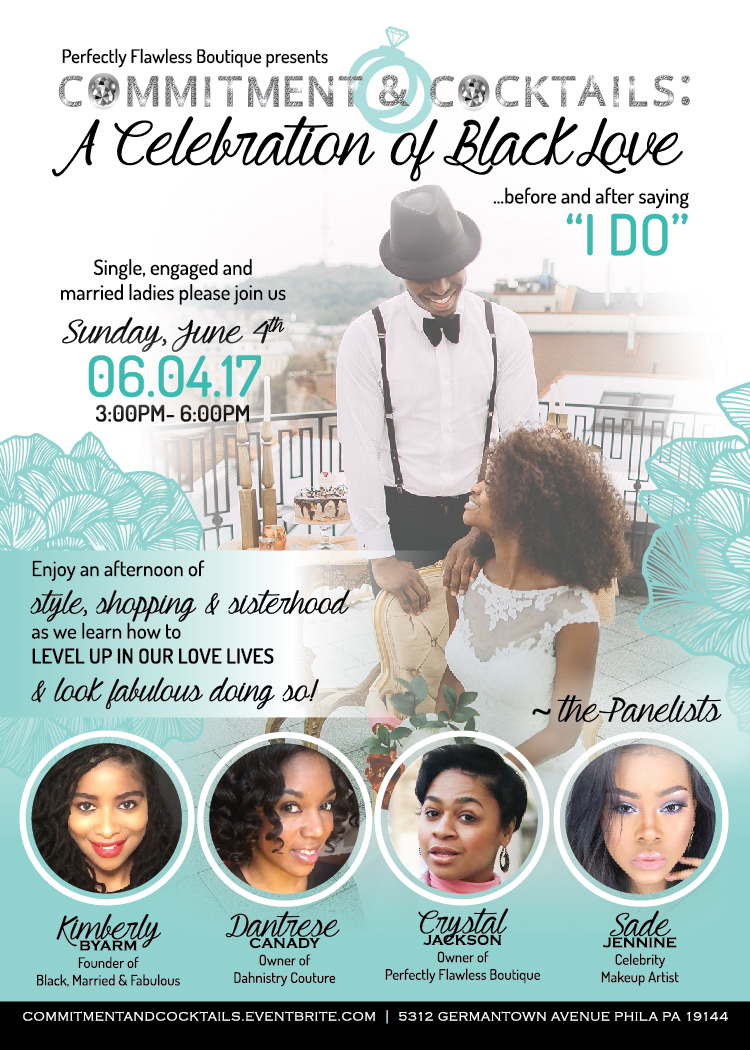 Perfectly Flawless Boutique presents Commitment & Cocktails, an event of love, empowerment, reflection, and change. Enjoy our panel discussion, fashion tips, refreshments, giveaways, and so much more!
We would love for you to come out and celebrate love and life before and after saying "I do."
Join us for a panel discussion on the value of Black love and the advantages and challenges of married & single life with the founder of Black, Married & Fabulous, Kimberly Byarm. Come prepared with your thoughts, and questions, as we would love to hear from you!
We've put together a great team to share their skills and insight with you all! Bridal designer, Dantrese Canady of Dahnistry Couture will be sharing some of her amazing designs and keeping us in the know of how great the custom route for wedding gowns can be.
Celebrity Makeup Artist, Sade Jennine will be sharing wedding makeup do's and don'ts, because every woman getting married needs an artist who understands how to create a flawless, long-lasting makeup application that will make her look her best on the most important day of her life.
Crystal Jackson, owner of Perfectly Flawless Boutique, will be sharing her tips on how to stay fashionable, before and after saying "I do."
Attendees will have the opportunity to shop, mingle, and sip between each presentation.
Come and enjoy a fun filled afternoon celebrating the beauty of Black love while mingling and enjoying the company of fellow boss babes!
We look forward to sharing this special afternoon with you all!