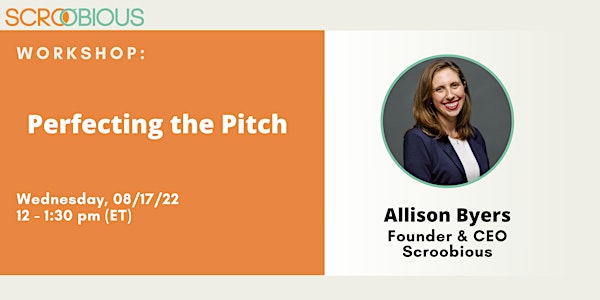 Perfecting the Pitch
Perfecting the Pitch
About this event
Building a clear and compelling pitch deck is crucial at any stage of the fundraising process. This isn't about making a pretty deck. It's about structuring your narrative and communicating the most important aspects of your business in a way that makes sense to investors. Come learn strategies for how to structure your pitch from Allison Byers, Founder & CEO at Scroobious, who has raised nearly $10 million for her startups. You'll learn a framework for structuring your narrative that has been vetted by investors and tangible advice for what information to include in each section ofyour pitch.
We have run this workshop for dozens of organizations including multiple Harvard and MIT programs, Zane Venture Fund, Lighthouse Labs,Babson, ParentPreneur Foundation, Vouch Insurance, Startups for All, The Capital Network, Majira Project, and more.
About Scroobious
Scroobious increases diversity in the startup ecosystem with a virtual platform that mobilizes founders to be more investable and helps investors discover them through hyper-curation. With our Pitch it Plan™ (PiP), entrepreneurs access online education, community, and personalized feedback from a human who understands their journey to create investor-compelling material in an approachable and affordable way.