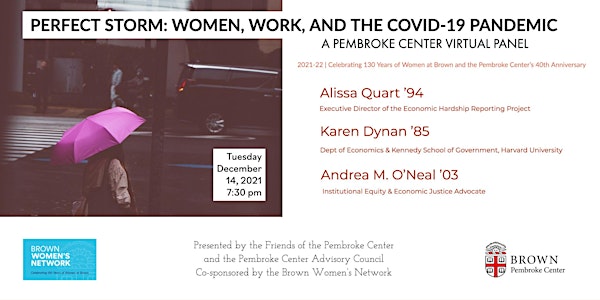 Perfect Storm: Women, Work, and the COVID-19 Pandemic
A Pembroke Center Virtual Panel
About this event
The COVID-19 pandemic has magnified the inequalities that women experience daily, driving millions out of the labor market due to pandemic-related predicaments like school closures, lack of child care, and layoffs, with women of color and low-income workers hit especially hard. What have the fault lines that COVID laid bare revealed about women, labor, class and justice? How can our society move toward solutions to the longstanding inequities that put women so at risk, and what can be done today, to improve conditions for tomorrow? Join us for a conversation about women, work, and the pandemic.
Presented by the Friends of the Pembroke Center and the Pembroke Center Advisory Council and Co-sponsored by the Brown Women's Network
Moderator:
Alissa Quart '94 | Executive Director of the Economic Hardship Reporting Project, Author, and Journalist
Panelists:
Karen Dynan '85 | Professor of the Practice, Department of Economics and Kennedy School of Government, Harvard University
Andrea M. O'Neal '03 | Institutional Equity & Economic Justice Advocate
Due to unforeseen circumstances, gender policy expert Jennifer Klein '87, P'22 will be unable to join us on December 14.
______________________________________________________________________________________________________
The 2021-22 academic year marks the 40th anniversary of the Pembroke Center, which was founded a decade after Pembroke College, the coordinate women's college of Brown, merged fully with the men's college. As the greater Brown community marks 130 years of women at Brown, the Pembroke Center is delighted to celebrate its groundbreaking research on women and forms of difference, and its teaching, curatorial, and community-building missions.
For more information on the Pembroke Center for Teaching and Research on Women, please visit our website, or email Pembroke_Center@brown.edu.
CC is available for this event. To request assistance for this event, please contact the University Event & Conference Services Office at universityevents@brown.edu.
Organizer of Perfect Storm: Women, Work, and the COVID-19 Pandemic