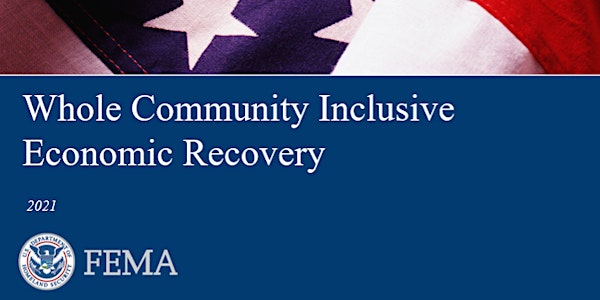 PER-386 FEMA Whole Community Inclusive Economic Recovery
An introduction to economic recovery planning using a whole community approach, enhancing community resiliency and security.
About this event
Purpose The Whole Community Inclusive Economic Recovery course will introduce economic development districts, civic, community, and economic leaders to economic recovery planning using a whole community approach. The course enhances community resiliency and security by enabling economic development districts and community leaders to build inclusive collaborations with diverse populations resulting in coordinated and implementable economic recovery planning and response.
Prerequisites There are no required prerequisites. Participants will be expected to have a basic understanding of the principles of emergency management, as well as recovery planning and community economic structure and demographics. Is therefore recommended, the attendees have ICS 100, 700 and 800.
Participants will need a computer with audio and internet access. Computer camera is recommended for maximum learning but not required.
Course Length Virtual course delivery uses the Zoom platform and has a duration of 4.5 participant hours. Trainers and support staff are available 30 minutes prior and 30 minutes post delivery for 'as needed' assistance.
Testing/Certification Course attendees will participate in a pre and post course evaluation and receive a certificate.
Registration Please fill out the information as completely as possible. This information is for our internal use and will only be shared with your local State Administrative Agency for the purposes of maximizing your experience at this event, and recording your attendance for your FEMA transcript.
After Confirmed Registration
Prior to the course you will receive a reminder email to include the link to the pre-test. This will take 15-20 minutes of your time and must be completed prior to the course start date.
48 hours prior to the course you will receive your zoom login link and participant guide. (check your SPAM and JUNK folders)
If you have any trouble with registration or with Zoom Link, please email FEMA_PER386@bcfs.net
If you have a group of 10 or more and would like to schedule a training please contact us at FEMA_PER386@bcfs.net to request a date.
MORE DATES COMING SOON!