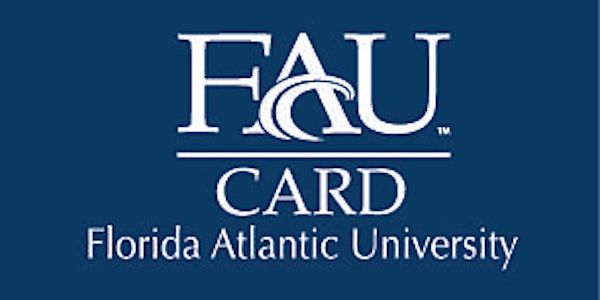 PEPSA: Strategies for Supporting Instruction & Teaching Young & Elementary
This is a pre-recorded event. Once registered, you will receive an email to view the presentation and download the slides.
About this event
Strategies for Supporting Instruction & Teaching Young & Elementary Age Children through Play
Hosted by: FAU CARD
Creating intentional play opportunities for children with autism during the school routine can equip children with the language, social skills, motor, and executive functioning skills required for school success and success in life. This presentation will include how to (1) efficiently assess a child's developmental level of play, (2) teach component skills of play, (3) set up routine and classroom environment to create play opportunities (4) use play to increase a child's motivation and decrease problem behaviors.
Training Objectives
• Explain the developmental sequence of play skills and why this information about a child is important to know
• Identify traits of autism that can attribute to delayed play skill development
• Identify activities to address factors related to delayed play skills
• Describe how play can increase a child's language development, social communication skills, and executive functioning skills
• Identify moments during the school day to take advantage of the benefits of play
• Describe arrangement of environment and activities to encourage peer interaction during play
• Describe how intentionally promoting play can decrease problem behaviors
About the Presenter
Melissa K. Burkhardt, M.S. Ed., BCBA, the founder of Early Start Autism, a private applied behavior analysis therapy practice focused on early intervention for young children with autism, a Board Certified Behavior Analyst (BCBA), a certified Early Start Denver Model (ESDM) therapist, and an ESDM Parent Coach. She has over 28 years of experience working hands-on with young children with autism, behavioral challenges, and with their families. Melissa taught ESE Pre-K for 20 years in the public school system and helped to pioneer a fully inclusive Pre-K in her school district. She has partnered with a non-profit organization to offer an ESDM Parent Coaching scholarship to teach lower-income families how to become their child's best therapist by utilizing natural daily interactions, play, and routines to promote their child's development.
She coaches teachers on utilizing evidence-based strategies in their classroom routines to increase a student's ability to learn and participate. She serves on community boards for special needs and presents workshops at conferences and online for the academic and private sectors. Melissa was selected 2019 Service Provider of the Year-Community Inclusion Awards of Palm Beach County and is the national award-winning author of Autism Society's "2015 Dr. Temple Grandin Outstanding Literary Work of the Year," Exceptionally Good Friends: Building Relationships with Autism. Melissa is particularly passionate about the importance of early detection, developmental-behavioral intervention, and the role of parents and teachers as powerful outcome-changers for children.