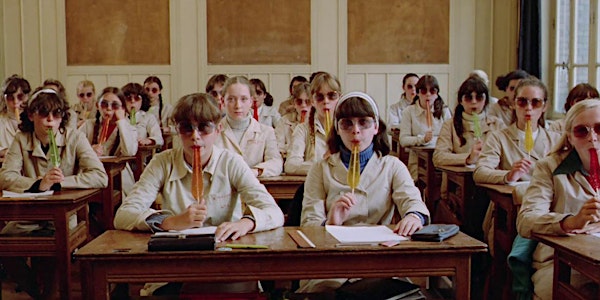 Peppermint Soda — Free French Film Screening
Join us for the opening of a special film series curated by director Wes Anderson featuring some of his favorite French films.
About this event
Free French Film Screening
Peppermint Soda
Diabolo Menthe
Dir. Diane Kurys, 1977, France. 101 min. Color DCP
With Éléonore Klarwein, Odile Michel, Anouk Ferjac
In French with English subtitles
In Person: Tuesday, September 14 at 4 & 7:30pm
FIAF Florence Gould Hall
Online: Tuesday, September 14–Monday, September 20
Eventive
French cinema has always been part of Wes Anderson's artistic heritage and the acclaimed auteur has picked some of his favorite French films for FIAF's September–October CinéSalon series, Wes Anderson's French Connection.
The series opens with a free screening of Peppermint Soda. This quintessential coming-of-age film captures a year in the life of two adolescent sisters at an all-girls school in France in 1963. Together, they experience a rapid-fire onslaught of firsts during a time of political protest and social change.
With Cliff Richard singing in the background, summer romances, best friends, big sisters, leather loafers, divorced moms, and back-to-school jitters are all par for the course in this timeless and poignant portrait of adolescence.
Shot in 1977, this autobiographical film was Diane Kurys's directorial debut—and instantly became a classic.
"The movie is handsomely crafted yet also sweet and buoyant in its innocence." — The New York Times
"Kurys showed a remarkable assurance visually and rhythmically when mixing the serious with the playful." — Los Angeles Times
Part of FIAF's CinéSalon series Wes Anderson's French Connection (September 14–October 26)
Part of FIAF's Fête de la Rentrée: A Fall Open House Celebration (September 13–15).
Please Note: Proof of Covid-19 vaccination required for indoor events. Face mask or covering required for everyone over the age of two. Read more at fiaf.org/safety