Sales Have Ended
Ticket sales have ended
Registration has ended. Seminar 2015 Information should be on our website in January 2015. www.PeoriaCameraClub.com
Sales Have Ended
Ticket sales have ended
Registration has ended. Seminar 2015 Information should be on our website in January 2015. www.PeoriaCameraClub.com
Description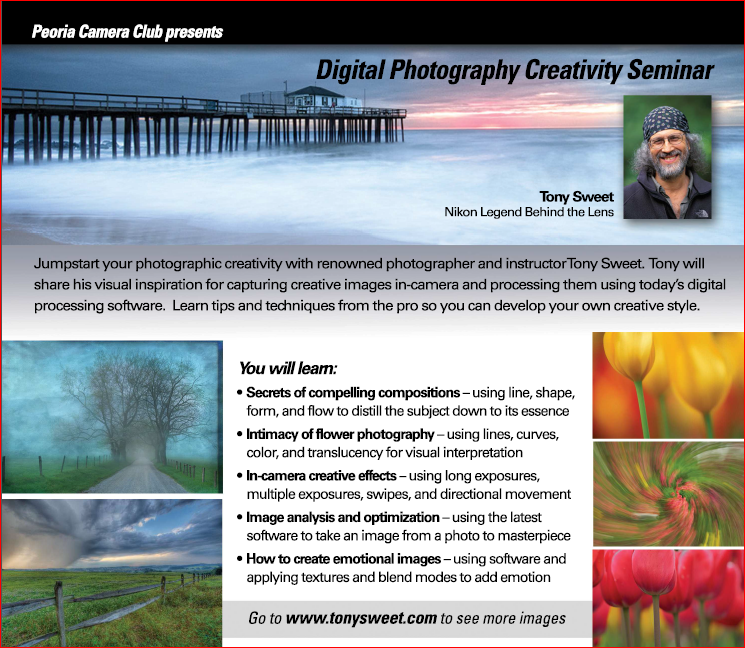 Digital Photography Creativity Seminar with Tony Sweet
Join Nikon Legend Behind the Lens, Tony Sweet, for a refreshing, fast paced, information packed ONE DAY Digital Photography and Software Creativity Seminar!
Jumpstart your creativity both in capturing great images and processing them with renowned photographer and instructor Tony Sweet. During this fast-paced, information-rich day of creativity, Tony shares his visual inspiration with you, along with valuable tips, techniques and knowledge you can quickly incorporate into your own creative style. Learn to create more compelling and precise compositions, get more out of your camera and software, use techniques such as texture blends, motion blurs, close-up flower photography and more. Don't miss this opportunity to take your photography further.
Date: March 22, 2014
Time: 8:45am to 4:45pm, Doors open at 8am
Lunch included

Program Topics
8:00 – 8:45 Check in
8:45 – 9:00 Welcome and opening presentation
9 :00– 10:00 Compelling Composition
Line, shape, form, and flow are only a few of the components which work together to create compelling composition. In this presentation, many compositional techniques are illustrated and discussed, the point being to help you to think in terms of distilling the subject down to it's essence.
10:25 – 11:30 Flower Photography
Spring is right around the corner. Flowers are a favorite subject with photographers, and visual artists in general. Soft lines, curves, color, and translucency lend flowers to infinite interpretations. Along with many image illustrations, equipment, lenses, and set ups are illustrated.
11:30– 12:00 Special In-camera creative effects
Although, software is one of the great driving forces in modern digital photography, there are many creative effects that can be accomplished in-camera, depending on the camera's capabilities. Techniques such as multiple exposures, swipes, directional movement, and extreme long exposures will be illustrated.
12:00 – 12:45 Lunch Break
12:50 – 2:20 Image analysis and adjustments
Images will be taken from the original, non-optimized raw file to a finished image using today's software (plugins and Photoshop) and workflow processing techniques. (Techniques can be modified for use in Lightroom or Aperture). Each image will be discussed in terms of overcoming issues and determining what's needed to enhance them.
3:15 – 4:15 Adding emotion with Texture Blends
Texture blending will be illustrated, taking images shot with texture blends in mind and discussing the texture selection process, then illustrating the texturing process.
4:15 – 4:45 Final presentation wrap up and Q&A
Organizer of Peoria Camera Club 2014 Seminar with Tony Sweet
The Peoria Camera Club (PCC) was created in Peoria, Illinois in 1954 for the exchange of ideas and information relating to the art, techniques, skills and vision of people who share an interest in photography.
The mission of PCC is to help anyone with a desire to develop their photographic skills through encouragement, mutual help, and learning opportunities.
Our monthly newsletter, PhotoChatter, includes information about future meetings, workshops, seminars, awards, and competitions.
Club meetings feature advanced amateur and professional photographers who speak on a variety of photographic topics. Topics include image capture, digital processing, and competitions within the club (usually with critiques) and competitions with other clubs and organizations. Club social events include banquets, picnics, and outings.
Photo outings, workshops (still life, studio lighting, or computer processing), and our annual seminar provide more learning opportunities and time to socialize.
For more information about the club, visit the Peoria Camera Club website.
Peoria Camera Club has been presenting quality seminars since 1976.