People's Tribunal On Evictions
About this event
In NYC, landlords try to legally and forcibly evict hundreds of thousands of people every year. It's time we put them on trial for the eviction crisis in NYC!
Join tenants from across the city as they hold a mock trial to testify against the landlords, the city, and the courts for the housing injustices they face. The Tribunal is inspired by the Housing Crimes Trial in the 1970's and stands in solidarity with tenants who mobilize for World Zero Evictions Month around the globe.
Many of the landlords who will be put on trial are on the Right to Counsel NYC' Coalition's recently released Worst Evictors List for evicting the most tenants across NYC in 2018. Tenants will make their cases against their landlords to a mock jury, whose members include notable housing experts. Following the testimonies, the jury will deliberate and issue indictments.
The jury members are:
David Harvey, Professor of Anthropology and Geography at the CUNY Graduate Center
Ejim Dike, Leading Human Rights Advocate
Iris Morales, Lifelong Activist and Former Young Lord
Rev. Juan Carlos Ruiz de Dios, Lutheran Pastor and Community Organizer
At the Tribunal, the Right to Counsel NYC' Coalition will also release a list of city and state demands to put an end to the eviction crisis as well as launch an Eviction Defense Network to combat evictions using civil disobedience.
The main tribunal events will take place from 5pm-9pm. There will also be a tenants' rights info fair beginning at 3pm.
Schedule for the Tribunal:
3pm-5pm: Tenant Info, Resource Fair, and Legal Clinic*
5pm-6:15pm: Welcome, Presentation of Demands, Launch of the Eviction Defense Network
6:15pm-7pm: Prepared Testimony—Tenants who live in buildings owned by the Worst Evictors will testify against their landlords.
7pm-8:30pm: Open Testimony—Any tenants present can give testimony about their landlords.
8:30pm-9pm: Jury Issues Indictments, Call to Action, and Closing
*The legal clinic will run all night.
Refreshments will be provided.
English/Spanish interpretation available. Other languages upon request.
Wheelchair accessible.
Email info@righttocounselnyc.org with any questions.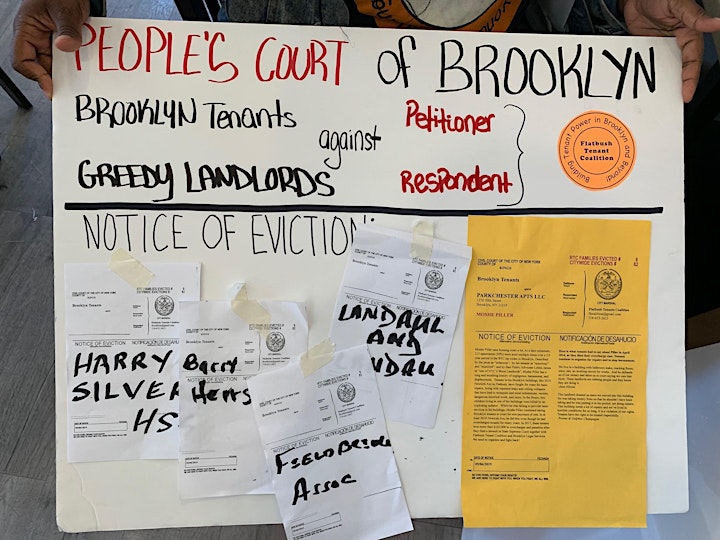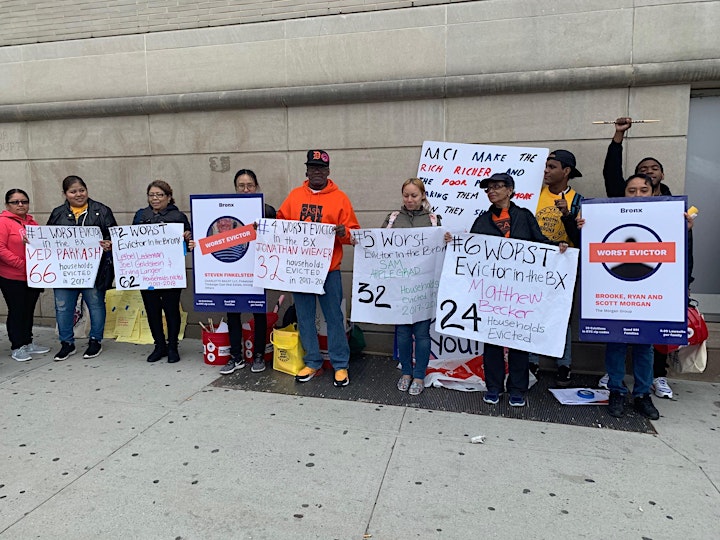 Organizer of People's Tribunal on Evictions
The Right to Counsel NYC Coalition is made up of tenant organizing groups, tenant advocates, homeless advocates, senior advocates, disability advocates, academics, legal services organizations and more!  We led the campaign that resulted in the passage of Local Law 136, which ensures that low-income tenants are represented in eviction cases by attorneys when they defend their rights and their homes.  The Coalition is actively organizing and advocating while this law is being phased in.