Description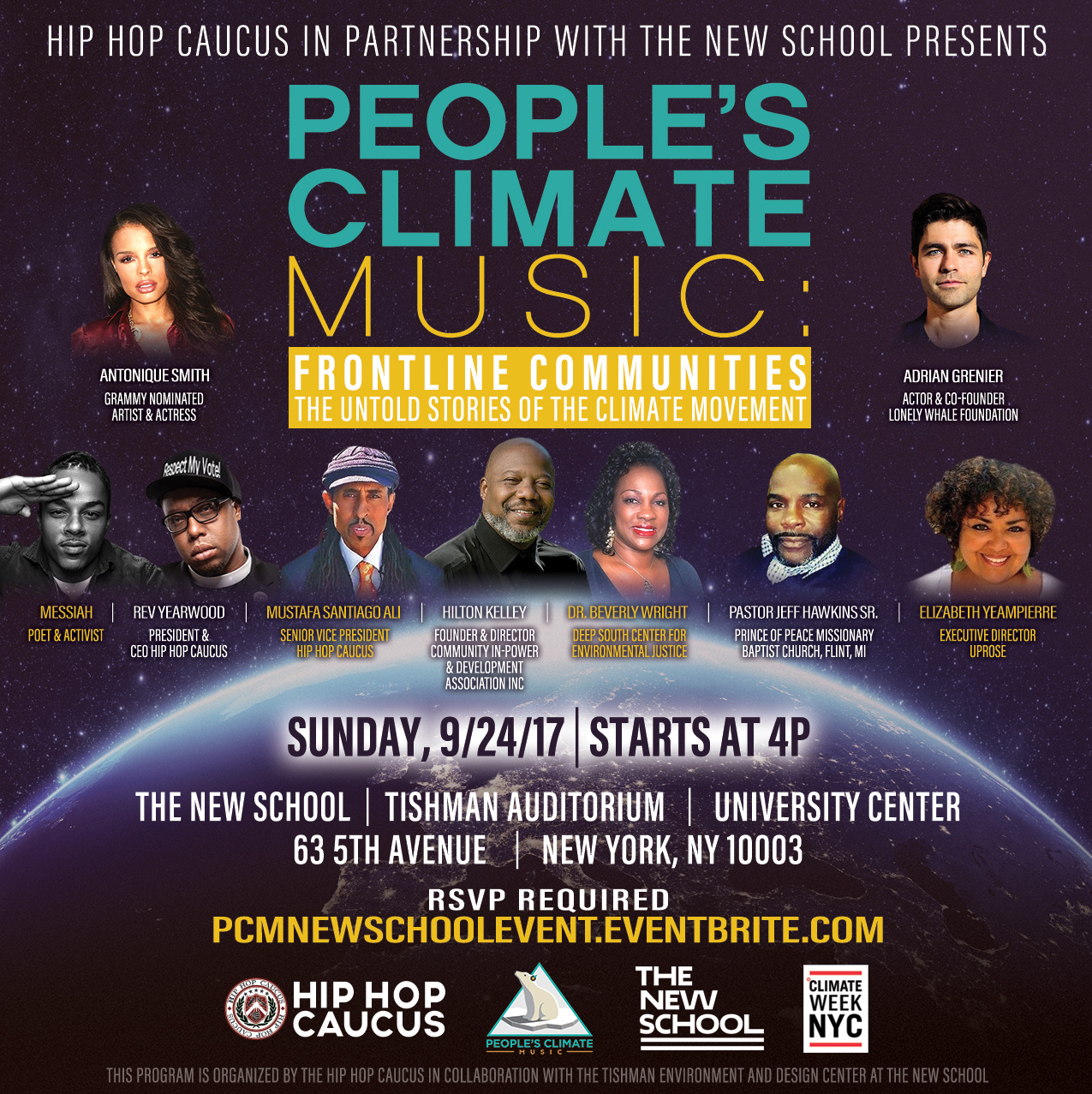 There is no doubt that as 2017's historic disasters continue to devastate communities across the world, the need to solve climate change is plain to see and more urgent than ever.

Our communities on the frontlines of climate change are not waiting to act. The only way we can win is if we create an unstoppable movement that represents and empowers everyone. At this official Climate Week NYC 2017 event we are using the power of stories and culture to connect the dots to grow the climate movement to be even more powerful and big enough to win.
Live performances from world-class artists and compelling conversations with community and cultural leaders will reveal what it's like to fight for survival on the frontlines, what climate solutions we have now, and how you can use your power to make positive change.
SPECIAL PERFORMANCES
Powerful live performances from...
· Antonique Smith, Grammy Nominated Singer & Film, TV, and Broadway Actress
· Messiah, Award-winning Poet & Activist
FEATURED SPEAKERS
Adrian Grenier, Actor & Co-Founder, Lonely Whale Foundation

Hilton Kelley, Founder & Director, Community In-Power & Development Association - Port Arthur, Texas

Pastor Jeff Hawkins Sr., Prince of Peace Missionary Baptist Church - Flint, MI

Dr. Beverly Wright, Deep South Center For Environmental Justice - New Orleans, Louisiana

Elizabeth Yeampierre, Executive Director, UPROSE – New York, New York

Autumn Rose Williams, Miss Native American USA 2017-18 - Shinnecock Nation, Long Island, New York

Lisa Jackson, Former EPA Administrator / Vice President Environment, Policy and Social Initiatives at Apple [remote]

Bill McKibben, Co-Founder, 350.org [remote]

Rev Lennox Yearwood Jr., President & CEO at Hip Hop Caucus

Mustafa Santiago Ali, Senior Vice President of Climate, Environment Justice, & Community Revitalization at Hip Hop Caucus
**Space is limited. RSVP does not guarantee entry**
PARTNERS
Hip Hop Caucus, People's Climate Music, The New School, Climate Week NYC 2017, Lonely Whale Foundation, 350.org, People's Climate Movement, EarthJustice, WEACT for Environmental Justice, The Solutions Project, The New Republic, Friends of the Earth, UPROSE, Sandy 5-Year Anniversary Coalition, League of Conservation Voters - Rock the Earth, Divest-Invest Network