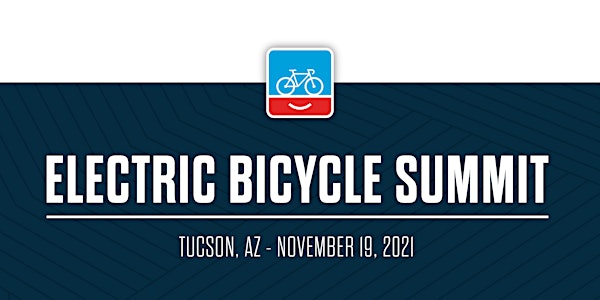 PeopleForBikes Electric Bicycle Summit
PeopleForBikes Electric Bicycle Summit
When and where
Location
Graduate Tucson 930 East 2nd Street Tucson, AZ 85719
Refund Policy
Contact the organizer to request a refund.
Eventbrite's fee is nonrefundable.
About this event
PeopleForBikes is proud to invite you to our upcoming Electric Bicycle Summit – a gathering for all those interested in the future of electric bicycles. Industry leaders, land managers, trail and bike advocates are all warmly invited to attend. Tapping into our collective knowledge is critical and we look forward to a full house!
Friday, November 19, 2021
9:00 a.m. - 4:00 p.m. MST
Graduate Tucson (930 E 2nd St. Tucson, AZ 85719)
Snacks and lunch will be provided
Electric bicycle demo will be held before the Summit from 7:30 - 9:00 a.m. MST. Attendees can either demo the bikes in the vicinity of the Graduate Hotel or join us for a 45 min road ride starting at 8 a.m. MST. The route for this ride can be found here.
Happy hour at 5 p.m. MST on Thursday, November 18, 2021 at Gentle Ben's Brewing (865 E University Blvd, Tucson, AZ 85719)
If you are a land manager or advocate and would like to receive a discounted entry, please contact Ash Lovell, PeopleForBikes Electric Bicycle Policy and Campaign Director at ash@peopleforbikes.org.
Hotels: We have secured a room block at the Aloft Tucson University hotel right down the street from the Graduate Hotel (where the Summit will take place) for $159 per night. Attendees can ride a trolley car from the Aloft right to the front steps of the Graduate Hotel or there is a free shuttle. We have reserved a few rooms for Wednesday and Saturday nights as we know some attendees are planning to arrive early and leave after El Tour de Tucson. You can use this link to access PeopleForBikes' room block at the Aloft Tucson University hotel. The room block expires on October 29th - so please make sure to book before then!
COVID Protocols: The health and safety of our attendees is our top priority. Please review our COVID protocols here, including these important reminders:
Masks: The Graduate Hotel does not have a mask mandate in place for their facility. However, PeopleForBikes has limited the event's attendee size to allow for appropriate social distancing. Additionally, this venue has ample access to appropriate ventilation through windows facing an outdoor veranda. We will also provide disposable masks and hand sanitizer.
Proof of Vaccination/Negative Test: PeopleForBikes is requiring that attendees either provide proof of vaccination status or proof of a negative COVD-test taken within 72 hours of the event. We will be asking for this information at the door.
If you feel sick, please stay home. You can refer to the CDC's COVID-19 Self-Checker reference guide for any questions on symptoms by clicking here. Check your flight and travel arrangements if there are additional restrictions specific to your area.
Agenda:
7:30 - 9:00 a.m. MST: Electric Bicycle Demos (Optional - If you're interested in participating in the demo, please complete this survey. Attendees can either demo the bikes in the vicinity of the Graduate Hotel or join us for a 45 min road ride starting at 8 a.m. MST. )
9:00 - 9:30: Registration, check-in, and networking over coffee
9:30 - 9:45: Welcome and opening remarks (Larry Pizzi, Chief Commercial Officer at Alta Cycling Group, LLC; Ash Lovell, Electric Bicycle Policy and Campaign Director, PeopleForBikes)
9:45 – 10:30: Building on the Boom: Bicycle industry updates
The last few years have seen a significant rise in electric bicycle sales and ridership - some reports show that electric bicycle usage more than tripled from May, 2020 to May 2021. Join us as we unpack what this "boom" in electric bicycle ridership and sales is all about and how federal-level policies, incentive programs, and climate actions are further fueling the spectacular growth in the industry.
Panelists:
Moderator: Chris Cherry, Professor, University of Tennessee
Jennifer Boldry, Applied Innovation Leader, NAXION
Noa Banayan, Federal Policy Director, PeopleForBikes
Claudia Wasko, General Manager, Bosch eBike Systems Americas
John MacArthur, Sustainable Transportation Program Manager, Transportation Research and Education Center (TREC) at Portland State University
10:30 - 11:00: Networking break + snacks
11:00 - 12:00 p.m. MST : More Riders, Better Riding: PeopleForBikes Rider Safety Campaign
Across the country, individuals and families are discovering the joy of bike riding at an unprecedented rate. To sustainably support this growth in ridership, PeopleForBikes is launching an industry-led bicycle safety campaign that encourages responsible riding across all forms of bicycling. We are working with municipalities, retailers, industry members and advocates to roll out our first video as part of this campaign. We want you to share your ideas, challenges and solutions as we work to keep more people riding more bikes more often.
Panelists:
Moderator: Tobie DePauw, Director of Affiliate Accounts, PeopleForBikes
Brad Sommers, Principal Civil Engineer, Public Works at City of Newport Beach, CA
Don DiCostanzo, Chief Executive Officer, Pedego
12:00-1:00: Lunch
1:00 - 2:00: Accelerating Access: Electric Bicycle Advocacy
How can retailers, advocates, and industry members best advocate for electric bicycle access? We are bringing together industry experts, nonprofit leaders, advocates, and retailers.
Panelists:
Moderator: Chip Barbieri, CEO/General Manager at DT Swiss, Inc.
Saul Leiken, USA Category Leader - Turbo, Active and Youth, Specialized Bicycle Components
Dave Wiens, Executive Director, IMBA
Nancy Eckert, E-Bike Coordinator EZBike Project , SBCAG, Traffic Solutions
Matthew Smith, US E-bike Business Manager, Giant
2:00 - 2:30: Networking Break
2:30 - 3:30: Growing the Pie: Innovative uses for electric mountain bikes
Electric mountain bikes are growing in popularity for recreational use, but there are a variety of other ways that eMTBs can be used to help restore and protect our public lands, increase our ability to respond to emergencies, and provide access to those with different abilities.
Panelists:
Moderator: Vernon Huffman, Board Member, California Mountain Biking Coalition
Andy McSorley, Mountain Bike Brand Manager, Shimano North America Holding, Inc.
Ryan Spinks, Director of Brand and Product Development, QuietKat
Susie Murphy, Executive Director, San Diego Mountain Biking Association
3:30- 4:00: Hot Topics Discussion (Larry Pizzi, Chief Commercial Officer at Alta Cycling Group, LLC; Ash Lovell, Electric Bicycle Policy and Campaign Director, PeopleForBikes)
We'll take a few minutes to explore the hot topics proposed by the group throughout the day and offer ideas we want you to take home to help sell more electric bicycles and get more people riding.
4:00: Adjourn