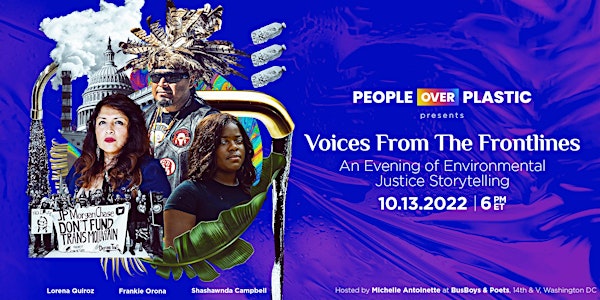 People over Plastic Presents: Our Fall Story Salon at BusBoys and Poets
SAVE THE DATE for an inspiring evening of environmental justice storytelling, poetry, and conversation.
When and where
Location
BusBoys and Poets 2021 14th Street Northwest Washington, D.C., DC 20009
About this event
Join People over Plastic (PoP) on October 13th at DC's iconic Busboys and Poets - 14th & V to hear the unfiltered voices of powerful environmental justice champions from around the country.
With 99% of plastic coming from fossil fuels today, PoP believes conversations about the climate crisis AND the plastic crisis must center on people of color and indigenous voices who are most impacted by it.
The salon-style conversation will be moderated by artist and innovator Michelle Antoinette Nelson, a seasoned entertainer and the founder of Brown and Healthy - a global initiative focused on community engagement and wellness curation led by people of color.
So grab a seat and join the conversation!
STORIES BY
Frankie Orona is a dedicated Indigenous leader advocating for the preservation of native culture, spirituality, teachings, and way of life. As a leading voice against the petrochemical buildout in the Gulf South, he is vocal against the Biden administration's climate agenda that continues to treat indigenous communities and lands as Sacrifice Zones. Frankie emphasizes the need to end bank financing of extreme fossil fuels as a way to call out the systems that keep communities of color in cycles of harm. He is the Executive Director of the Society of Native Nations.
Shashawnda Campbell was just 15 years old when she co-founded "Free Your Voice," a student-led group that worked for 5 years to shut down the largest incinerator proposal in US history set to be built less than a mile away from her school. A lifelong Baltimore resident, Shashawnda is committed to leading her City through a Zero Waste just transition that respects our lives and our planet. She is the Environmental Justice Coordinator of the South Baltimore Community Land Trust.
Lorena Quiroz is a passionate community organizer working in Jackson, Mississippi where Jacksonians were living under a boil water advisory for a month and a half. The state's capital has been dealing with the crisis since late August, when the Governor declared a state of emergency after there was no running water in the city. Lorena is a 22-year Mississippi resident. Born in Ecuador, by way of New York, she's an organizer and mother of three girls; first generation Afro Latinas born in the beautiful Delta flatlands. She is the founder and Director of the Immigrant Alliance for Justice and Equity.
ABOUT PoP
People over Plastic (PoP) is a BIPOC-led cultural and media collective for multicultural changemakers to hear powerful, intergenerational, and solutions-oriented conversations that center on the intersection between environmental and racial justice.
We believe personal stories that center the voices of the most impacted will always be more accurate and humanized, and therefore, more likely to drive meaningful social change.
Through in-person storytelling salons, digital media projects, and strategic media campaigns — we tell stories to disrupt harmful narratives and to inform movements for justice.
In the meantime, join the conversation on Instagram I Twitter I Linkedin.
BusBoys and Poets COVID-19 protocol:
Proof of COVID-19 vaccination is not required to enter Busboys and Poets.
Note that Busboys and Poets employees are encouraged but not required to be vaccinated against COVID-19.
All guests, older than 2 years old, are required to wear masks when inside of Busboys & Poets, other than when they are eating or drinking. The mask must cover the nose and mouth. We ask guests to respect this mask policy and wear masks during the Story Salon.
Note that due to the nature of the restaurant space, social distancing may not be possible and many guests will be unmasked while eating and drinking.
Your generous donations help allow us to make these events free to the public. Click the link to donate or scan the QR code below!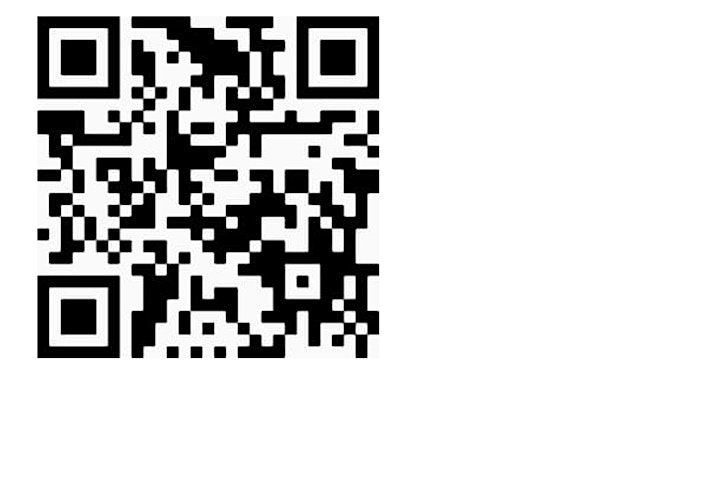 Thank you for your support!