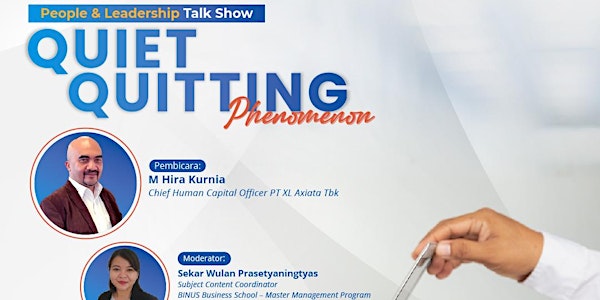 People & Leadership Talk Show "Quiet Quitting Phenomenon"
"Quiet Quitting Phenomenon"
When and where
Location
BINUS BUSINESS SCHOOL - JWC Campus, Auditorium 310, 3rd Floor Jalan Hang Lekir I No. 6 Senayan DKI Jakarta Indonesia
About this event
Salam hangat dari kami BINUS Business School – Master Management Program, program S2 khusus bidang bisnis dari BINUS University satu-satunya kampus swasta yang terakreditasi international AACSB dan terakreditasi unggul BAN-PT.
Belakangan ini istilah quiet quitting banyak dibicarakan dan menjadi tren sendiri yang sedang berkembang di dunia kerja saat. Istilah quiet quitting digunakan oleh para pekerja yang memilih memperbaiki cara kerja mereka agar tidak mengalami overwork hingga berujung burnout.
Apa arti sebenarnya dari fenomena quiet quitting ?
Dikutip dari The Conversation (sumber: suara.com) , quiet quitting merupakan istilah yang digunakan untuk menunjukkan kebiasaan kerja yang sesuai pada jam dan alokasi kerja yang telah diberikan sejak awal. Jelas hal ini seperti berlawanan dengan hustle culture yang membuat pekerja rela lembur atau bekerja di luar tugas utamanya.
Secara nyata, tren ini dianggap dapat membantu seseorang untuk mendapatkan hidup yang lebih seimbang antara pekerjaan dan kehidupan pribadinya (work life balance). Tren ini mengemuka karena efek buruk dari bekerja yang terlalu keras dirasakan banyak orang, dan memicu banyak masalah pribadi dan sosial.
Setelah mengetahui apa makna dari fenomena quiet quitting yang ada, adakah manfaat dan apakah dampak yang timbul dari quiet quitting tersebut?
Untuk membantu Anda lebih dalam mengenal dan memahami fenomena quiet quitting yang sedang menjadi tren saat ini, kami mengundang Anda untuk dapat mengikuti kegiatan:
PEOPLE & LEADERSHIP TALK SHOW
"QUIET QUITTING PHENOMENON"
Hari Jumat, 14 Oktober 2022 | pukul 17.30 – 20.00 WIB
@Ruang 310, BINUS JWC Senayan (Jalan Hang Lekir 1 No.6, Senayan)
bersama: Bapak M Hira Kurnia (Chief Human Capital Officer PT XL Axiata, Tbk.)
&
Ibu Sekar Wulan Prasetyaningtyas (Subject Content Coordinator BINUS Business School – Master Management Program)
Apabila Anda tertarik untuk mengikuti kegiatan tersebut, Anda dapat melakukan registrasi pada link https://bit.ly/bbs14okt22 (registrasi kami tunggu sampai tanggal 11 Oktober 2022).