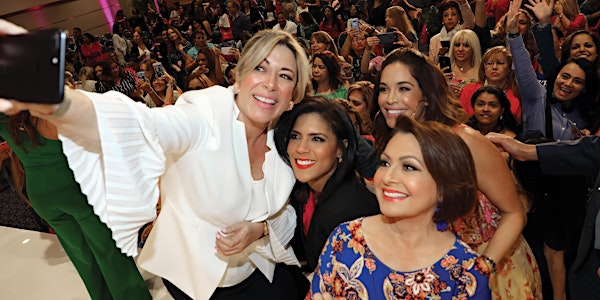 People en Español presenta Poderosas Live!
When and where
Location
James L. Knight Center 400 Southeast 2nd Avenue Miami, FL 33131
Description
Poderosas LIVE!
Al participar en talleres acerca de finanzas, liderazgo, salud y empoderamiento
Sobre cómo avanzar en tu carrera con consultas individuales con expertos en la materia
A las celebridades escritores y expertos más inspiradores del momento
---
PROGRAMACIÓN
Incluye sesiones sobre los siguientes temas:
FINANZAS - Escucha consejos para mejorar tu situación económica
LIDERAZGO - Aprende de las mujeres que rompen barreras
SALUD - Edúcate para vivir una vida saludable y equilibrada
EMPRENDIMIENTO - Logra tu sueño de ser empresaria
CARRERA - Desarrolla tu marca personal y destácate en el mundo profesional
HAGA CLIC AQUÍ PARA EL PROGRAMA DE 2019:
https://docs.wixstatic.com/ugd/ca7c2e_4560245e04254484acce89b6fbb54347.pdf
---


PODEROSAS LIVE! PRO
Ready to be even more powerful?
Register now for this executive-level English content program designed to help you achieve both your business and personal life goals! By signing up, you'll be surrounded by entrepreneurial women who will tell their stories and reveal the formula of their success. Our advanced master classes within Poderosas Live! Pro will help you learn from business leaders and grant you access to a network of leading professionals and local experts.
PODEROSAS LIVE! PRO SCHEDULE
Friday, March 15 – 6 to 8pm – Cocktail Networking Event (Barsecco)
An exclusive networking opportunity to meet other professionals, experts and industry leaders.
Saturday, March 16 – 8 am – Breakfast with Rosie Rios and Nely Galan (Hyatt Regency Miami)
Meet Rosie Rios, the 43rd Treasurer of the United States – the Latina responsible for including women in US currency starting in 2020– Rosie is now a Visiting Scholar at Harvard, and leader of the EMPOWERMENT 2020 organization promoting the contributions of women in American history. At this event, Rosie Rios will be interviewed by Nely Galan, author and self-made media mogul, first Latina President of Entertainment for a U.S. television network (Telemundo) an Emmy Award winning producer, and founder of The Adelante Movement, which seeks to empower and train Latinas and multicultural women economically and entrepreneurially.
Saturday, March 16 – 11 am – Master Classes
11:00 to 11:45 (Room A)
"Latinos on Corporate Boards"
By Dr. Lisette M. Garcia - Senior Vice President and Chief Operating Officer at the Hispanic Association on Corporate Responsibility (HACR)
11:00 to 11:45 (Room B)
"Lead with Conviction to Elevate Performance"
By Ileana Musa - Managing Director, Head of International Banking & Lending, Morgan Stanley International Wealth Management Private Banking Group
12:00 to 12:45 (Room A)
"Developing Your Personal Brand"
By Patricia Mota - President/CEO, Hispanic Alliance for Career Enhancement's (HACE)
12:00 to 12:45 (Room B)
"Invest Like A Self Made Woman And Make Money While You Sleep"
By Nely Galan - Media Entrepreneur, Emmy Award Winning Producer, Founder of The Adelante Movement and Author of the New York Times Best Selling book, SELF MADE.
Sign up for Poderosas Pro! Special Offer $100*
*Capacity is limited to 150 attendees