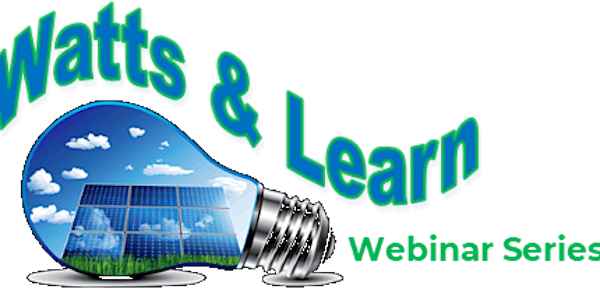 Pennsylvania's Keystone Renewable Energy Policy – 17 Years Later & Beyond
Join the Pennsylvania Solar Center and expert speakers as we evaluate the state's driving renewable energy policy.
Refund Policy
Contact the organizer to request a refund.
Eventbrite's fee is nonrefundable.
About this event
Pennsylvania's Keystone Renewable Energy Policy – 17 Years Later & Beyond
Join the Pennsylvania Solar Center for the first session in our new Watts & Learn lunchtime webinar series. Along with our expert speakers, we will evaluate key milestones, current and prospective market conditions, workforce dynamics and the future growth opportunities for solar via the state's key renewables policy driver – the Alternative Energy Portfolio Standards (AEPS).
Speakers:
Joe Sherrick, PA Public Utility Commission, Policy & Planning/Conservation Supervisor
Kerry Campbell, Environmental Program Manager, Energy Programs Office, PA Department of Environmental Protection
Matt Tripoli, Director, Project Development, CS Energy
Sharon Pillar, Founder & Executive Director, PA Solar Center
Matt Mahoney, Director of Government Affairs, PA Solar Center
Background:
Established in 2004 as a frontrunner in energy policy, Pennsylvania's Alternative Energy Portfolio Standards Act (AEPS) established a requirement that the state would generate 18% of its electricity from various types of "alternative" energy by May of 2021 with 8% to come primarily from renewables. The AEPS targets have been achieved on time as planned. But when compared to neighbors' policies, Pennsylvania's now lackluster AEPS may be sending jobs and investments to neighboring states that reflect 2021's marketplace.
Since 2004, over 5,000 jobs have been created by Pennsylvania's solar industry with 0.5% of the Commonwealth's electricity coming from solar in 2021.
In 2004, Pennsylvania's solar electric generation capacity was less than 1 megawatt (MW). Today, more than 600 MW at almost 30,000 solar sites are installed with over 15 gigawatts proposed for the region.
Yet, Pennsylvania is losing its competitive edge, falling from the 4th leading state in the nation in 2010 to 22nd currently.
Agenda:
The AEPS: From Promulgation to Promise - An overview of the policy
How well has the AEPS worked?
Local Workforce Development and Customer Dynamics: How the AEPS impacts customer and investor decisions
Policies to Support Solar Growth
Q&A
Who should attend?
elected officials and staff
renewable energy owners, operators and/or investors
solar developers
general public and anyone interested in learning more!
General Registration is $15 for this webinar; $100 for the 10-webinar series. Free for elected officials and legislative staff.
Please don't let financial obstacles prevent you from attending. Special arrangements can be made for those who request it by contacting us at info@pasolarcenter.org.
Get access to the whole series of 10 webinars in the next 10 months for $100. Your ticket supports the activities of the PA Solar Center and is 100% tax deductible as we are under the fiscal sponsorship of New Sun Rising, a 501c3 nonprofit organization.
Upcoming Series (Dates and speakers being confirmed):
• Federal Clean Energy Policy Update
• Developing Community Solar(-ish). While true community solar legislation has not passed yet in PA, a recent PA Supreme County ruling has changed some of the regulations for virtual power purchase arrangements, creating an opportunity for a shared solar arrangement
Guidebooks for Leasing Land for Large-Scale Solar Development - Join the PA Solar Center and FairShake Environmental Law Clinic to review their new guidance (coming FEB 2022)
• Reducing Pollution and Power Prices by Replacing Peaker Plants with Solar Energy
• PV Reuse and Recycling
• Agrivoltaics
• NREL's SolarApp – Solar Permitting for Municipalities Made Easy
• Energy Storage, Microgrids and Solar
.....and more.
.