Event Information
Location
Wyndham Garden (formerly Inn at Chester Springs)
815 N. Pottstown Pike
Exton, PA
Description


The Genealogical Society of Pennsylvania and Ancestry.com are pleased to welcome you to
PENNSYLVANIA FAMILY HISTORY DAY
Join GSP and Ancestry.com along with other leaders in the genealogical community for a full day of lectures and workshops.
While you are registering you will be requested to choose from a variety of lecture topics for each time slot, including:
9:30 - 10:30 AM
Ancestry Track: Getting Started with Ancestry.com with Juliana Smith
Methodology: Immigrant Cluster Communities with Lisa Alzo

Pennsylvania: Researching Pennsylvania Ancestors with John Humphrey
11:00 AM - Noon
Ancestry Track: Dead Men Do Tell Tales with Lou Szucs
Methodology: What Constitutes a Reasonably Exhaustive Search with Michael Hait
Pennsylvania: Formation of the Pennsylvania Counties with Susan Koelble
1:45 - 2:45
Ancestry Track: Finding Your US Military Heroes on Ancestry.com with Juliana Smith

Methodology: Visualizing the Past: Maps and Genealogy with Shamele Jordon
Pennsylvania: Pennsylvania's Land Records with John Humphrey
3:00 - 4:00
Ancestry Track: Hidden Treasures at Ancestry.com with Lou Szucs
Methodology: Mining the Motherlode: Using Periodical Literature for Genealogical Research with Curt Witcher

Pennsylvania: Using the Pennsylvania State Archives and Library with Kathleen Hale and Aaron McWilliams

For those just starting out to the seasoned genealogist, the lecture schedule includes subjects sure to interest every research level. Don't miss this unique opportunity to see and talk with some of the nation's top genealogy speakers in one place.
Click here for the full schedule and presenter bios. (Please review the course list and select your preferred classes, as you'll be asked to note them when you complete your registration.)
Also visit vendor tables, browse the latest in genealogy publications, and talk with exhibitors from national and local genealogical organizations. Vendors currently include Ancestor Tracks, Retrospect Publishing, Reel Tributes, Laurel Hill Cemetery, and PA Genealogy Books, with more to come!
There will also be a pre-conference event Friday night at the hotel from 7 to 9 pm that is free with your conference registration. Ask a Pennsylvania expert your research question, meet and mingle with other attendees, and enjoy appetizers compliments of GSP. Cash bar will be available.
Presenters
Ancestry.com staff:
Loretto "Lou" Szucs, CGL, FUGA - Vice President of Community Relations for The Generations Network, involved in the genealogical community for more than 30 years as a researcher, lecturer and writer. She is also the author of They Became Americans: Finding Naturalization Records and Ethnic Origins.
Juliana Smith - Senior Communications and Education Marketing Associate at Ancestry.com and editor of Ancestry Weekly Discovery.
Additional presentations by:
Lisa A. Alzo - genealogist, writer for Family Tree magazine, and author of nine books, including Finding Your Slovak Ancestors.
Michael Hait, CG - column contributor to the African American Genealogy Examiner and author of The Family History Research Toolkit.
Kathleen Hale - Supervisor for Public Services and Digital Imaging Project Manager at the State Library of Pennsylvania.
John T. Humphrey, CG - genealogical researcher, writer of numerous books including Understanding and Using Baptismal Records and a 14-volume set of Pennsylvania births.
Shamele Jordon - an accomplished researcher who worked on the PBS series Oprah's Roots, and is former president of the African American Genealogy Group.
Susan Koelble - longtime Pennsylvania researcher and lecturer.
Aaron McWilliams - Archivist at Pennsylvania State Archives, worked with NBC show Who Do You Think You Are? to help actor Steve Buscemi find his Pennsylvania roots.
Pat Richley - (a.k.a. DearMYRTLE) - author of hundreds of blogs, columns and magazine articles under her nom de plume. She is also a vice president of the Utah Genealogical Association.
Curt B. Witcher, MLS, FUGA - Manager of the Genealogy Center at the Allen County Public Library and VP of Development on the board of the Federation of Genealogical Societies.
~~~~
Registration:
GSP members receive a $20 discount on conference registration!
Not a member and want to sign up? Join on our membership page:
Registration is $75 for GSP members, $95 for non-members. Space is limited, so register as soon as possible. Lunch is included in registration fee.
(Please note that when registering online, you'll be asked which lectures you'd like to attend. This does not commit you to a particular lecture, it simply helps us when determining room space for presentations.)
If you prefer to pay by check, until October 1 you can mail your registration fee to: Genealogical Society of Pennsylvania, 2207 Chestnut Street, Philadelphia, PA 19103 . Please print the November 5 schedule and circle which lectures you would like to attend, and include your contact information, including email address and phone number.
Accommodations: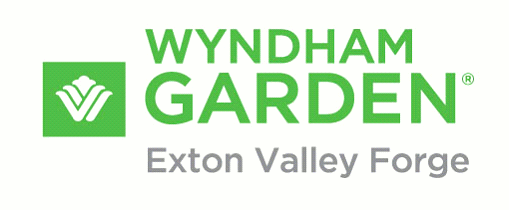 The conference hotel rate is $119. Mention the Genealogical Society of Pennsylvania when booking your room to get this special rate, or use group code 11056794TH. Conference registration check-in opens Saturday, November 5 at 7:30 AM.

Parking and transportation:
Parking is free in the hotel lot. The Philadelphia International Airport is a short 45 minute drive from the conference site. If you need directions to the Wyndham Gardens conference center please visit their website here.

Local attractions:
Exton, PA, is located in the Brandywine Valley of Chester County, which includes a variety of historical sites and attractions, including Valley Forge National Park, the Chester County Historical Society and more. In addition, there are outlet malls and fine shopping, world-class restaurants, and attractions like Longwood Gardens and the Brandywine River Museum and battlefields. Philadelphia and all of its history and culture is less than an hour away. Come for the whole weekend and explore!

Refunds:
With extenuating circumstances, refunds will be issued minus a $20 administrative fee up til October 1. After October 1, no refunds will be issued.
Date and Time
Location
Wyndham Garden (formerly Inn at Chester Springs)
815 N. Pottstown Pike
Exton, PA