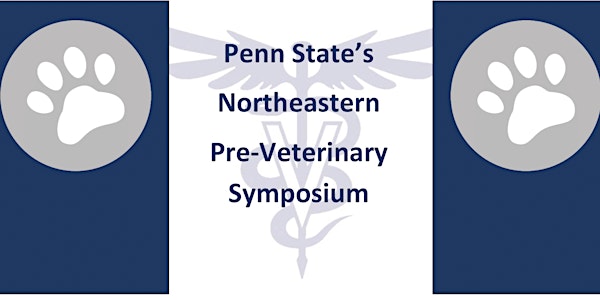 Penn State's North Eastern Pre-Veterinary Symposium
Sales Have Ended
Registrations are closed
We are sorry for the inconvenience but this year's Penn State Northeastern Pre-Veterinary Symposium registration is now closed. Please check our website (linked below) in the fall for information regarding the 2021 Symposium. https://agsci.psu.edu/students/clubs/pre-vet
Sales Have Ended
Registrations are closed
We are sorry for the inconvenience but this year's Penn State Northeastern Pre-Veterinary Symposium registration is now closed. Please check our website (linked below) in the fall for information regarding the 2021 Symposium. https://agsci.psu.edu/students/clubs/pre-vet
Pre-Veterinary Symposium at Penn State University for High School and Undergraduate Students. Includes Hands-on-Labs, Lectures, and Panels.
About this event
The 2020 Penn State North Eastern Pre-Veterinary Symposium is a day long event on Saturday, March 21, 2020 from 8 AM - 5 PM for students interested in a career in veterinary medicine. This year we are expanding our Pre-Veterinary Symposium to allow more diverse options of lecture and lab topics that are friendly to both high school and undergraduate students. We will also be changing the schedule from previous years to give more options of labs and lectures. Lecture topics will include neurology, internal medicine, wildlife, small and exotic animal medicine, herd health management and government practice. The labs offered include Calving Sense, Wildlife Darting, Suturing, Small Animal First Aid and Pet CPR. There will also be Penn State Pre-Veterinary Student and Experienced Veterinarian panels running during the day. We are not able to provide transportation or hotel rooms for attendees, but we are able to provide recommendations.
This year students will be allowed to select two hands on labs and then lectures and panels to fill up the rest of their day. You will have 20 minutes to complete registration. The cost of the symposium is $35. This fee is to cover lunch, event t-shirts, buses to get to and from some labs, and other event costs.
All checks must be postmarked by February 28st, written out to Penn State Pre-Vet Club, and mailed to:
Penn State Pre-Vet Club c/o Department of Veterinary and Biomedical Sciences
102 Research Building A, Penn State University
University Park, PA 16802-3500
If for any reason you need to cancel your registration, the following policy is in place:
If you cancel your registration up until two weeks prior to the symposium, you will be applicable for a full refund ($35). If you cancel your registration within two weeks of the symposium, you will only be applicable to receive a partial refund ($15).
More information can be found at:
https://agsci.psu.edu/students/clubs/pre-vet/2020-penn-state-northeastern-pre-veterinary-symposium
If you have any questions while registering or about the event please contact Nicole Devlin (nxd5237@psu.edu).
Organizer of Penn State's North Eastern Pre-Veterinary Symposium