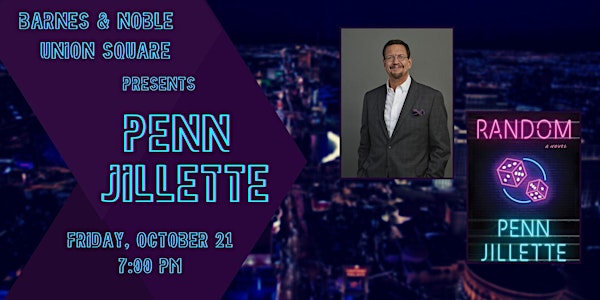 Penn Jillette discusses RANDOM at Barnes & Noble - Union Square
Barnes & Noble Union Square welcomes Penn Jillette for an event to discuss RANDOM on Friday, October 21, 2022 at 7 PM ET!
When and where
Location
Barnes & Noble 33 East 17th Street New York, NY 10003
Refund Policy
Refunds up to 1 day before event
About this event
**PLEASE BE AWARE THAT THESE GUIDELINES ARE SUBJECT TO CHANGE DUE TO CHANGING COVID-19 REQUIREMENTS**
"Penn Jillette's book is a glorious Las Vegas lunatic paean to chance and adventure — a page-turning, scabrous, hilarious ride into randomness." — Neil Gaiman
Join Barnes & Noble - Union Square on Friday, October 21, 2022, as we welcome cultural phenomenon Penn Jillette, who was part of the world-famous Emmy Award–winning magic duo Penn & Teller, for a discussion and signing to celebrate the release of RANDOM, a rollicking crime caper that will bend your mind like a spoon!
....................................................................................................................
**If you are not vaccinated, masks are strongly recommended.**
To make this event safe and enjoyable for all attendees, please read the below guidelines ahead of buying a ticket, so you know what to expect on the day. To avoid disappointment, we must stress that there will be no access to the event for non-ticketholders.
Barnes & Noble reserves the right to make new rules and orders in its sole discretion with regard to COVID-19 at any time and any person not abiding by the Barnes & Noble directives will be refused entrance or directed to leave the premises.
TICKETING INFORMATION
Book Admission - $30.48 (Admission + one copy of RANDOM + 5-cent bag fee): **LIMITED QUANTITY AVAILABLE**: A ticket PER PERSON includes:
Admission to the event space and signing line with Penn Jillette.
General Admission - Free **LIMITED QUANTITY AVAILABLE**: A ticket PER PERSON includes:
*Please note, a copy of the book must be purchased from Barnes & Noble Union Square day-of in order to join the signing line.*
Socially distanced photos with Penn will be allowed at the event.
Masks are strongly recommended if you are not vaccinated.
The author will be signing and personalizing copies of RANDOM, as well as his other titles.
Any gifts for the author will be collected prior to the signing line.
Other books by the author will be available for purchase at Barnes & Noble Union Square.
Due to health and safety and space limitations, those without a ticket will not be permitted into the event space.
Please arrive by 7 PM in order to secure your seat in the event space. Late arrivals may only have access to standing room and may not have the opportunity to meet the author.
GUIDELINES
No memorabilia will be signed at the event.
No large bags will be permitted into the event.
Ticket holders will be admitted into the event beginning at 6:30 PM the day of the event. Please have a copy of your ticket available (either printed out or on your phone) for check in.
In order to attend this event, ticket holders should:
Have not had any contact in the last 14 days with a confirmed COVID- 19 patient.

Not be subject to a quarantine order.

Not traveled in the past 14 days to any state or country that New York has designated as an area requiring isolation upon returning to the state.

At the time of the event, have not experienced in the last 72 hours any body temperature above 100 degrees Fahrenheit or any new symptoms associated with COVID-19. People with COVID-19 have had a wide range of symptoms reported – ranging from mild symptoms to severe illness. Symptoms may appear 2-14 days after exposure to the virus. People with these symptoms may have COVID-19: fever or chills; cough; shortness of breath or difficulty breathing; fatigue; muscle or body aches; headache; new loss of taste or smell; sore throat; congestion or runny nose; nausea or vomiting; and/or diarrhea..
Due to health and safety and space limitations, those without a ticket will not be permitted into the event space.
All event guidelines are subject to change.
If you have any additional questions, please call the store directly at: 212-253-0810.
Please note that Eventbrite is the only authorized dealer for this event. Each person must have a ticket to enter.
REFUNDS
Attendees can receive refunds up to 1 day before your event start date.
If you are unable to attend the event, Barnes & Noble - Union Square will hold your book for seven days after the event. Please contact the store to arrange your pickup.
Should this event be canceled due to changing COVID-19 concerns, all customers will be refunded their ticket price to the original method of payment per Eventbrite's refund policy.
Event guidelines are subject to change.
_______________________________________________________________________________________
ABOUT RANDOM:
Two weeks before his twenty-first birthday, Las Vegas native Bobby Ingersoll finds out he's inherited a crushing gambling debt from his scumbag father. The debt is owed to an even scummier bag named Fraser Ruphart who oversees his bottom-rung criminal empire from the classy-adjacent Trump International Hotel. Bobby's prospects of paying off the note, which comes due the day he turns twenty-one, are about as dim as the sign on the hotel's facade.
The two weeks pass in the blink of a (snake) eye, but before Bobby's luck runs out, he stumbles upon enough cash to pay off Ruphart and change his family's fortune. More importantly, he finds himself with a new, for lack of a better word, faith.
Bobby does not consign his big break to a "higher power"—what Penn Jillette hero ever could? Instead, he devises and devotes himself to Random, a philosophy where his life choices are based entirely on the roll of his "lucky" dice. What follows is a rollicking exploration into not so much what defines us as what divines us when we give over every decision—from what to eat to whom to marry to how or when to die—to the random fall of two numbered cubes.
Random combines the intellectual curiosity of Richard Dawkins with the humor and grit of an Elmore Leonard antihero. Jillette's up-on-his-luck Ingersoll is the character we need to help us navigate the chaos of the post-truth era.
Well, unless his roll runs cold.