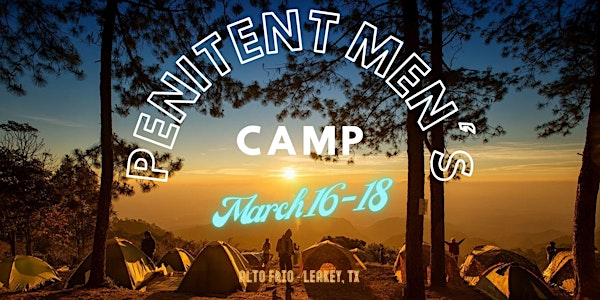 Penitent Men's Camp 2023
Penitent Men's Camp is a 3 day event for men of all ages including biblical teaching sessions, music, sports competition and fellowship.
When and where
Location
Alto Frio Baptist Camp & Conference Center 1385 Ranch Road 1120 Leakey, TX 78873
Refund Policy
Contact the organizer to request a refund.
Eventbrite's fee is nonrefundable.
About this event
When: March 16-18
Where: Alto Frio Baptist Camp (https://www.altofrio.com)
Camp Registration Cost:
$95 per person (includes meals - Everyday Christian Fellowship Men and their family/guest); meals includes breakfast, lunch and dinner - no snacks.
$70 per person (no meals included - Other campers will prepare their own meals)
Lodging Cost for 2 nights:
$20 Tent site (price per person)
$60 RV space (price per person)
$60 Dorms (price per person)
$200 Motel Room (price per room) - Room options: (2 Queens or 1 Queen/2 Twins)
For More Info:
Text: 210-659-6300, Attn: Men's Camp
Email: men@everyday.family
STEP 1: Register Online
STEP 2: Select competitive event(s):
50 Yard Dash
Tug-Of-War
Axe Throwing
Spades (Teams)
Dominoes (Individual)
Football (4 on 4)
Horseshoes (Teams)
Basketball (3 on 3)
Cornhole (Teams)
Fishing
Shooting
Sign up for all individual and/or team competitive events. Individual and teams will automatically be placed in brackets. Please have one person register your whole team. If you are not registered with a team; you will be automatically placed on a team.
STEP 3: Arrive at Alto Frio Baptist Camp & Conference Center – Thursday, March 16 - registration opens at 12 PM; closes at 4 PM.
A. Receive wristband, waiver, lodging assignments and competitive event signup (if not completed online) at the Registration table; wristband will be proof of registration.
B. You will also receive a map of Alto Frio; this should assist locating lodging, events, activities and food.
C. Set up lodging.
D. You will find the "what to bring" list under "Penitent Men's Retreat - "What to Bring" (Suggestive for Tent Campers) section.
STEP 4: OPENING CEREMONY
Thursday night at 7:30 PM. Additional instructions will be given.
Penitent Men's Retreat - "What to Bring" (Suggestive for Tent Campers)
Sleeping - Sleeping bag/Blankets/Pillows/Inflatable mattress/Tent/Rain fly for tent
Worship Services - Note pad/Pen
Cooking supplies - Large water jug/Water bucket/Bottled water/Cooler/Ice/Thermos/Portable stove with fuel or propane/Matches/lighter/Charcoal/Firewood/Buddy burner/Campfire grill/BBQ grill/Fire starters/Newspapers/Mugs/paper cups/Trash bags
Food - Drinks/Snacks
Miscellaneous - Flashlight, Jacket/Sunscreen/Chapstick/Pocket knife/Plastic grocery bags/Bug repellant/citronella candles/Camera/Duct tape/Electrical tape/Backpack/Camp chairs/First aid kit/Fire extinguisher/Watch/Rope/clothes line/Small shovel/Travel alarm clock/Hand wipes/baby wipes/Antibacterial soap, hand/sanitizer/Toiletries/Towels (for shower)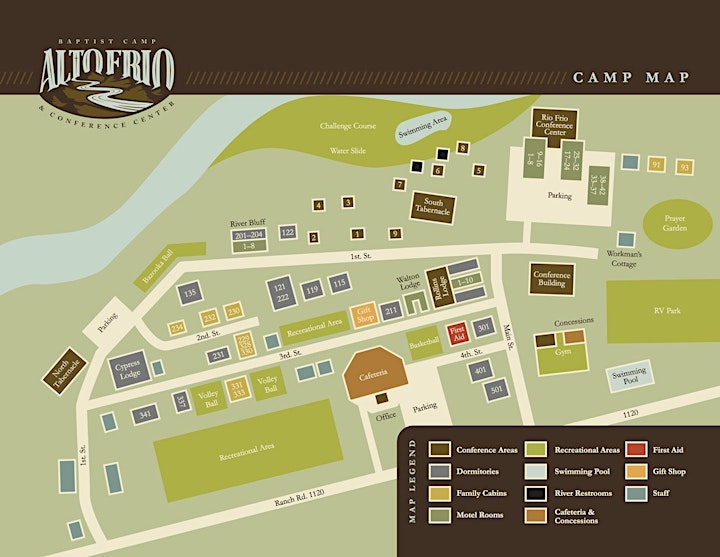 Schedule
Thursday 16th
Registration - Noon to 3 pm
50 Yard Dash - 3:30 pm to 4:00 pm
Dinner - 4:30 pm to 5:30 pm
Dominoes/Spades - 5:30 pm to 7:00 pm
Worship - 7:30 pm to 9 pm
Campfire - 9 pm to GAT (God's Appointed Time)
Friday 17th
Breakfast - 6 am to 7 am
Worship - 7:30 am to 9 am
Fishing - 9:30 am to 7 pm
Axe Throwing (Practice) - 9:30 am to 11 am
Football - 9:30 am to 11:00 am
Shooting Range - 10 am to 11:30 am
Tug-Of-War - 11 pm to Noon
Lunch - Noon to 1 pm
Axe Throwing (Competition) - 1 pm to 3 pm
Shooting Range - 1 pm to 3 pm
Basketball - 2 pm to 3:30 pm
Horseshoes/Cornhole - 4 pm to 5:30 pm (Single/Teams)
Dinner - 6 pm to 7 pm
Worship - 7:30 pm to 9 pm
Campfire - 9 pm to GAT
Saturday 18th
Breakfast - 7:30 am to 8:30 am
Award Ceremony and Worship 9 am to 11 am