Join the Public Health Museum on October 21st to learn about the Penikese Island Leprosarium and the history of Hansen's Disease.
About this event
From November, 1905 to March, 1921 Massachusetts administered a hospital for people with Hansen's Disease (leprosy) on the barren 74-acre island of Penikese in Buzzards Bay, midway between Martha's Vineyard and New Bedford. During those 16 years, the hospital cared for 36 patients at great expense, only three of whom were born in the United States; other patients hailed from Cape Verde, China, Russia, Italy, Greece and Turkey. For these unfortunate souls, the hospital was also a prison from which none would be discharged.
Life with leprosy on Penikese Island was challenging, but Superintendent Frank Parker, MD and his wife Marion made life as comfortable and routine as possible. In addition to high quality medical and nursing care, the Parkers also helped the patients with exercise and entertainment. Some of the patients were hired to perform necessary tasks on the island, such as running the laundry, providing income as well as bolstering self-esteem. Between 1911 and 1915 the hospital had a research affiliation with Harvard Medical School which produced numerous publications advancing the field of leprology.
To commemorate the centennial of the closing of the Penikese Island Leprosarium in 1921, the Public Health Museum will host an exhibition in Tewksbury, MA (www.publichealthmuseum.org). The exhibit will focus on the lives of the patients and their caregivers, and will put this hospital and disease in broader historical context. It will have both in-person and virtual components, including stamps and leprosaria coins from around the world, as well as interviews with people having diverse perspectives on the Penikese experience.
The exhibit will begin with a free panel discussion via Zoom on Thursday, October 21 from 7:00-8:30pm EST. The three distinguished panelists will be José Ramirez, Jr., LCSW-S, David Scollard, MD, PhD and journalist Ken Hartnett.
José Ramirez, Jr., LCSW-S was diagnosed with Hansen's Disease in 1968 and is now an international advocate for people with the disease. He spent his early life at the National Hansen's Disease Program in Carville, Louisiana, an experience he wrote about in his autobiography, Squint: My Journey with Leprosy (2009).
Pathologist and immunologist David Scollard, MD, PhD spent 25 years at the National Hansen's Disease Program in Carville, LA: 16 as Research Investigator, 5 as Chief of the Clinical Branch, and 4 as Director. He served as editor of the International Journal of Leprosy for 6 years. He edited and contributed two chapters to the International Textbook of Leprosy, and retired to Massachusetts.
Journalist Ken Hartnett produced the 1994 WGBH documentary the "Lepers of Buzzards Bay", a subject that has remained fascinating to him. He recently co-founded The New Bedford Light, a free, nonprofit, nonpartisan digital news outlet dedicated to community-based coverage of important local issues.
An introduction will be offered by Alfred DeMaria, Jr., MD, the former Medical Director and State Epidemiologist with the Massachusetts Bureau of Infectious Disease and Laboratory Sciences and board member of the Public Health Museum. The panel discussion will be moderated by Paul Mange Johansen, MA, who has studied and written about the history of Hansen's Disease for over three decades.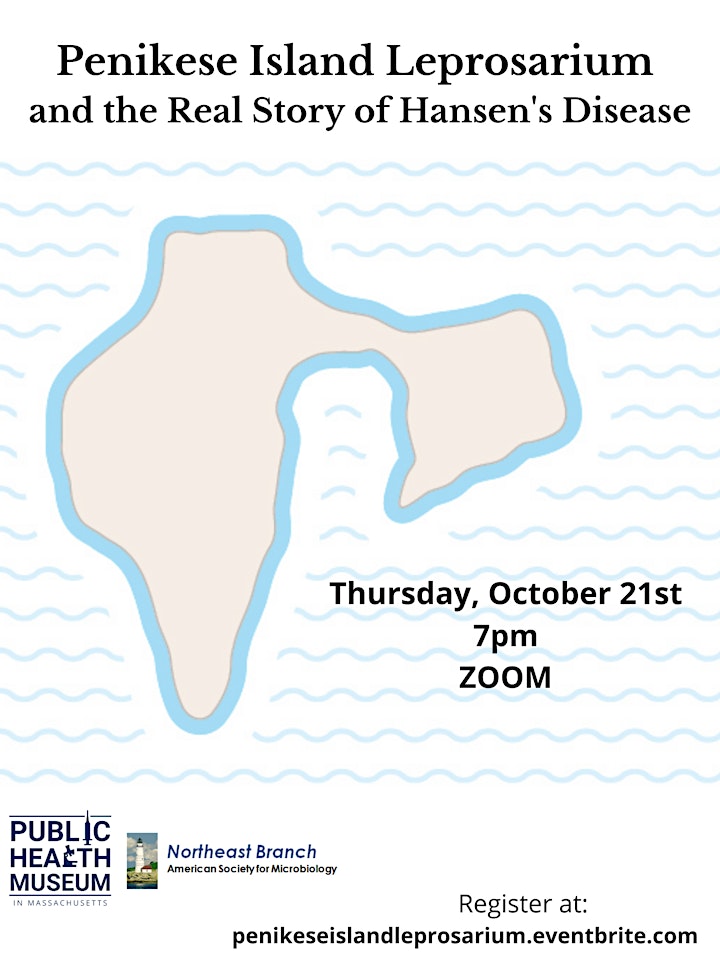 Organizer of Penikese Island Leprosarium and the Real Story of Hansen's Disease
The Public Health Museum is a non-profit educational and cultural resource located on the historic grounds of Tewksbury Hospital in Massachusetts. Visit the Museum to view objects, documents, and exhibits about public health history.  We also provide tours and hold events throughout the year.