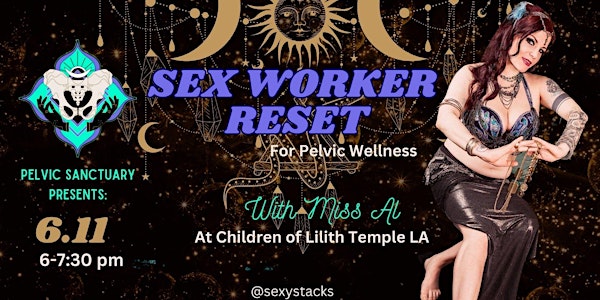 Pelvic Sanctuary Presents: Sex Worker Pelvic Floor Reset!
Kick off your stilettos to enjoy a gentle restorative class for the pelvic floor, spine, and hips. Focus on movements to realign our bodies
By The Art of Female Domination
Date and time
Sunday, June 11 · 6 - 7:30pm PDT
Location
The Children of Lilith Temple Boyle Heights Area EXACT ADDRESS with TICKETS Los Angeles, CA 90033
Refund Policy
Contact the organizer to request a refund.
About this event
Kick off your stilettos to enjoy a gentle restorative class for the pelvic floor, spine, and hips. We'll focus on movements to realign our bodies after a long day of wearing high heels, whipping, externally rotating hips, pole work, corseting, stomping, kicking, thrusting and/or squatting. Please bring a mat or comfy blanket to lay on.
Instructor: Al Schulte (pronouns she/her/they/them)
* Insta: @sexystacks tiktock @pelvicsanctuary 
* www.pelvicsanctuary.org
* info@pelvicsanctuary.org
About Al:
Allison Schulte MFA/PTA, holds over 20 certificates in Pelvic and LGBTQIA+ healthcare. She's received multiple grants and awards for her specialized work in human sexuality-focused archives, including the Tom of Finland Foundation, the Kinsey Institute, and the Leather Archives & Museum.
Her work with Pelvic Sanctuary is further informed by 25+ years of bellydance study, 20+ years of international sex work, and 15+ years of serving in LGBTQIA+ nonprofit sectors and queer art spaces.
In 2022, Allison founded Pelvic Sanctuary as a 502(c)(3) out of frustration over the lack of access and inclusion while working as Pelvic Health Specialist in Physical Therapy clinics. She was disheartened to discover that most Doctors of Physical Therapy receive as little as 1 hour in Pelvic Health education. Usually, this minimal time only covers cisgender women and pregnancy while overlooking the plethora of Pelvic Health needs of other genders and lifestyles.
Pelvic health affects our sexual, respiratory, reproductive, bladder, and bowel functions. It includes our nerves, bones, organs, and common cancer sites. Dysfunctions often devastate people's social, sexual, and psychological well-being, disrupting activities of daily living.
Statistics show that LGBTQIA+, BIPOC, and Sex Worker populations face alarming rates of healthcare discrimination—from harassment and humiliation by providers to being turned away by hospitals, pharmacists, and doctors in addition to lack of access. Many pelvic health conditions can cause shame due to stigma and lack of awareness, adding another obstacle to these populations seeking help.
Pelvic Sanctuary Mission:

To increase diversity and inclusion within Pelvic Health services and education. We focus on LGBTQIA+, BIPOC, and Sex Workers who lack support within healthcare systems, especially with regard to sensitive pelvic health concerns.
Vision:

Develop safe spaces for underserved populations, where we normalize and address overlooked Pelvic Health matters through virtual and in-person workshops, lectures, classes, and support groups.
Many pelvic health conditions can be prevented and managed through education and exercise. We work with Doctors and wellness professionals to create evidence-based programs catered to the specific pelvic health needs of the communities we serve.
What to bring: Blanket, Yoga Mat or Pillow
What to wear: Comfortable clothing for class is recommended such as yoga clothes, work out clothes, leggings, T-shirt, etc. Something stretchy and fitted.
Location: The Children of Lilith Temple is a private Kink, Queer and SWer Friendly Event Space in the DTLA / Boyle Heights neighboorhood between the 101 and 5 freeways. 2 Parking lots close by $2.50 for day. Location address given out with ticket purchase ONLY!!!
About the organizer
Interested in learning how to be a ? Learn from real, practicing Dominatrices. We offer classes and one on one training at a real . Ladies, take control of your life in a totally new way!