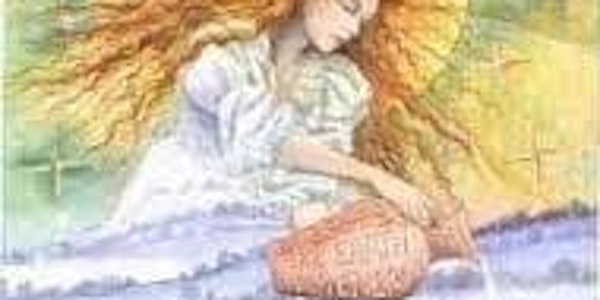 Pelvic Floor Muscles & Female Prostate Irene Andersson & Deborah Sundahl
The Pelvic Floor Muscles and The Female Prostate Half Day Seminar with Taoist Sexuality Teacher Irene Andersson and Female Sexuality Author
Refund Policy
Contact the organizer to request a refund.
About this event
The Pelvic Floor Muscles and The Female Prostate  Half Day Seminar
with Taoist Sexuality Teacher Irene Andersson
and Female Sexuality Author Educator Deborah Sundahl
PLEASE NOTE ABOUT PAYMENT
**If Pay Pal will not accept your European credit card, Swish Irene 123 144 7671 (Irene Andersson, ProCreative)****
Introduction to the fascinating worlds of the pelvic floor muscles, their anatomy and care, and the female prostate, its anatomy, orgasm and ejauclate with master sexual wellness teachers Irene Andersson and Deborah Sundahl.
First Session 
PELVIC FLOOR AWARENESS¨
Pelvic floor is an important part of our body. This is where you ground yourself and find inner security. It is our center and where our sexual potential resides. Functioning muscles support your genitals. By opening up to this flow you get a constant source of joy and power. The source of both health and pleasure is within you.
Learn about the muscles in your pelvic floor, how to find them, and to train them well.
Content:
Pelvic floor Muscles Anatomy and Function
Practical Exercises to Activate the Pelvic Floor Muscles
Guided Squeezing Exercises for PFM
Guided Taoist Meditation
Second Session
THE FEMALE PROSTATE
The G-spot is the female prostate. All women have one, as do all men. Therefore, all women have the ability to creates its incredible orgams and build and release its lovely ejaculate! Attend this course, and learn:
Where the prostate located, how to activate its vagus nerve to create the full bodied G-Spot orgasm, and how to get this wonderful feminine fountain™ flowing!  Learn about female ejaculation's ancient history and current scientific studies. What is the female prostate's function, and does it have a purpose for erotic pleasure and reproduction? Deborah Sundahl's Power Point lecture with illustrations, movie clip and Q&A will tell you all you need to know about the female prostate, and its female ejaculation and G-spot orgasm.
WHAT YOU WILL LEARN 
•What is the Female Prostate and Where it is Located in The Body
The G-spot is the Female Prostate, and All Women Have One
•Female Prostate's Purpose in Erotic Wellness and Reproduction
*Female Ejaculate is Prostatic Fluid
•Appropriate Touch for the Female Prostate
*Modern Science History of the Female Prostate
Female Ejaculate's Ancient, Cross Cultural Herstory
•Learn If You Ejaculate or Not, and How to Do It When You Want To
•Why some Women Don't Ejaculate and Others Do
•Tender Loving Care for the Female Prostate
*The Vagus Nerve and the Female Prostate
•The G-spot has a Different Nerve than the Clitoris
•The G-Spot Orgasm is a Female Prostate Orgasm
•Massaging the Prostate, Buidling Orgasm and Creating Ejaculate
•You Can See the Female Prostate (QuickTime movie 2 mins)
  Let Go and Let it Flow!
Wednesday, December 9, 2020  
CONSULT THE WORLD CLOCK!
18:00-22:00 CEST (Stockholm)  
17:00-21:00 GMT (London)
12:00-4:00pm EST (New York)  
9:00am -1:00pm PST (Los Angeles)
SCHEDULE  (These times are in New York EST times)
 CONSULT THE WORLD CLOCK!
12:00-12:15 Brief Introduction
12:15-2:00  Pelvic Floor Awareness
2:00 -2:30 Lunch break
2:30 -3:45  The Female Prostate
3:45-4:00 Close
Deborah Sundahl is the foremost pioneer and expert on female ejaculation and the G-spot. She is the author of Female Ejaculation and the G-spot(Hunter House, 2003/2014). Her 35 years of groundbreaking contributions to this field include a line of videos entitled the Female Ejaculation Sex Education Series(Isis Media, Inc.), which Deborah produced and hosts. She lectures and gives workshops in North America and Europe, and has taught thousands of men and women how to integrate the G-spot and female ejaculation into the erotic body and sexual life. Since 1982, Deborah Sundahl is a spokesperson for female sexuality and foremost advocate for adult sex education.
Irene Andersson is an experienced workshopleader and bodycoach with over 25 years of exploring different bodywork and methods. Her speciality is Taoist sexual practice with focus on the pelvic floor and sexual health with Tao. She combines western science and research with wisdom from eastern traditions that look at the whole. Irene is passionate about sharing her knowledge of our bodies and erotic potential. She has gathered her insights in the books "Kvinnans Tao" and "Mannens Tao" (Women's Tao and Men's Tao), two good introductions to sex according to both Tao and Tantra. Soon to come in English.
 Irene Andersson, Stockholm, Sweden www.pelvicfloorawareness.comDeborah Sundahl, Montana, USA
PLEASE NOTE ABOUT PAYMENT
**If Pay Pal will not accept your European credit card, Swish Irene 123 144 7671 (Irene Andersson, ProCreative)****
Refund Policy, Late Attendance and No Shows
Participants of the lecture need to sign in no later than10 mins after the event starts, or risk not being let in. If you log out before the event ends, keep in mind there is no recording of it and you will miss out on some important info.
Ticket sales are final. No refunds for no shows. 
©2020 Deborah Sundahl, LLC. All Rights Reserved