PELICAN LAKE TOUR DE PELICAN CYCLING BY JIM AND FRIENDS
Description







JIM WATSON AND FRIENDS PRESENT...


PELICAN LAKE MOTORCOACH RESORT
SUNRISE TOUR DE PELICAN
FAMILY CYCLING EVENT
SUNDAY, FEBRUARY 12TH, 2017  
7:00 AM (SUNRISE) TO 8:00 AM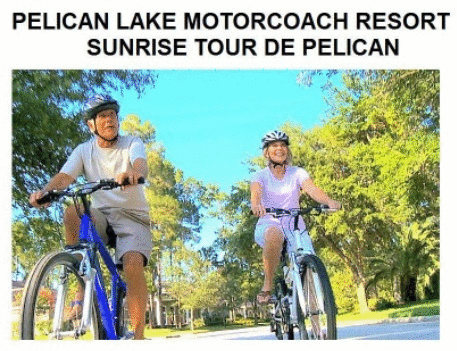 JOIN THE PELICAN LAKE
PEDAL PUSHERS FOR
THE 2017 TOUR DE PELICAN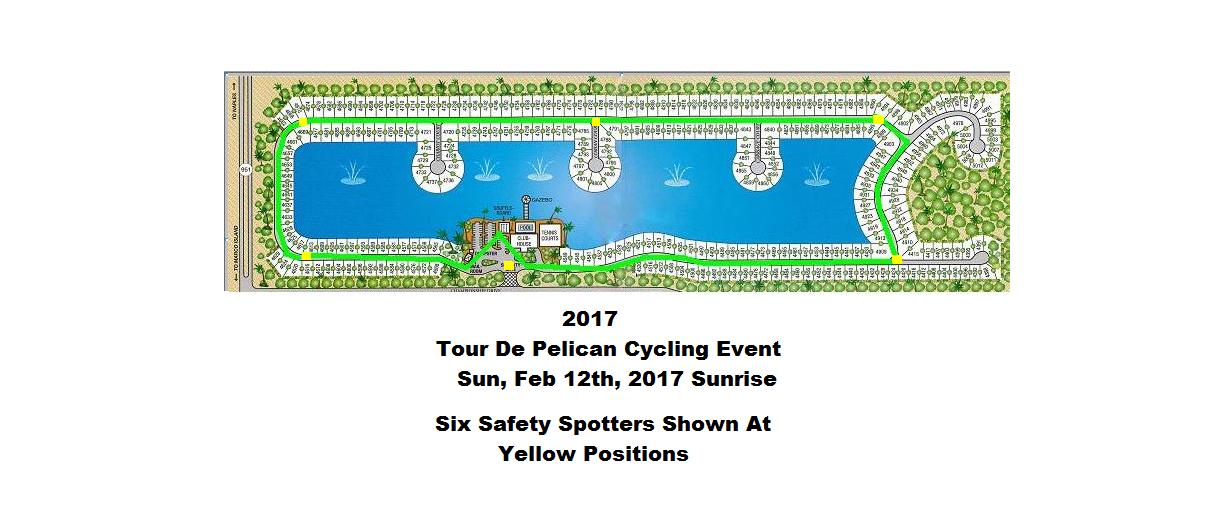 CYCLIST'S CHOICE OF
TOUR DE PELICAN COURSES:


CHOOSE THE VIGOROUS
30-MILE DEDICATED COURSE
20 LAPS AROUND PELICAN LAKE.  


OR SELECT THE ENERGETIC
15-MILE COURSE OF
10 LAPS AROUND  PELICAN LAKE.  
DEDICATED CYCLING-LANE WITH
SAFETY MARSHALS POSITIONED AS
SPOTTERS AROUND ENTIRE COURSE.


TOUR DE PELICAN AWARDS AND
REFRESHMENTS AT
THE PELICAN TIKI HUT
FOLLOWING EVENT CONCLUSION.


WEATHER ALTERNATE-DATE
WILL BE FEB 19TH
IN THE EVENT OF
ADVERSE WEATHER ON FEB 12TH.


TOUR DE PELICAN
EVENT REGISTRATION DATES
(IN THE CLUBHOUSE
EVENTS DESK IN LIBRARY):
1. MON FEB 6, 2017  10:00AM TO NOON
2. WEDS FEB 8, 2017  10:00AM TO NOON  
3. FRI FEB 10, 2017  10:00AM TO NOON
4. SUN FEB 12TH 2017 FROM 6:30 TO 6:45 AM.
REGISTRATION IS MANDATORY
FOR EVENT PARTICIPATION.


TOUR DE PELICAN
PARTICIPATION AVAILABLE
EXCLUSIVELY TO
RESIDENTS OF PELICAN LAKE
MOTORCOACH RESORT
AND THEIR INVITED GUESTS.  


REGISTRATION FEE:  
$30 INCLUDES TOUR DE PELICAN TEE-SHIRT...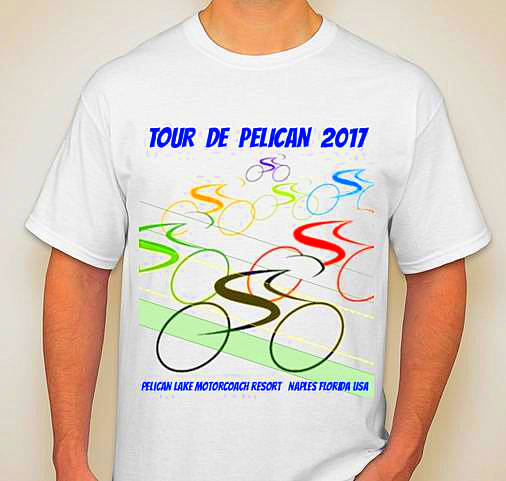 TICKETS GO ON SALE
STARTING OCTOBER 1st, 2016.  


REGISTRATION LIMITED
TO FORTY (40)  PARTICIPANTS
WOULD YOU LIKE TO
ATTEND THIS FUN EVENT?
(REGISTRATION RESTRICTED
TO PELICAN LAKE RESIDENTS
AND THEIR INVITED GUESTS)  


PURCHASE YOUR REGISTRATION
FEE HERE NOW AND SAVE TIME
ON EVENT DAY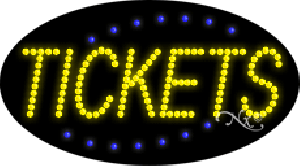 PLEASE CLICK ON THE 
"TICKETS" OR "REGISTER"
BAR AT THE TOP
AND DOWNLOAD
+ SAVE YOUR
ELECTRONIC TICKETS,
(OR PRINT PAPER
TICKETS IF YOU PREFER) 
TO PRESENT AT
THE REGISTRATION
FOR THE EVENT.  


FOR QUESTIONS,
PLEASE CONTACT MARCELA
AT THE EVENTS DESK  
(239) 415-1600,