About this Event
Please join Peer Voice NC at the NC 'One Community in Recovery' Conference for a special pre-conference session in a welcoming café-environment to enjoy coffee, tea, and pastries with a purpose! Together, through rounds of collaborative dialogue, we'll explore constructive possibilities for elevating resilience and recovery across our state.
Peer Voice NC is organizing statewide coalitions to mobilize and connect people with lived experience of mental health and/or substance use difficulties, justice-involvement, and/or homelessness, and trauma to work together to create change in the policies and systems that shape people's recovery outcomes and affect community well-being here in NC.
Currently, there are six PVNC coalitions: Peer Justice Initiative, Peer Standards Coalition, Recovery Alternatives to Forced Treatment, Youth Collegiate Recovery Coalition, the Peer Wellness Center Coalition, and Peer Support Policy and Advocacy Coalition. Please share your ideas about what the priorities of Peer Voice NC ought to be and let us know how you might want to get involved!
Click here to register for your free admission ticket: https://form.jotform.com/193527666693070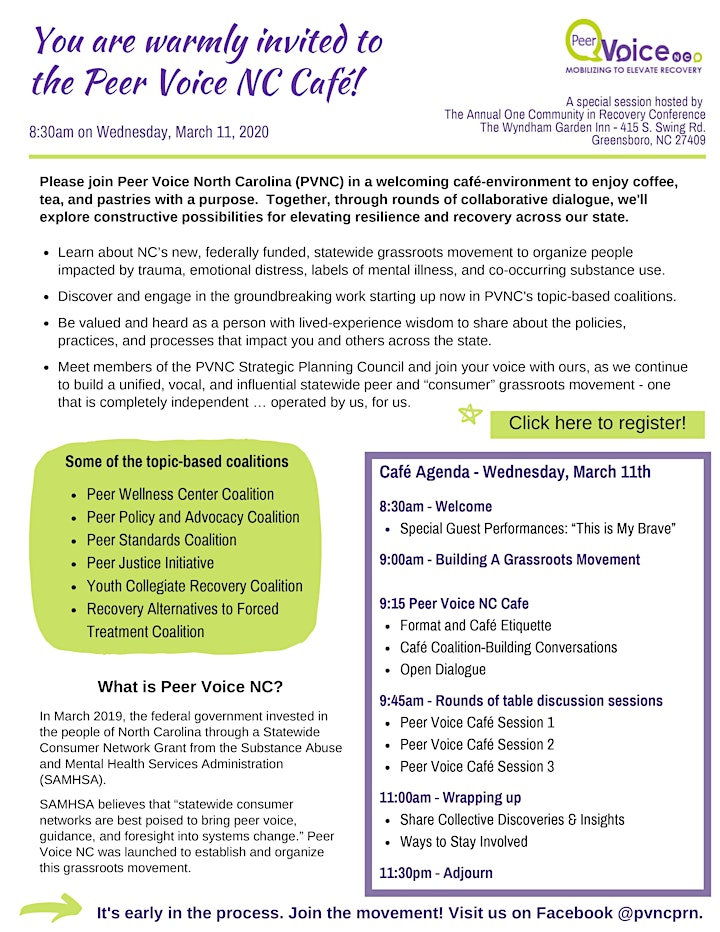 Click here to register for your free admission ticket: https://form.jotform.com/193527666693070