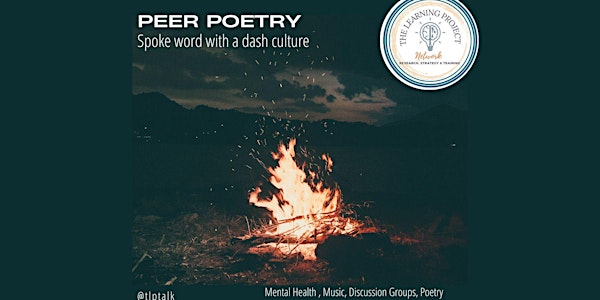 Peer Poetry Event
Our goal is to normalize mental health resources through the lenses of culture. Our vision for this event is to help our community connect.
When and where
Location
MADISON COUNTRY 2928 N Madelia St Spokane, WA 99207
About this event
Looking for something fun to do on a Friday night?
Join us for a night of poetry, conversation and community with amazing organizations such as Koala K Message, W.I.N. Club Spokane, Discover Counseling, and many more. Our goal is to normalize mental health resources through the lenses of culture. Our vision for this event is to help our community access mental health resources that best connect to them. Through this event, we want to help break the mental stigmas that go along with mental health experiences and help individuals gain a deeper understanding of how community care can break barriers that hinder us from healing. This event is not led by mental health professionals, but from people with lived experiences who are passionate about connecting people to cultural care and organizations in our community. This event mirrors peer groups that help lead people to healing. We want to give our community an opportunity to connect with peer group care.
Many people have not experienced this kind of care and we would like to introduce this to them.
This evening will give our community the opportunity to connect through conversation but to also express themselves through poetry.
#mentalhealth # bipoccommunity #culturallense #healingspace #poetry
What will you need to bring:
A blanket, walm clothes, and an empty belly.
What to expect
Beverages: Wine bar, Wellness bar, warm drinks (i.e hot apple cider)
Who can come: 16 and up event
Focus and Topics of Discussions: Relationships, family, fatherhood, music and meditation, life changes, challenging yourself to a better life, and much more.
In this form you will have the opportunity to sign up for the group you want to dive into for 45 minutes.
Poetry Read Guidelines
Disclaimer: Please no violence, sex, or profanity allowed in any of the poetry at this event.
Allergies
Please advise: If you have allergies that the food has been prepared around nuts.
Did you know?
This event was inspired through research regarding maternal mental health and care. 1 in 5 people who are pregnant and in the postpartum period will suffer from a mental health disorder like postpartum depression. Less than 15% receive treatment. Maternal Mental Health impacts the entire family, not just the mother or birthing person. The most alarming statistic that we have found is that in the black population, the rates of depression are doubled due to lack of access and referrals by their healthcare providers.
Let the Learning Project help you with that mental block!
CDC Depression among Women, https://www.cdc.gov/reproductivehealth/depression/index.htm. Accessed April 25, 2019.
Byatt N, et al. Enhancing participation in depression care in outpatient perinatal care settings: a systematic review. Obstet Gynecol. 2015;126(5):1048-1058.
Center for American Progress, Suffering in Silence https://www.americanprogress.org/issues/women/reports/2017/11/17/443051/suffering-in-silence/
What to expect
6pm- 6:30pm: Open booths that focus on mental health and community
630-730pm: 10 spaces conversation groups
730-8:30pm: Poetry and Music