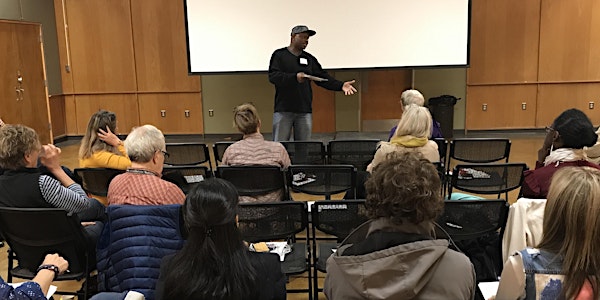 Peer Pitch West
When and where
Location
Sebastopol Center For the Arts 282 South High Street Sebastopol, CA 95472
Refund Policy
Refunds up to 30 days before event
Description
NOTE: While advance pitching spots are claimed for both days, we will have an option both days for a "luck-of-the-draw" pitch where anyone else in attendance who would like to pitch can put their name in a hat for a chance to pitch that same day. We would select the lucky pitcher at 10:00 am and you would be the final pitch of that day. You would need to register as an observer.
ABOUT PEER PITCH
Are you a documentary filmmaker with a work-in-progress at any stage of development? Are you looking for a supportive environment to give your pitch a test run? Or do you want to help support your fellow filmmakers by providing them feedback?

Docs In Progress and The D-Word, in partnership with the Sebastopol Documentary Film Festival are pleased to present the eighth annual Peer Pitch West, a space for documentary filmmakers to get access to creative feedback in a supportive and collaborative environment.

This program will give documentary filmmakers of all experience levels the opportunity to present new projects with a verbal pitch (which may include showing a trailer or short sample) to fellow filmmakers and passholders for feedback, and for all attending to gain valuable insights and new connections which can guide their own filmmaking.
​
Peer Pitch takes place at the Sebastopol Documentary Film Festival on Thursday, March 28 and Friday, March 29 from 10:00 am - 4:00 pm. While it is being programmed as part of the festival, you do not have to have a film in the festival to participate. Sebastopol is only 90 minutes drive north of San Francisco and Oakland. Travel to the festival would be at your own expense, but we highly recommend it since it is an excellent documentary festival, a town full of hospitality, and in the midst of beautiful Sonoma County. You may opt to attend both days or only one day.

WHY PARTICIPATE IN PEER PITCH?
Constructive feedback from other filmmakers in a nurturing environment will help to identify strengths and areas for improvement in projects. Participants will also develop skills and comfort in verbally describing their projects in a safe space among peers. This is not an industry pitch, but rather the pitch you want to test out before pitching to industry.

Films which have been presented at past Peer Pitch workshops when they were in their early stages have gone on to be funded by Sundance Documentary Fund, ITVS, Garrett Scott Development Grant; been accepted into industry pitching opportunities such as IFP's Independent Film Week, HotDocs Forum, DocsBarcelona, and Points North Pitch; and have gone on to play festivals, television, and community screenings around the world. Participants have also made connections with other filmmakers which have led to later collaborations. Some of the films which have come through Peer Pitch have included Love, Gilda; Let the Fire Burn, Slingshot, Decade of Fire, Big Sonia, Out in the Silence, Indivisible, and Uranium Drive-In, and two films screening at this year's festival: Deej and From Baghdad to the Bay.

Added Bonus: One or more promising pitches of a film with a social justice or investigative angle may be selected to pitch a second time to industry at the 2019 Double Exposure Film Festival in Washington DC in October 2019 with travel paid for one member of the pitching team to attend and pitch for industry.

WHO MAY ATTEND?
Participation is open to any filmmaker who has a documentary project he or she would like to discuss. Projects may be at any stage of development. In the past, both experienced filmmakers and first time filmmakers have pitched their docs in progress. In true democratic fashion, pitching slots are available on a first registered, first accepted basis. There will also be spots for filmmakers who want to attend and give feedback to their colleagues or observe the process, but don't necessarily have a project to share.

FEE
Observer/Feedback Giver* - $25
Pitching Slot** - $65 (if register and pay by February 15), $85 (from February 16 until full)
Fee includes coffee, munchies, and a light lunch.
* If you are a filmmaker with a film in the festival or a festival passholder, you may attend as an observer/feedback giver for free. Because space is limited for this program, you do need to register in advance and use the Promo Code which has been given to you by the festival or organizer. Due to the limited number of pitching spots, we cannot offer a waiver if you wish to pitch.
** For those pitching, you may select the day you prefer to pitch, but pitching order for that day will be selected at random so you should plan on attending the entire day's program. If you are pitching, you automatically will also be welcome to attend the other day as an observer/feedback giver so do not need to register for that separately. The pitching slot is good for up to two members of the creative team to attend. Only one needs to register (the registration form will ask for contact information for the second member of the team, where applicable).
PREPARING FOR THE PITCH
Those pitching will have up to 10 minutes to pitch (including any time for showing a video sample). You will need to provide an .mp4 or .mov file of their film one week prior to the program. We will follow up with those pitching a few weeks ahead of the program on further suggestions for preparing for the pitch.


This program is made possible in part through the support of the National Endowment for the Arts.