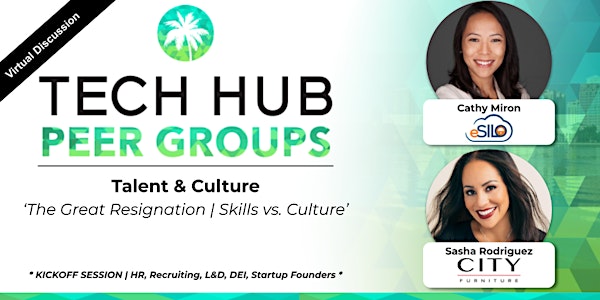 PEER GROUP | Talent & Culture | 'The Great Resignation- Skills vs. Culture'
Tech Hub Peer Groups allow like-minded individuals to connect and learn from each other. Join our talent and culture professionals!
About this event
Join us for our TALENT & CULTURE Peer Group. ✨
⚈ ABOUT SPEAKER & TOPIC ⚈
This session will be on strategically about hiring in light of "The Great Resignation."
Job seekers now have the leverage in our current market with increased competition from top-tier tech companies (who are now hiring remote workers and don't need to play Silicon Valley or NYC prices) and a generation of workers who are aren't just motivated by traditional pay and a 401K.
We'd like to open up a roundtable discussion to discuss:
What have local South Florida companies done in response to the Great Resignation?
Have these new practices worked? Anything not working?
Anyone running "fully staffed" who had to make tradeoffs to get/stay there?
How do you choose between cash or culture with an urgent hiring need?
What are some insights and best practices we can share with each other to ensure we attract, hire, and retain the best possible talent in such a difficult market.
⚈ AGENDA ⚈
12:00 PM | Introductions (while we wait for others to login)
12:10 PM | Welcome Remarks & Overview
12:15 PM | Open Discussion
1:00 PM | Discussion Concludes
-------------------------------------------------------------------------------------------------------
⚈ ABOUT PEER GROUP ⚈
Our Talent & Culture Peer Group and Staffing Peer Group are becoming one!
We are a judgment-free zone for leaders, hiring managers, HR professionals, diversity, inclusion and accessibility advocates, learning and development leads, talent recruiters and even solo startup founders to come together and discuss all things talent.
Whether you're looking to hire rapidly, compensate innovatively, improve culture, hire out of state, or just retain your teams in this 'Great Resignation,' this close-knit group meets bi-monthly and is a place where you can share your journey and learn from others who are facing similar challenges.
From open roundtable discussions to guest speakers, the goal is to educate, innovate, and support those who are a part of the hiring and and engagement process within a company.
⚈ ABOUT PEER GROUP CHAIRS ⚈
Cathy Miron | President & CEO @ eSilo
Sasha Rodriguez | Corporate Talent Acquisition Manager @ CITY Furniture
*Normally exclusive to Tech Hub members, we have opened this discussion to the public. *