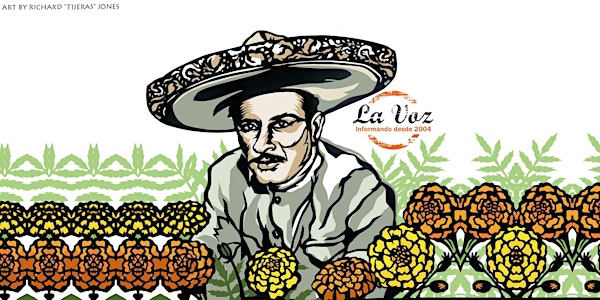 Pedro Infante: Cien Años Pienso En Ti (Bard College)
When and where
Location
Chapel of the Holy Innocents Bard College 1387 Annandale Road Annandale-on-Hudson, NY 12504
Description
La revista La Voz y iD Studio Theatre presentan:
PEDRO INFANTE: CIEN AÑOS PIENSO EN TI
(Scroll down for English)
Teatro en español con subtítulos en inglés. Una nueva perspectiva sobre la vida de los inmigrantes mexicanos de los Estados Unidos. Once canciones clásicas de Pedro Infante, el querido actor y cantor Mexicano que murió en 1957, acompañarán la obra de teatro con música de un acto y tres actores.
Pedro Infante: Cien años Pienso en Ti, ha ganado varios premios HOLA. La obra llega al Valle del Hudson después de un año en la Ciudad de Nueva York y su gira internacional a Ciudad Juárez, México.
Tras la presentación, el director Germán Jaramillo y el dramaturgo Toby Campion conversarán con el público.
Entrada general: $20
$5 en la puerta para estudiantes de secundaria y universidad al presentar identificación escolar
Viernes, 2 de noviembre, 8 pm, en la Capilla de los Inocentes- 1387 Annandale Road, Bard College.
Evento a beneficio de la revista La Voz, la multi-premiada revista gratuita en español al servicio de los 140 mil hispanos que viven en los condados de Dutchess, Ulster, Orange, Columbia y Sullivan.
Para patrocinios o más información, (845) 752-4739 o ichapela@bard.edu
Cómo llegar:
Por tren, Amtrak proporciona servicio desde Penn Station, Ciudad de Nueva York, y de Albany hasta Rhinecliff, que queda 9 millas al sur de Annandale. Servicio de taxi disponible en la estación de Rhinecliff. En coche, tome el New York State Thruway (I-87) hasta la Salida 19 (Kingston), tome Ruta 209 (cambia a Ruta 199 después del Río Hudson) cruze el puente Kingston-Rhinecliff hasta llegar a la Ruta 9G, gire hacia la izquierda en la Ruta 9G y maneje hacia el norte 3.5 millas. Para GPS use la dirección 1387 Annandale road, Annandale-On-Hudson, Red Hook, NY
***
ENGLISH
La Voz magazine and iD Studio Theatre present:
PEDRO INFANTE: CIEN AÑOS PIENSO EN TI

A one-act HOLA-award winning play in Spanish with English subtitles. A new twist on the life of Mexican immigrants living in the United States. Eleven classic songs from the repertory of the Frank Sinatra of Mexico, Pedro Infante, the universally adored Mexican actor and singer who died in 1957, will accompany the show. The play comes to the Hudson Valley after a year in New York City and its international tour to Ciudad Juarez, México.
Q&A after the performance with the director Germán Jaramillo and the playwright Toby Campion.
General admission $20 - High school and college students with school ID $5
Friday, November 2nd, 8pm, Chapel of the Holy Innocents, 1387 Annandale Road, Bard College, Annandale on Hudson, NY 12504

Proceeds from all events will benefit La Voz magazine. Bard's Spanish language publication covering Hispanic cultures and news for the more than 140,000 Latinx living in Dutchess, Ulster, Orange, Columbia and Sullivan counties.
For sponsorships or more information: (845) 752-4739 or ichapela@bard.edu.
Getting there: By train Amtrak provides service from Penn Station, New York City, and from Albany to Rhinecliff, about 9 miles south of Annandale. Taxi service is available at the station. By automobile Take the New York State Thruway (I-87) to Exit 19 (Kingston), take Route 209 (changes to Route 199 at the Hudson River) over the Kingston-Rhinecliff Bridge to Route 9G, turn left onto Route 9G and drive north 3.5 miles.