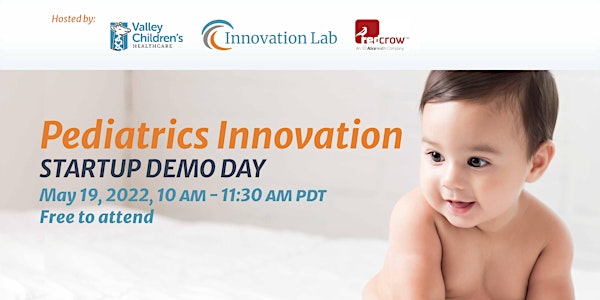 Pediatrics Innovation Startup Demo Day
Virtual Startup Demo Day
About this event
Join the Innovation Lab, Valley Children's Healthcare, and RedCrow for the second annual Pediatrics Innovation Startup Demo Day. We are showcasing some extraordinary companies that have developed products and technology to solve big problems for the smallest patients and their families. We will also be displaying two ways that Valley Children's Healthcare is leveraging innovation to solve internal challenges as well as a new device from another Innovation Lab partnership.
Space is limited! Register NOW for this FREE virtual event on May 19th, 2022!
A big thank you to KidsX and ScaleHealth for sending some of these great startups our way!
The companies that will be showcased on May 19th:
Actuated Medical is a MedTech product innovator that integrates electronically controlled motion into devices to improve patient outcomes. We are focused on devices in the areas of neurological disorders, gastrointestinal, and pediatrics. Currently, we have 3 products in development for pediatrics. BabyGentleStick heel stick helper uses vibration to reduce pain for neonatal heel sticks and is being tested under IRB approved clinical studies at Nationwide Children's Hospital and Penn State Children's Hospital. We are also developing better fitting non-invasive ventilation (NIV) for pediatric patients using 3D printing and working with clinicians at Children's Hospital of Philadelphia and Akron Children's Hospital. Our TubeClear system is patented and FDA cleared for adults in most tubes 6fr and larger. It clears sluggish and fully clogged feeding tubes while the tube remains in the patient and works at bedside. Currently, it is being tested under IRB approved clinical studies at Children's Hospital of Philadelphia and Texas Children's Hospital to gather the data to expand the indication to pediatrics. Actuated Medical is a certified ISO 13485 & WOSB MedTech developer and manufacturer that seeks product acquisition partnerships to expand access of our innovations to patients. We are currently seeking our $2.5M equity round to assist with commercialization activities.
Little Journey is an award-winning digital platform designed to support children (and their parents) undergoing healthcare procedures. It psychologically prepares children (aged 3-12 years) and their families before, during, and after healthcare interactions, all from the comfort and safety of their own home through immersive, gamified content. The platform consists of a patient-facing smartphone application (app) that delivers age tailored virtual tours, educational animations, distraction and therapeutic games, and an accompanying web-based portal (accessed by healthcare staff) enabling them to control and configure the content and review data. The platform has been rapidly adopted across the NHS and shown to reduce pre procedure anxiety by 32%, leading to reduced costs for healthcare organizations such as lowering the use of premedication by 22% and on the day cancellations by 42%, as well as improving patient experience.
Astarte Medical is a precision medicine company using software and predictive analytics to improve health outcomes for vulnerable patients, particularly children. With an initial focus on the tiniest of these patients, preterm infants, we have developed NICUtrition®, a platform that supports feeding protocols, practices, and decision-making in the neonatal ICU (NICU) with a suite of digital tools designed to standardize the practice of feeding and optimize nutrition. The NutritionIQ engine, which is the framework for NICUtrition®, can be leveraged across pediatrics to patients where optimal nutrition can improve procedure recovery, quality of life, and long-term outcomes of conditions or disease.
Nudg is a data-driven short-form engagement platform for children and adolescents managing a chronic condition. Nudg connects easily to wearable devices like Dexcom's Continuous Glucose Monitor and personalizes short bursts (nudges) of engaging educational content.
The FDA-cleared OtoSight™ Middle Ear Scope was developed by PhotoniCare for healthcare providers seeking a superior solution for pediatric middle ear issues. With remarkable 90+% reader accuracy in determining the presence or absence of fluid in the middle ear, the OtoSight™ Middle Ear Scope eliminates subjectivity and speculation by providing patients with a non-invasive and comprehensive assessment of middle ear fluid, even in the presence of earwax.
SmileyScope is a leading pioneer in virtual reality (VR) therapeutics focused on managing pain and anxiety for patients. The company's VR headset and proprietary technology, known as Procedural Choreography, replaces negative real-world stimuli with positive VR stimuli resulting in significant reduction in pain and anxiety. As reported in the Journal of Pediatrics, their system offers 60% reductions in pain and 40% reductions in anxiety for some of the most common medical procedures.
Voxel Healthcare is revolutionizing neuroimaging diagnostics using Deep Machine Learning on brain structures. Brain image diagnostics currently rely on tedious and subjective manual visual inspection, often missing critical life-altering details. With Voxel's AI products, a quantitative analysis of all the 3D brain structures provides a far more robust and replicable process for diagnostic assistance. This data-driven method can unveil new crucial information, decrease errors in diagnosis, and improve both patient outcomes and site efficiency. Today, Voxel's focus is on pediatrics, as currently there is no solution addressing children's brains in the marketplace, and all of the algorithms can be applied to the full lifespan as well.
Xploro® is a disease agnostic and clinically validated patient engagement platform that uses augmented reality, gameplay and an artificially intelligent Avatar Guide to deliver health information to young patients, reducing the stress and anxiety associated with hospitalization, improving health literacy and fostering better engagement with health services. We started with children with cancer, but we're building a health information platform for any patient, of any age, with any condition, anywhere in the world.
SPOTLIGHTS ON PEDIATRIC HEALTHCARE INNOVATION:
Crash Cart (Valley Children's Healthcare)
See how the Valley Children's Healthcare innovation team is partnering with Harloff and Medline to make an existing product even better.
George's Pass (Valley Children's Healthcare)
George's Pass is a program developed by Valley Children's Healthcare to help improve care and ease the stress of the hospital experience for children with autism spectrum disorder and sensory issues. This program is provided by a multidisciplinary team that uses evidence-based strategies to evaluate and address a child's individualized needs and is expanding to community partners, including the Chaffee Zoo in Fresno.
Move-D (CHOC Children's)
MOVE-D is a novel, simple but elegant, mechanical elbow brace that stabilizes tremors in the dominant upper extremity for essential tremor and pediatric ataxic cerebral palsy to improve the performance of Activities of Daily Living (ADLs).
________________________________________________________________________________________________________________
About Innovation Lab
Innovation Lab is a subsidiary of The Innovation Institute, an independent, for-profit limited liability corporation structured to cultivate innovative solutions to transform health care delivery. Its three distinct elements include Innovation Lab, which taps into physicians, employees, and industry business partners to incubate and commercialize new medical products and ideas; an investment fund; and a shared services group (Enterprise Development Group). The Institute is owned by non-profit health systems who together strive to "do more, with less, for more people." For more information, visit https://ii4change.com/innovation-lab/.
About Valley Children's Healthcare
Valley Children's Healthcare provides Central California's only high-quality, comprehensive care exclusively for children, from before birth to young adulthood. Our network offers highly specialized medical and surgical services to care for children with conditions ranging from common to the highly complex at its 358-bed stand-alone children's hospital that includes 28 regional NICU beds. In addition, the Valley Children's Healthcare network includes specialty care centers, pediatric primary care practices and women's health services. Our family-centered, pediatric services extend from a leading pediatric cancer and blood diseases center on the West Coast, and a pediatric heart center known for its expertise and pioneering treatments, to a Regional Level IV neonatal intensive care unit (NICU), the highest level referral center between Los Angeles and the Bay Area.
Valley Children's was the first children's hospital west of the Rockies to receive Magnet Nursing designation, the highest nursing benchmark in the world. In 2021, U.S. News and World Report again named Valley Children's one of the best children's hospitals in the country in seven pediatric specialties. With more than 670 physicians and 3,500 staff, Valley Children's delivers high-quality, comprehensive care to more than 1.3 million children from Kern County to the state capital and from the Central Coast to the Sierra. For more information, please visit www.valleychildrens.org.
About RedCrow
Founded in 2016, RedCrow is an equity niche-funding platform that provides professionally vetted investment opportunities in the healthcare and social impact sectors. Through its proprietary platform, RedCrow enables companies an opportunity to market and advertise their investment to a crowd of accredited investors. RedCrow's mission is to transform the way healthcare companies raise capital and strives to provide accredited investors access to private equity investments of which they previously have had limited access to. For more information, please visit www.redcrow.com.