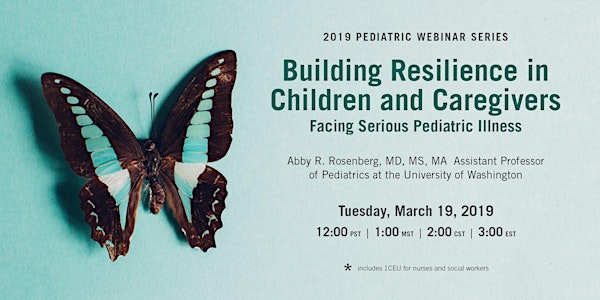 PEDIATRIC WEBINAR SERIES - Building Resilience in Children and Caregivers facing Serious Pediatric Illness
Description
The 2019 Pediatric Webinar Series is presented in collaboration with the Pennsylvania's Pediatric Palliative Care Coalition (PPCC) and Greater Illinois Pediatric Palliative Care Coalition (GIPPCC).
Patients and families facing serious pediatric illnesses face a unique and challenging experience, including disruption of normal physical, mental and social development. The impacts can be long-lasting. Patients, siblings, and parents may be at risk for anxiety, depression and post-traumatic stress. In some cases they may be less likely to achieve milestones such as attending school, gaining independence or forming close friendships. In this session you will learn ways to help children, teens, and young adults – and their parents – become more resilient in the face of serious health problems. The goal is to equip patients and families with skills that improve their outcomes and help them lead happier, more fulfilling lives.
$40 Individual Registration / $150 Organization Registration
Complimentary registration is available for parents. Contact Kristen Bond, kbond@coalitionccc.org, for a special discount code.
1 CEU included for nurses and social workers.

---
Webinar participants will:
Describe resilience theory and how it does (or does not) relate to pediatric experiences

Describe a novel tool to promote resilience in pediatric patients and parents

Describe clinical questions to ask patients and families in order to help them feel more resilient.
---
FACULTY:
Abby R. Rosenberg, MD, MS, MA
Assistant Professor of Pediatrics at the University of Washington

Abby R. Rosenberg, MD, MS, MA, is an Assistant Professor of Pediatrics at the University of Washington, with joint appointments in the divisions of Bioethics & Palliative Care, and Hematology/Oncology. She received her MD from Stanford University and did her pediatrics residency and fellowship training at Seattle Children's and the University of Washington.
She is currently the director of the Palliative Care and Resilience research program at Seattle Children's Research Institute, and the director of Pediatrics in the University of Washington Cambia Palliative Care Center of Excellence. Her scholarship focuses on the intersection of medical, psychosocial, and bioethical issues involved in the care of children, adolescents, and young adults with serious illness. Specifically, she and her team endeavor to create evidence-based palliative care interventions to promote patient and family resilience. Current projects include NIH-funded randomized trials to test her novel resilience intervention in populations of teens with advanced cancer.
---
CONTINUING EDUCATION
Full attendance at the live webinar (you must attend a minimum of 50 minutes) is a prerequisite for receiving professional continuing education credit. Attendees requesting CEU credit must each call into the webinar individually using the call-in number and computer link from the instruction email for attendance to be documented. If this is not done, there is no official documentation of attendance, and CEU credit cannot be granted for this webinar. Organizations who wish to show the live webinar to a group of staff can purchase the organization registration and work with CCCC staff to get sign-in sheets in order for attendance to be documented for CE purposes.

Everyone who wishes to receive CEs is also required to complete an online survey within 30 days following the webinar. A link to the evaluation will be provided in an email sent within 24 hours following the webinar. The email will also include links to the presentation recording and slides. Certificates will be sent via email.

Nursing: Provider approved by the California Board of Registered Nursing, Provider #CEP 15403, for one (1) contact hour.
Social Work: Course meets the qualifications for one (1) hour of continuing education credit for LMFTs, LCSWs, LPCCs and/or LEPs as required by the California Board of Behavioral Sciences. CCCC is approved by the California Association of Marriage and Family Therapists to sponsor continuing education for LCSWs and LMFTs, Provider #91987.
Chaplains – This program may be used for continuing education credit for chaplains certified with the Board of Chaplaincy Certification Inc.


---
CANCELLATION POLICY
Cancellations must be made in writing no later than three (3) business days prior to the webinar, and faxed to (888) 789-9475 or e-mailed to info@CoalitionCCC.org, to receive a full refund. No refunds will be made after this date. Substitutions are encouraged and can be made by calling (916) 489-2222.


ANY QUESTIONS?
CCCC maintains responsibility for this course and its content. Please contact us at (916) 489-2222 or email info@coalitionccc.org with any questions, to address a grievance, or to request special ADA accommodation needs.
Note: When registering, please use the email address of the person attending the webinar.