About this Event
Wednesday April 10, 2019
Pedestrian Deposit
OMEI
Tongue Depressor
w/dj sets by Mordecai & F. Esther
8pm
$8 adv / $12 day of show
PEDESTRIAN DEPOSIT
Reverse tension, abrasive composition. The duo of Shannon A. Kennedy and Jonathan Borges is best described as visceral and narrative; informed by elements of experimental sound, harsh noise, musique concrete, neo-classical, dark ambiance and performance art but is not beholden to any one genre. It is best experienced live and in the moment to understand it's full scope.
PD maintains an adherence to personal integrity and independence -- both with live appearances and recordings, which are issued through Monorail Trespassing, the record label Borges has operated for nearly 20 years. Their refusal to play into the corporate re-structuring of the music underground remains a consistent mindset.
Instrumentation consists of physically activated, sculptural instruments made of wood, metal, strings and springs, and gutter electronics.
http://pedestriandeposit.bandcamp.com
http://www.facebook.com/pedestriandeposit
http://monorailtrespassing.com
OMEI
"OMEI is my ambient, dark industrial, or doesn't really stick to a genre side project. Each release or track attempts to concentrate on one thought and extend it through to its conclusion. Its a hard look at my obsessive/compulsive thought process. SICKNESS can be thought of as a thousand thoughts in 10 seconds. OMEI is the same thought for 10 hours. OMEI comes from the place were I focus on problems, break them down, rework, reconstruct and re-ruin, with the final result of some kind of resolution. This is the initial idea for all my work as OMEI." -Chris Goudreau
http://www.sickness999.com/omeimain.htm
https://www.discogs.com/artist/213380-Omei
TONGUE DEPRESSOR
Tongue Depressor is Henry Birdsey and Zach Rowden, two names that are becoming familiar in the minds of anyone that follows underground music from New Haven, Connecticut. Compelling work from risings stars.
https://tonguedepressor.bandcamp.com
MORDECAI & F. ESTHER
We've been so lucky to add the NIGHT dj crew known as Mordecai & F. Esther to this stellar line-up. This duo does not disappoint, so arrive early, and get it on.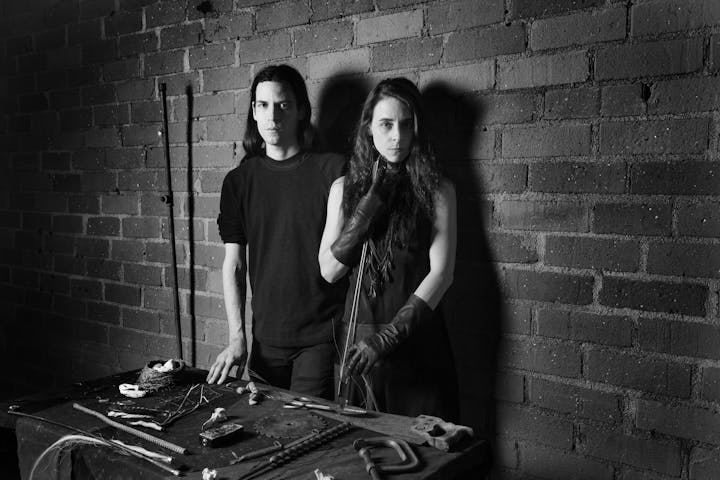 Performers
Date and Time
Location
Refund Policy