Description
Presented by Bay Area Bicycle Law, John Muir Health | UCSF Health and Drake's Brewing Co., Pedalfest is a FREE celebration of bikes, cycling, food, and family!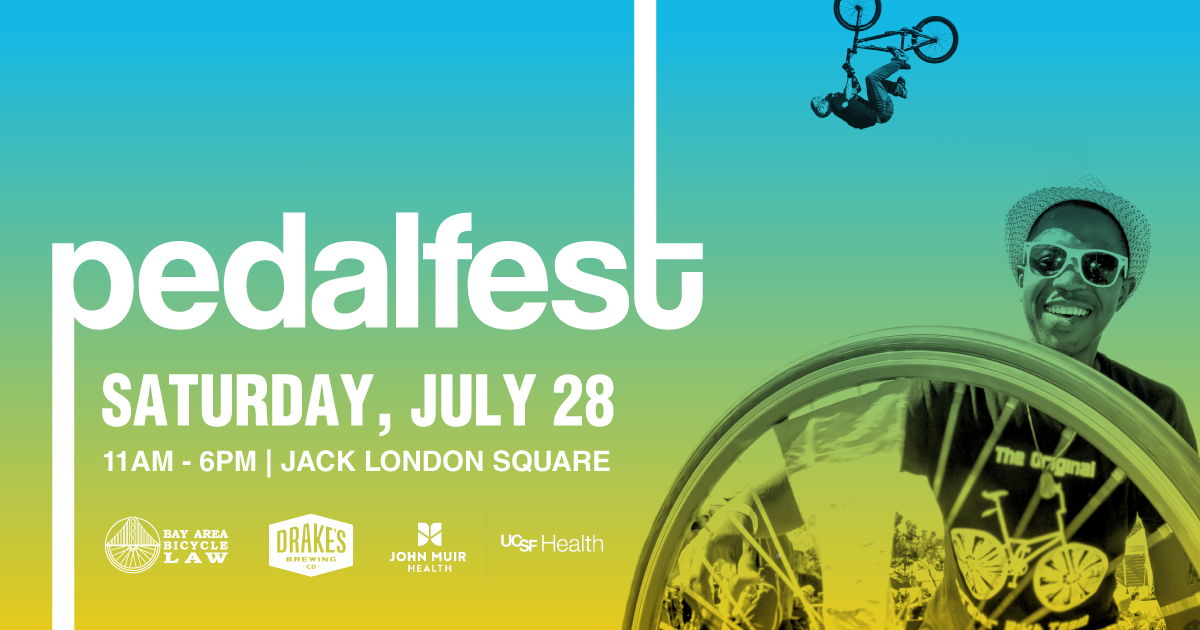 Join us at Jack London Square for a day of bicycle shenanigans, an amphibious bike race, dare-devil stunts, art bikes, and live music on a pedal-powered stage.
We invite you to be a part of the Pedalfest Custom Bike Show, one of the highlights of this year's festival! Bring your stretched bikes, lowriders, rat rod, vintage bikes, BMX, custom cruisers, or any pedal-powered custom vehicles. Sign up now to secure a 10'x10' booth space for your club! (Bring your own tent. Limited vendor spaces available). Individuals are welcome to bring your custom bike for a display as well.
Application deadline is Friday, July 13. All proceeds benefit Bike East Bay!


Check out dozens of fabulous attractions at Pedalfest!
Amphibious Bike Race
Watch a spectacular display of land- and sea-worthy bikes as they pedal through Jack London Square and into the Oakland Estuary.
Rock the Bike Pedal-Powered Stage
Hop on a stationary bike and pedal to generate power for Rock the Bike's off-grid sound stage! Stage lineup is coming soon!
Kids Bicycle Parade
Be a part of the Kids Bicycle Parade and help kick-off Pedalfest 2018! Walk Oakland Bike Oakland and the Oakland Public Library will be hosting an awesome decorating station where kids can deck out their bikes with spoke cards, streamers, stickers, and more! Join the decoration station at 11am. The parade will cruise through Jack London Square at noon.
Electric Bike Test Track
Curious about electric bikes? Visit our E-Bike Test Track, presented by Trek Bicycles of Berkeley, and take a spin! Visit with manufacturers' reps, see the latest in bike tech and ride a variety of e-bikes, including electric cargo bikes. Find the E-Bike Test Track at the corner of Broadway and Embarcadero. Riders must be 18 years of age.

Bicycle Stunt Shows
Professional stunt riders Zak Maeda and Casey Holm will wow crowds with exciting, two-wheeled stunts showcasing bicycle balancing and agility on obstacles!
Kids Bicycle Rodeo
A team of youth cycling instructors will lead a fun-filled bicycle rodeo for children throughout the day including a bike safety course, skills building lessons, and bicycle safety instructions. Bikes and helmets will be provided to participating children, grades 3-6.
Drake's Brewing Lounge Area
Kick back under the palm trees and enjoy a cold one! All proceeds from Drake's Brewing will support Bike East Bay.
Whymcycles
Builder Peter Wagner brings his cycling creations to Pedalfest! From penny-farthing high wheelers to miniature hand cycles, he has spent years creating an eclectic collection of handmade bicycles built from recycled car parts, trampolines, old bicycles and more!
Theft Prevention Photo Booth
Register your bike at the Dolan Law Firm's Theft Prevention Booth and learn all the best tips for keeping your favorite two-wheeled machine safe. Come take a photo of your bike and get a free listing on BikeIndex.org.
Learn to Unicycle
Local riders will perform unicycle stunts on the main stage and teach you how to balance on one wheel at their learn-to-ride station.
Oakland Public Library Bike Library
The city's bike-powered bookmobile pulls into Pedalfest with cascading bookshelves filled with books for locals to browse and even check out!