Pedal-with-Pete, Kent, Ohio, 2015

Saturday, June 6, 2015 from 7:00 AM to 2:00 PM (EDT)
Event Details
The 21st annual Pedal-with-Pete, Kent Event will be held Saturday, June 6, 2015. The start/finish is at the Theodore Roosevelt High School, 1400 N. Mantua St (Rte 43), Kent, OH. Registration is from 7:00 to 9:30 AM the day of the ride/hike. Save by pre-registering online (here!) or by mail.  (Registration "at the door" is $40.)
The 10, 25 and 50 kilometer bike routes will travel through Kent, neighboring communities and on the Hike and Bike Trail. The 100 kilometer route will travel on rural and city roads through neighboring communities including Stow, Streetsboro, Hudson, Boston Heights, Brimfield and Ravenna.
The family friendly 2 and 5 kilometer hike routes will travel along the scenic Cuyahoga River and local Kent streets.
The rides and hikes are fully supported with direction/map hand-outs, clear markings along the routes and roving SAG support. Light refreshments and water will be available at rest stops along the bike routes.
Complimentary lunch and entertainment, including music, massages and door prizes, await you at the completion of your ride/hike (starting at 10:30 AM). A bike tune-up station will also be located at the start/finish. A raffle will also be held to win a 2015 Raleigh Detour 4.5 bicycle. Raffle tickets can be purchased when you pre-register (here!), from a volunteer or on the day of the event.
Select a route to ride/walk at your own pace, planning to finish between 10:30 AM and 1:00 PM. The event will close at 2:00 PM.
Enjoy a fun event and support a great cause. Thank you for your participation and supporting Pedal-with-Pete and cerebral palsy research.
2015 Sponsors
Titanium
- Portage Cyclery                               -  Saint-Gobain Corporation                    -  Ray's Place           
-  Kent Lions Club                               -  Colleen & Marty Pohlod

Golden Spoke
-  Larry & Donna Kannal                       - NEO Digital Media LLC                       -  John & Linda Ferlito                         
-  Sandra Wittenauer

Silver Chain
-  Paskey Tours                                  -  Kent Optometric                                 -  Edith & Horst Hebrank

-  Hometown Bank                              -  Beth & Matthew Casey                       -  Jen & Kent Pierce

-  Gregory A. Lis, DDS                        -  Frances & Steve Hardesty                   -  Guy Russ

-  Woodsy's Music Inc                        -  Judy & George Gaiser                          -  Richard Ruch

-  Miracle on Main Street (M.O.M.S.)   -  Ruby & Wade Wallinger                       -  Dr. Richard Skinner
-  Rosine Johnson                               -  Gail DeMaria-Heidt                              - Anonymous (1)
-  Bruce Neal                                      -  Laura Seloover

Pedal Partner
-  Cheryl & Scottl Hanna                      -  Sue Sidun                                          -  Sharon & John Hall
-  Chester Galazka                              -  Pat & Jack Burns                                -  Cornelia Harmon
-  David Nolan                                     -  Carol Ashby & Family                          -  Shirley & James Nash
-  David Gough

Sole Supporter
-  City Bank Antiques                          -  Richard Lashley                                   -  Dorothy & John Felten
-  Carol & Richard Hudecek                  -  Rev. Horst Hoyer                                 -  Lisa & Dan Regan
-  Will Meilander                                  -  Shirley Minor                                      -  Mildred Edmonds
-  Charlotte & John Hudecek                 -  Janet & Richard Lewis                         -  Judy Zofchak
-  Paul Joestlein                                  -  Jenny Coffee                                       -  Paul Falstad
-  Marilyn Silvey                                  -  Christina Bergmann                             -  Melinda Bednarik
-  Thomas Legeza

When & Where

Roosevelt High School
1400 North Mantua Street
Kent, OH 44240


Saturday, June 6, 2015 from 7:00 AM to 2:00 PM (EDT)
Add to my calendar
Organizer
Pedal-with-Pete Foundation
Mission: Pedal-with-Pete is a philanthropic organization, dedicated to raising funds for research to improve the quality of life for persons wtih cerebral palsy.
In 1993, Pete Zeidner, an Ohio resident and former cyclist who has CP, gathered this all-volunteer team forming the Pedal-with-Pete Foundation to raise money for research to help prevent, treat, and even cure the effects of cerebral palsy.
The Pedal-with-Pete Foundation annually moderates three charity cycling/walking events in the midwest.   
We continue to be a discerning funder of CP research thanks to the support of donors, participants in the events, and sponsors like YOU!
These two exciting and promising grants were awarded with funds raised in 2016 (the entire grant-making history is found at pedal-with-pete.org/grants/previous-grant-recipients/ )
Researchers at Yale School of Medicine in Connecticut will non-invasively study the brains of premature infantsusing advanced MRI techniques to determine the relationship between oxygen levels provided in the hospital and the impact on outcome with respect to cerebral palsy. Although low levels of oxygen related to prematurity are known to cause damage to the brain, further damage could also be caused by giving too much supplemental oxygen. This research can thus lead us on the path to prevention of some causes of cerebral palsy.
Researchers collaborating at Nationwide Children's Hospital in Columbus, Ohio and Purdue University in Indiana will examine the relationship between swallowing and speech mechanisms at several physiological levels. A better knowledge of typical and atypical development of swallow and speech could lead to improved treatments for these functions in cerebral palsy, which have the potential to be life-changing and life-saving.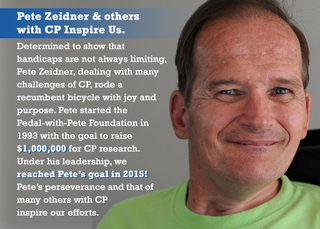 To learn more about Pete's story of determination and drive, read his autobiography, "It Sucks to be a Gimp: Pedaling to Freedom", which can be purchased through Lulu.com, Amazon.com, and pedal-with-pete.org/book-sales .  ALL PROCEEDS BENEFIT CEREBRAL PALSY RESEARCH.
Thank you so much for your support!
Pedal-with-Pete, Kent, Ohio, 2015