Pedal-with-Pete Discounted Jersey Sales

Wednesday, August 1, 2018 at 12:00 AM

-

Friday, August 31, 2018 at 11:59 PM (CDT)
Event Details
Did you miss your chance to buy a colorful hi-vis Pedal-with-Pete Cycling Jersey prior to or during our July 28 event?  Did you try to buy a jersey only to learn that your chosen size was sold out?  Fear not -- this is your chance to order a jersey and support Cerebral Palsy Research! 

JUST $55 TILL END OF AUGUST!  Price includes shipping to the address you provide.  The price goes up to $65 on September 1.  

It is important to know that these jerseys run large, typically one size larger than jerseys from most popular jersey vendors.   Please read http://pedal-with-pete.org/rider-jersey-2018/ carefully before placing your order.  
QUESTIONS?  Contact Joe Florian, email bikerjff@gmail.com, phone (614) 296-6245
When
Wednesday, August 1, 2018 at 12:00 AM

-

Friday, August 31, 2018 at 11:59 PM (CDT)
Add to my calendar
Organizer
Mission: We are dedicated to raise funds for research leading to better prevention strategies, treatment protocols, or cures that improve the quality of life for people who live with cerebral palsy, their families and caregivers.
In 1993, Pete Zeidner, an Ohio resident and former cyclist who has CP, gathered this all-volunteer team forming the Pedal-with-Pete Foundation to raise money for research to help prevent, treat, and even cure the effects of cerebral palsy.
Cerebral Palsy is a non-progressive neuromuscular disorder that disrupts a person's ability to move, sit, stand, walk, talk and use their hands. The severity of the movement disorder and the type of movement difficulties can vary greatly. Some individuals with cerebral palsy may experience only mild difficulties with balance, walking and fine motor skills, while others may struggle with rigid limbs and be unable to speak or swallow.  Occurring in about 2 to 3 per 1000 births (studies vary), CP is the most common childhood physical disability.
The Pedal-with-Pete Foundation annually moderates three charity cycling/walking events in the midwest.   
We continue to be a discerning funder of promising grants for CP research thanks to the support of donors, participants in the events, and sponsors like YOU!  Most of these grants are seed grants, and such funding is scarce yet critical to the research process.

These two grants were awarded with funds raised in 2017 (the entire grant-making history is found at pedal-with-pete.org/grants/previous-grant-recipients/ )
(AACPDM) Development and Validation of Epigenetic Signatures for Dyskenetic and Ataxic CP by Evaluation of DNA Collected from Peripheral Blood Samples and Determination of DNA Methylation Pattern Differences Among Genes Associated with CP Diagnosis




Robert Akins, PhD & co-investigators: Nemours-Alfred I. DuPont Hospital for Children, Wilmington, Delaware


This study looked for biomarkers in the DNA of people with dyskenetic and ataxic CP with a goal to help in CP diagnosis. A previous study by the group found a DNA biomarker in people with spastic CP. This is important because early diagnosis of CP remains difficult; earlier diagnosis allows earlier interventions. Additionally, an understanding of the differing DNA markers for CP can indicate the best treatment plans for the patient, saving critical time for interventions.
(AACPDM) Multimorbidity Risk Assessment and Prevention through Health –promoting Behaviors in Adolescents and Adults with Cerebral Palsy




Jan William Gorter and co-investigators: McMasters University, Ontario Canada, University of Michigan College of Medicine, & Erasmus Rehabilitation Medical Center, Rotterdam, the Netherlands




This study seeks to rigorously study the impacts of physical activity, sleep, and diet in preventing stroke and heart disease in patients with cerebral palsy. While such impacts are documented in the population that does not have disabilities, the population who has CP and other physical disabilities is not widely studied with respect to the impact of preventative behaviors. Typically, people with CP are not coached with the same energy toward healthy behaviors. The researchers' aims are to show that such health-promoting behaviors can have similar impacts with people who have CP.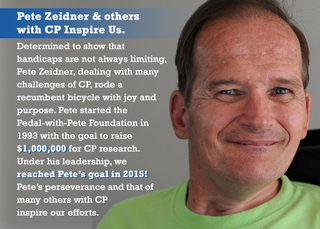 To learn more about Pete's story of determination and drive, read his autobiography, "It Sucks to be a Gimp: Pedaling to Freedom", which can be purchased through Lulu.com, Amazon.com, and pedal-with-pete.org/book-sales .  ALL PROCEEDS BENEFIT CEREBRAL PALSY RESEARCH.
Thank you so much for your support!