Pedal with Pete Cycling Jersey and Cap Sales - 2019

Monday, April 1, 2019 at 12:00 AM

-

Tuesday, December 31, 2019 at 11:59 PM (CDT)
Event Details
Help support Cerebral Palsy research and receive a colorful hi-vis cycling jersey and/or matching Italian style matching microfiber cycling cap to wear proudly as you hit the roads and trails this season!
Prices are ONLY $55 (jersey) and $12 (cap) -- shipping is included to the address you provide.  

It is important to know that the jerseys run large, typically one size larger than jerseys from most popular jersey vendors.   Please read http://pedalwithpete.org/rider-jersey-2018/ carefully before placing your order.  
QUESTIONS?  Contact Joe Florian, email bikerjff@gmail.com, phone (614) 296-6245
When
Monday, April 1, 2019 at 12:00 AM

-

Tuesday, December 31, 2019 at 11:59 PM (CDT)
Add to my calendar
Organizer
Mission: We are dedicated to raise funds for research leading to better prevention strategies, treatment protocols, or cures that improve the quality of life for people who live with cerebral palsy, their families and caregivers.
In 1993, Pete Zeidner, an Ohio resident and former cyclist who has CP, gathered this all-volunteer team forming the Pedal with Pete Foundation to raise money for research to help prevent, treat, and even cure the effects of cerebral palsy.
Cerebral Palsy is a non-progressive neuromuscular disorder that disrupts a person's ability to move, sit, stand, walk, talk and use their hands. The severity of the movement disorder and the type of movement difficulties can vary greatly. Some individuals with cerebral palsy may experience only mild difficulties with balance, walking and fine motor skills, while others may struggle with rigid limbs and be unable to speak or swallow.  Occurring in about 2 to 3 per 1000 births (studies vary), CP is the most common childhood physical disability.
The Pedal with Pete Foundation annually moderates three charity cycling/walking events in the midwest.   
We continue to be a discerning, consistent funder of promising grants for CP research thanks to the support of donors, participants in the events, and sponsors like YOU!  Most of these grants are seed grants, and such funding is scarce yet critical to the research process.

These three grants were awarded in our most recent grant-making cycle (the entire grant-making history is found at pedal-with-pete.org/grants/previous-grant-recipients/ )
Muscle Stem Cell Dysfunction in Muscular Contractures in Children with Cerebral Palsy - Sudarshan Dayanidhi, PT, PhD, Principal Investigator and Vineeta Swaroop, MD, Collaborator | Shirley Ryan AbilityLab, Chicago, IL
This study evaluates the role of muscle stem cell dysfunction in the development of contractures in people with CP and its association with age and functionality. Muscle contractures are permanent shortenings of a muscle seen in the tightest muscles of people with conditions like spastic cerebral palsy. Such contractures result in poor muscle growth that can reduce a child's functional capacity, with limitations worsening with age. Current therapies neither prevent contracture development nor diminish recurrence following corrective surgery. Recent work by these investigators has demonstrated that the muscle stem cell pool is dramatically reduced by 60-70% in muscle contractures in older ambulatory children with CP. This study aims to quantify the relationship among muscle stem cell number, degree of contracture, age, and functional levels in children with spastic CP. Understanding the mechanism of this reduction, its relationship with age, degree of contracture, and functional levels could lead to therapies to prevent and treat muscle contractures.
Participation, Mobility, and Gait in Adults with Cerebral Palsy: Relationships with Childhood Factors - Wade Shrader,M.D., Kristen Nicholson, Ph.D., and colleagues | Nemours A. I. duPont Hospital for Children (AIDHC) Center for Cerebral Palsy and Motion Analysis Laboratory, New Castle County, Delaware
The goal of this longitudinal study is to investigate the changes in gait, mobility, and participation in adults with CP over a 20-year timespan. While significant work has been performed measuring gait outcomes in children with CP, few long-term studies have followed patients into adulthood. This research is a necessary next step toward providing the best evidence-based care. Assessments will include gait impairment and gait velocity with independence, measures of gait deterioration and severity, as well as changes over time in gait pattern, ability, and function. These factors will be evaluated from childhood, through adolescence, and into adulthood. Ultimately, this investigation aims to demonstrate how surgical treatments, personal influencers, and environmental factors of childhood are associated with adult gait, mobility, and participation outcomes.
Supported Mobility Across the Lifespan in Cerebral Palsy: Joint Decision Making - Kristie F. Bjornson, PT, PhD, MS, Principal Investigator | Seattle Children's Research Institute, Seattle, WA | Heather A. Feldner, PT, PhD, PCS | University of Washington, Seattle, WA
Children and adults with CP might use a wheelchair, gait-trainer, or other weight-bearing device to aid in mobility. Such an aid is generally referred to as a "supported mobility device" (SMD). Families, patients, and rehabilitation teams decide whether or not to use a SMD and if so, which one to choose. This decision-making process is repeated throughout the patient's life, as technology improves and abilities change. This investigation is the first phase in a multi-phase, mixed-methods study to investigate the processes and outcomes of SMD decision-making in adults and children with CP. This initial phase will form the foundation for understanding how SMD decision-making takes place, specifically identifying the barriers, facilitators, and strategies for people with CP to engage in joint mobility decision-making across their lifespan. The investigators will explore the influence of development, functional mobility, age, and environment on supported mobility, engaging children and adults with CP, their families, and rehabilitation providers in order to develop a supported mobility assessment tool. Specific goals of this study include understanding mobility experiences, SMD use, and desired participation outcomes of children, youth, and adults with CP. It will also determine how perspectives of rehabilitation care providers and other professionals influence the mobility decision-making processes and outcomes in people with CP and their caregivers. The desired outcome is for this foundational work to lead to further investigations that will significantly improve SMD service delivery as well as improve the quality of care for persons with CP.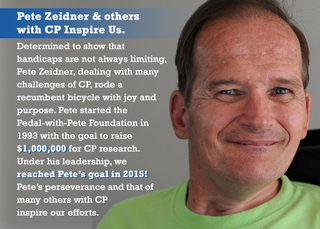 To learn more about Pete's story of determination and drive, read his autobiography, "It Sucks to be a Gimp: Pedaling to Freedom", which can be purchased through Lulu.com, Amazon.com, and pedal-with-pete.org/book-sales .  ALL PROCEEDS BENEFIT CEREBRAL PALSY RESEARCH.
Thank you so much for your support!