Pedal-with-Pete, Columbus, Ohio, 2017

Saturday, July 29, 2017 from 7:15 AM to 5:00 PM (EDT)
Event Details
Saturday, July 29th, 2017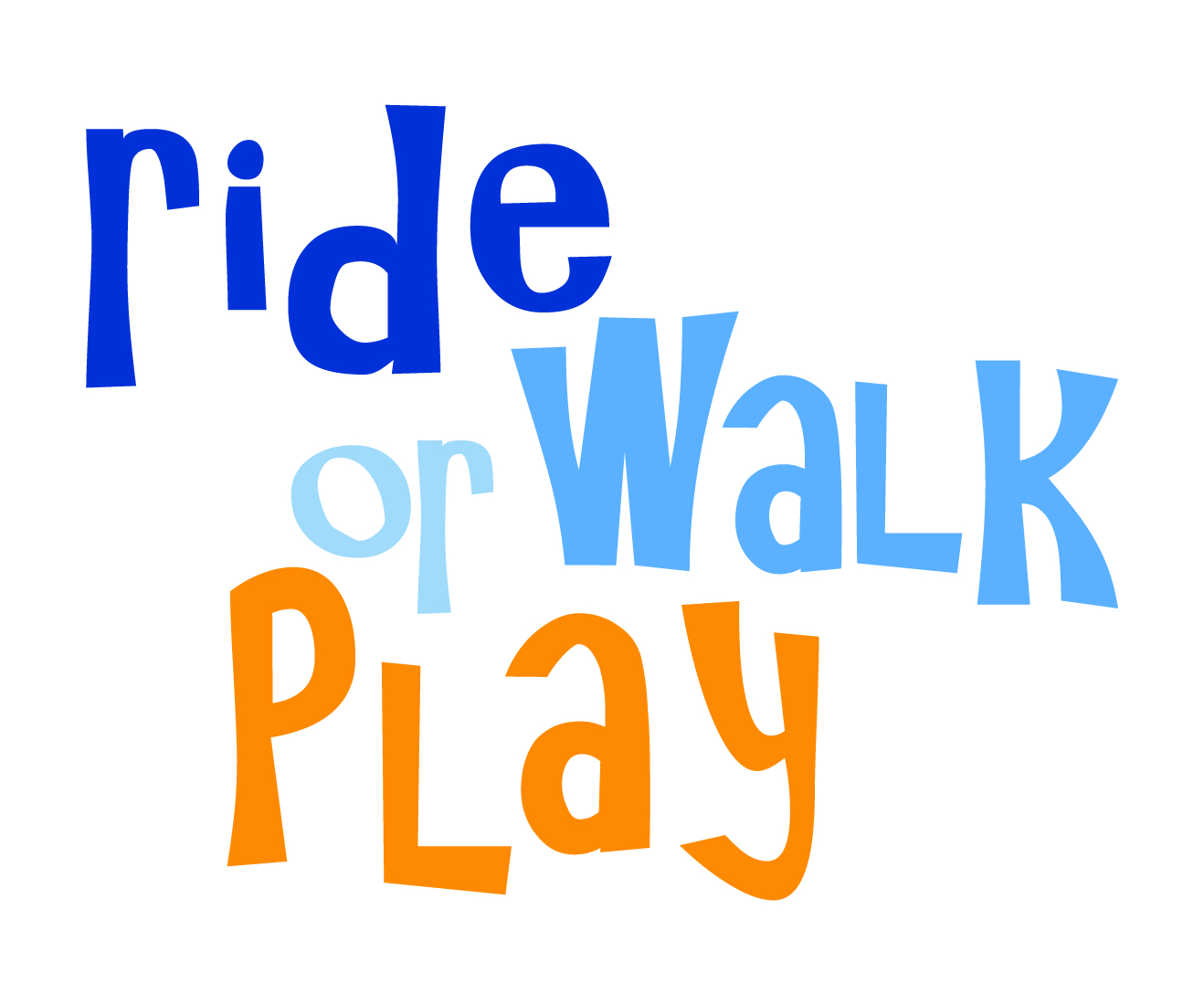 Ride, Walk, or Play!
An event for all ages and all abilities, all for Cerebral Palsy Research!
Starts and Ends at: Hilliard Heritage Middle School, 5670 Scioto Darby Rd, Hilliard, OH 43026
Check in:
Cyclists and Walkers: 7:15 – 9:00 a.m.
Kid Fest: check-in ends at 11:00 a.m for your activity that goes from 10:30 – 12:00

Ride: 7, 18, 32, 47, 64, 80, or 100 mi.  No mass start for the bicycle rides.
Walk: 2.5 mi on paved pathways, with cut-offs available.  Mass start at 9:30 a.m.

Kid Fest: 10:30 am - 12:00 - All ages and All abilities
REGISTER NOW!
Pre-Registration ($35/adults, $10/kids 16 & under) is available through 11:59 p.m. Wednesday, July 26th.  (Registration is also available on event-day: $50/adults, $10/kids 16&under)
If you generously participate as an "Advocate" ($75) or a "Supporter" ($100), then you'll receive an additional gift of a 24-pack-cooler bag, compliments of Fast Switch. Registration is also available on the day of the event ($50/adults, $10/kids 16 & under) at the School.
Food before, during and after the event - a free cookout!

Helmets required for those on bicycles.
MORE DETAILS ON ROUTES AND ACTIVITIES:

WALK: The 2.5 mile walk will have a mass start at 9:30am at the Hilliard Heritage Middle School and an escort to cross Scioto Darby Rd to and from the Hilliard Municipal Park (also known as Roger A. Reynolds Municipal Park). The walk will pass a small playground, two ponds, ball diamonds, and stay on paved drives and pathways.
BICYCLE RIDES: The 7 mile bicycle route follows the Heritage Rail Trail, passing through Homestead Park. The 18 & 32 mile routes are mostly flat jaunts to the scenic Big Darby Creek. The 47 mile route follows flat to gently rolling terrain on lightly traveled township roads, following the Big Darby toward its source. The 64 mile route is for those wanting that metric century! The 80 & 100 mile courses follow the same route with additional loops featuring longer grades. All routes are marked with arrows on the road, and include a rest stop with refreshments and water. No mass start for the bicycle ride.
KID FEST: 10:30am-Noon For Kids and Teens of ALL Abilities!  Join us after your walk or ride, or join us JUST for the KID FEST, for....

All-Wheel Parade – Come and decorate your Wheels  – materials provided.

One-on-One Races – All in fun!

Refreshments and Entertainment – Celebration of the donations of several specially adapted bikes to kids who have cerebral palsy.  
Please spread the word with families you know, and share the fun! Here is a flyer to share.

Note that adults who participate ONLY to accompany a child under 16 for the KID FEST may attend free of charge, so in this case, only pre-register the children.
STUFF: Pre-register by July 1st and reserve a t-shirt in your requested size. (Limited quantities and sizes available for those who register after July 1st).  First 1,000 registrants receive a rally towel, compliments of Thrivent Financial.

COLLECT DONATIONS!
Invite others to help beat CP! All donations are tax deductible. Bring your donations on the day of the event or mail them by September 5th.
EVENT DAY ENTERTAINMENT
Fun for the young and young-at-heart! Plus a free cookout after the event!
WIN PRIZES!
Every registered participant is entered into the drawing to win a door prize:
anything from free food, free passes or even free bike gear! When you finish the event, check back in —
you may have won!
More information can be found on the What to Expect at the 2017 Event website.
FAQs
Are the routes the same as last year?  Has anything changed?
We reversed the Walk route to change things up!
Also, For 2017, we updated the 7 mile bike-path-only route due to construction issues. The route will be well-marked with directional signs. Here is a sneak-peak of the new route: DRAFT 7-mile Route for 2017 Both crossings of Scioto Darby will be made with the help of police officers. 
Always check for last minute changes to the routes at the "Map Table" at Check-in, because we drive the routes the night before looking for road issues that might impact the routes. 

Is my registration/ticket transferrable?  Also, can I update my registration information?

Yes!  This tool gives you a mechanism for doing that.  If you need assistance, please contact Cathy or Claudia at pwp@pedal-with-pete.org or 614-527-0202.
Is there a "rain date"?  Do you reschedule everything?

No!  Rescheduling everything would... drive us into madness.  However, you might be surprised; the weather can change in an instant!  Come to the event anyway and we can all watch the skies and the radar together!

Are there ID requirements or an age limit to enter the event?
There are NO ID requirements when you sign-in, although we recommend that you carry an ID for safety purposes. 
We welcome participants of ALL ages and we provide routes and entertainment for ALL ages!  We require that a parent or guardian accompany any child under 13.  Children 16 and under participate at a much-reduced registration fee of $10!
What are my transport/parking options getting to the event?
We have a lot of parking thanks to Hilliard City Schools!  However, we are RESERVING the a section of the parking area for the KID FEST, and we have an extra-large area for HANDICAPPED parking since we expect many participants who will get help and hope from the CP research we are funding through this event!

Do I have to bring my printed ticket to the event?
No.  We will have a list of all the pre-registered participants, and we will check you in and give you event materials including your T-shirt and gift from Thrivent Financial, if you are one of the first 1000 to register.
Where can I contact the organizer with any questions?
We LOVE to talk about this fantastic event and the important cause of CP research!  Just contact Cathy at 614-527-0202 or email pwp@pedal-with-pete.org or Twitter @pedalwithpete or facebook.com/pedalwithpete .
Pedal-with-Pete, Columbus, Ohio
2017 SPONSORS
Please Join Us in Thanking Our
Generous Corporate Sponsors!


YELLOW JERSEY SPONSORS
Baer Wheels
Family of David Brooks
FastSwitch
roll:
Stolz-Mead Global
Trek Bicycle Store
Thrivent Financial: Jeff Ritter and Dave Ritter
Wheelie Fun Bicycle Shop
MILLENIUM SPONSORS
Flags, Arches, and Banners, LLC

Team Lauren Tenant
TITANIUM SPONSORS
Columbus Sports Connection
Cycle614
John and Myrt Rule: Global Wellness Partners
STAPLES Office Superstore
FOOD SPONSORS
Bob Evans Farms
Frito Lay
Kroger
Panera Bread
PepsiCo
Whit's Frozen Custard of Hilliard
Costco | Giant Eagle | Meijer | Walmart | Whole Foods Market Columbus

KID FEST PRESENTED WITH HELP FROM
TAASC | Nationwide Children's Hospital, CP Program | Team Heart and Sole

Columbus Medical | Counting Possibilities | CP Parent Columbus
When & Where

Hilliard Heritage Middle School High School
5670 Scioto Darby Rd
Hilliard, OH 43026


Saturday, July 29, 2017 from 7:15 AM to 5:00 PM (EDT)
Add to my calendar
Organizer
Mission: We are dedicated to raise funds for research leading to better prevention strategies, treatment protocols, or cures that improve the quality of life for people who live with cerebral palsy, their families and caregivers.
In 1993, Pete Zeidner, an Ohio resident and former cyclist who has CP, gathered this all-volunteer team forming the Pedal with Pete Foundation to raise money for research to help prevent, treat, and even cure the effects of cerebral palsy.
Cerebral Palsy is a non-progressive neuromuscular disorder that disrupts a person's ability to move, sit, stand, walk, talk and use their hands. The severity of the movement disorder and the type of movement difficulties can vary greatly. Some individuals with cerebral palsy may experience only mild difficulties with balance, walking and fine motor skills, while others may struggle with rigid limbs and be unable to speak or swallow.  Occurring in about 2 to 3 per 1000 births (studies vary), CP is the most common childhood physical disability.
The Pedal with Pete Foundation annually moderates three charity cycling/walking events in the midwest.   
We continue to be a discerning, consistent funder of promising grants for CP research thanks to the support of donors, participants in the events, and sponsors like YOU!  Most of these grants are seed grants, and such funding is scarce yet critical to the research process.

These three grants were awarded in our most recent grant-making cycle (the entire grant-making history is found at pedal-with-pete.org/grants/previous-grant-recipients/ )
Muscle Stem Cell Dysfunction in Muscular Contractures in Children with Cerebral Palsy - Sudarshan Dayanidhi, PT, PhD, Principal Investigator and Vineeta Swaroop, MD, Collaborator | Shirley Ryan AbilityLab, Chicago, IL
This study evaluates the role of muscle stem cell dysfunction in the development of contractures in people with CP and its association with age and functionality. Muscle contractures are permanent shortenings of a muscle seen in the tightest muscles of people with conditions like spastic cerebral palsy. Such contractures result in poor muscle growth that can reduce a child's functional capacity, with limitations worsening with age. Current therapies neither prevent contracture development nor diminish recurrence following corrective surgery. Recent work by these investigators has demonstrated that the muscle stem cell pool is dramatically reduced by 60-70% in muscle contractures in older ambulatory children with CP. This study aims to quantify the relationship among muscle stem cell number, degree of contracture, age, and functional levels in children with spastic CP. Understanding the mechanism of this reduction, its relationship with age, degree of contracture, and functional levels could lead to therapies to prevent and treat muscle contractures.
Participation, Mobility, and Gait in Adults with Cerebral Palsy: Relationships with Childhood Factors - Wade Shrader,M.D., Kristen Nicholson, Ph.D., and colleagues | Nemours A. I. duPont Hospital for Children (AIDHC) Center for Cerebral Palsy and Motion Analysis Laboratory, New Castle County, Delaware
The goal of this longitudinal study is to investigate the changes in gait, mobility, and participation in adults with CP over a 20-year timespan. While significant work has been performed measuring gait outcomes in children with CP, few long-term studies have followed patients into adulthood. This research is a necessary next step toward providing the best evidence-based care. Assessments will include gait impairment and gait velocity with independence, measures of gait deterioration and severity, as well as changes over time in gait pattern, ability, and function. These factors will be evaluated from childhood, through adolescence, and into adulthood. Ultimately, this investigation aims to demonstrate how surgical treatments, personal influencers, and environmental factors of childhood are associated with adult gait, mobility, and participation outcomes.
Supported Mobility Across the Lifespan in Cerebral Palsy: Joint Decision Making - Kristie F. Bjornson, PT, PhD, MS, Principal Investigator | Seattle Children's Research Institute, Seattle, WA | Heather A. Feldner, PT, PhD, PCS | University of Washington, Seattle, WA
Children and adults with CP might use a wheelchair, gait-trainer, or other weight-bearing device to aid in mobility. Such an aid is generally referred to as a "supported mobility device" (SMD). Families, patients, and rehabilitation teams decide whether or not to use a SMD and if so, which one to choose. This decision-making process is repeated throughout the patient's life, as technology improves and abilities change. This investigation is the first phase in a multi-phase, mixed-methods study to investigate the processes and outcomes of SMD decision-making in adults and children with CP. This initial phase will form the foundation for understanding how SMD decision-making takes place, specifically identifying the barriers, facilitators, and strategies for people with CP to engage in joint mobility decision-making across their lifespan. The investigators will explore the influence of development, functional mobility, age, and environment on supported mobility, engaging children and adults with CP, their families, and rehabilitation providers in order to develop a supported mobility assessment tool. Specific goals of this study include understanding mobility experiences, SMD use, and desired participation outcomes of children, youth, and adults with CP. It will also determine how perspectives of rehabilitation care providers and other professionals influence the mobility decision-making processes and outcomes in people with CP and their caregivers. The desired outcome is for this foundational work to lead to further investigations that will significantly improve SMD service delivery as well as improve the quality of care for persons with CP.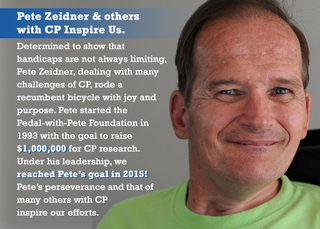 To learn more about Pete's story of determination and drive, read his autobiography, "It Sucks to be a Gimp: Pedaling to Freedom", which can be purchased through Lulu.com, Amazon.com, and pedal-with-pete.org/book-sales .  ALL PROCEEDS BENEFIT CEREBRAL PALSY RESEARCH.
Thank you so much for your support!