Pedag. Dr. Adem Güneş ile Aile İçi Eğitim Semineri

Saturday, June 21, 2014 from 7:00 PM to 9:30 PM (PDT)
Event Details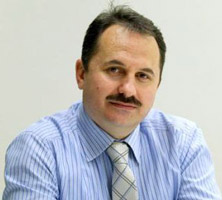 Adem Güneş Kimdir?
Dr. Adem Güneş, (d. 1969, Ankara), Uz. Pedagog
İlk orta ve Lise öğrenimini Türkiye'de yaptı. Rotterdam Üniversitesi Pedagoji Bölümü mezun oldu. Uzunca yıllar yurt dışında yaşadı. Avrupa eğitim sistemlerini ve çocuk eğitimi modellerini bizzat yerinde inceleme fırsatı buldu.

Pedagojinin kültürden bağımsız olamayacağını dile getiren Güneş, Anadolu pedagojisi değerlerinin altını çizmekte ve duyarlılık eğitimi olmadan davranış eğitiminin yetersiz kalacağını dile getirmektedir.

2008 yılından bu yana Türkiye'de bulunan Adem Güneş, haftalık Aksiyon dergisinde köşe yazarlığı ve Burç FM'de Radyo programları yapmaktadır.

Pedagojide uzmanlık sahası "Şiddet", "Taciz" ve "Suistimaller" olan Adem Güneş Fatih Üniversitesinde Öğretim Görevlisidir.

Yayınlanmış 11 Türkçe ve 2 İngilizce kitabı bulunan Adem Güneş'e 21011 yılında Türkiye Çocuk Zirvesi tarafından ÇOCUK DOSTU ödülü, 2012 yılında Medya Etik Konseyi tarafından AİLE VE ÇOCUK PROGRAMLARI Medya Etik Ödül'ü verilmiştir. Adem Güneş, 2013 yılında ise, Çanakkale 18 Mart Üniversitesi Senatosu tarafından "Anadolu Aile Yapısına Katkılarından ve Anadolu Pedagojisini Bilim Literatürü'ne kazandırdığından dolayı" Eğitim Bilimleri Alanında Fahri Doktora Unvanı verildi.

Adem Güneş evli ve dört çocuk babasıdır.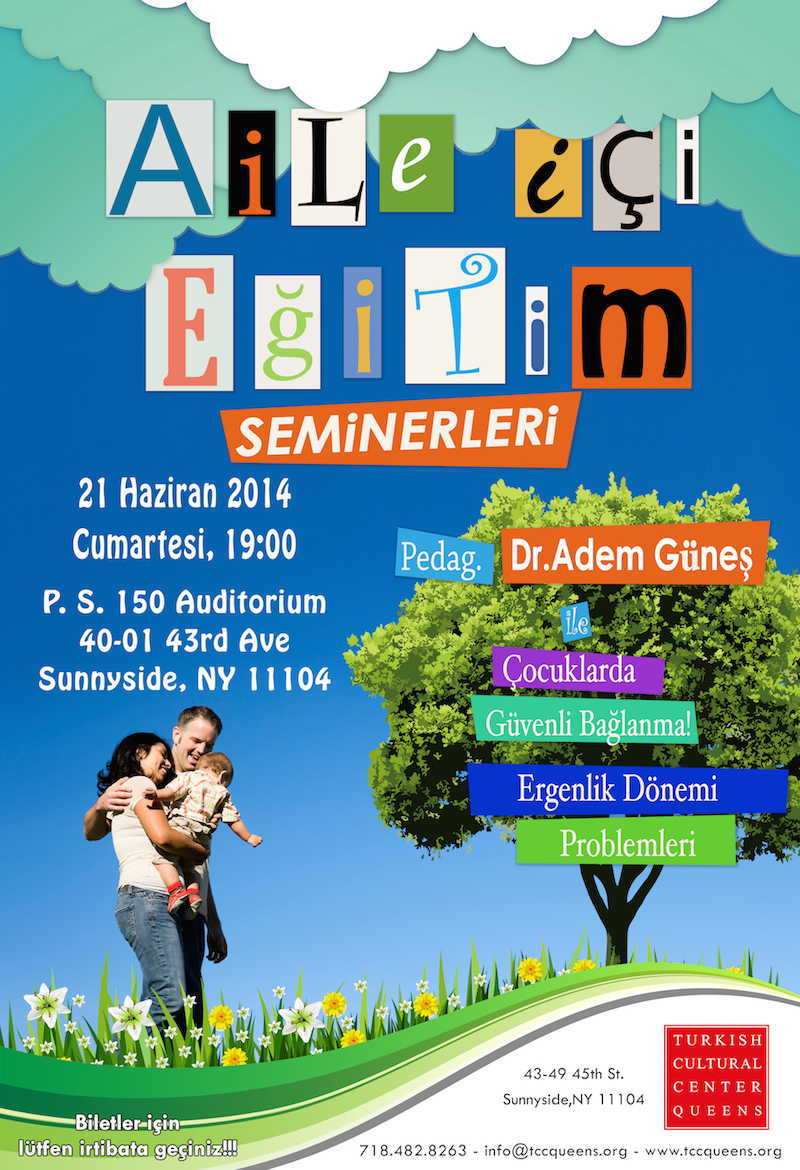 When & Where

P. S. 150
40-01 43rd ave
Sunnyside, NY 11104


Saturday, June 21, 2014 from 7:00 PM to 9:30 PM (PDT)
Add to my calendar
Organizer
The Turkish Cultural Center is located in Queens, NY. The Center is an institution committed to community involvement. The organization hopes to be a forum of international cultural exchange while promoting Turkish Cultural Heritage.
Turkish Cultural Center of Queens is a non-profit organization dedicated to educating and informing the public about the many dimensions of Turkey and Turkish culture and its history and to unite the Turkish-American community within the Queens, NY area as well as strengthen relations with the surrounding population by exchanging cultural diversity through sponsorship of different social gatherings. 
Pedag. Dr. Adem Güneş ile Aile İçi Eğitim Semineri