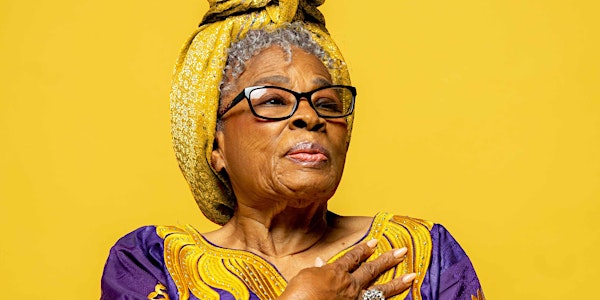 Peckham Speaker Series Presents: Opal Lee (MORNING SESSION)
The "Grandmother of Juneteenth," Ms. Opal Lee shares on social justice, equity and the journey to making Juneteenth a national holiday
About this event
Please join us for this LIVE virtual event as social impact leader, Opal Lee shares about the journey to Congress on making Juneteenth, (an annual holiday that commemorates the end of slavery in America) a national celebration. There will be an interactive Q&A session after the speech.
ABOUT OPAL LEE:
Ms. Opal is a voice of history with a message for the future. Many consider her the "Grandmother of Juneteenth" but if you ask her who she is, she will tell you she's "just a little old lady in tennis shoes getting in everybody's business."
Early Life: Opal Lee was born October 7, 1926, in Marshall, Texas. Her mother moved to Fort Worth when she was ten years old. She attended Cooper Street Elementary School and graduated from Historic I.M. Terrell High School in 1943 at the age of 16.
Education & Career: She didn't go straight to college after graduation which was a grave disappointment to her mother, but did eventually get there after getting married, having four children, and getting divorced. She earned her Bachelor of Arts degree in 1953 from Wiley College (now Wiley University) and returned to Fort Worth to teach at Amanda McCoy Elementary School for 15 years where she was regarded as one of the best educators in her field. At night she worked at Convair (now Lockheed Martin) to support her children. She later obtained her Master's degree in Counseling and Guidance from North Texas State University and served as Home/School Counselor for Fort Worth Independent School District until her retirement in 1977.
Retirement & Community Activism: Retiring gave Mrs. Lee the time and opportunity to become even more involved in the community. She was one of the founding members of Citizens Concerned with Human Dignity (CCHD) which was formed to assist the economically disadvantaged in finding housing in Fort Worth. She volunteered at Habitat for Humanity and served as a member of the board. She now serves on Habitat's Land Acquisition Board.
With Lenora Rolla as its inspiration, Mrs. Lee helped establish the Tarrant County Black Historical & Genealogical Society dedicated to the preservation of the history of the Fort Worth Black populace. She served on the Historic & Cultural Landmarks Commission, AIDS Outreach committee, Evans Avenue Business Association, Good Samaritans, and Riverside Neighborhood Advisory Council.
She has served as Precinct Chair for District 8 for over 30 years, a member of Grandmother's Club, and Ethel Ransom Humanitarian & Cultural Club. She is an active member in her church, Baker Chapel AME where she serves as a Missionary, church school teacher, assistant teacher and Deaconess.
On June 17, 2021, President Biden passed a bill making Juneteenth a national holiday. Ms. Opal stood alongside the president during this historic occasion and received the pen in which he used to sign off on the law.
About the Peckham Community Partnership Foundation Speaker Series
The Peckham Community Partnership Foundation's Speaker Series is designed to focus on issues relevant to the disability community and other persons with barriers to success. The series also highlights relevant industry issues including workplace culture, diversity and inclusion.
Through these free events, it is Peckham's intention to increase its own understanding and to enhance the awareness and education of these issues in the greater community.
To learn more about the Foundation and how to support email foundation@peckham.org.