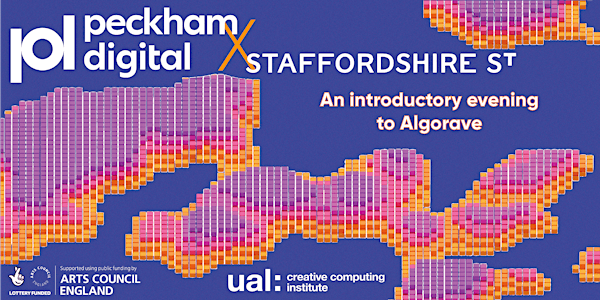 PECKHAM DIGITAL - Introduction to Algorave
This evening will include an array of free workshops and performances about Algorave, for those new to the subject or passionate for years.
When and where
Date and time
Sat, 4 Feb 2023 18:30 - 22:30 GMT
Location
Staffordshire Street 49 Staffordshire Street London SE15 United Kingdom
About this event
Introduction to Algorave is for anyone interested in Algoraves: from those who have just heard about the term to those attending them since the start. You will have the opportunity to learn about this art and then experience it through four performances.
6:45 - 7:30pm - CSV Chris Speed
8:00 - 8:45pm - Shelley Knotts
9:00 - 9:45pm - Alex McLean
10:00 - 10:30pm - Antonio Roberts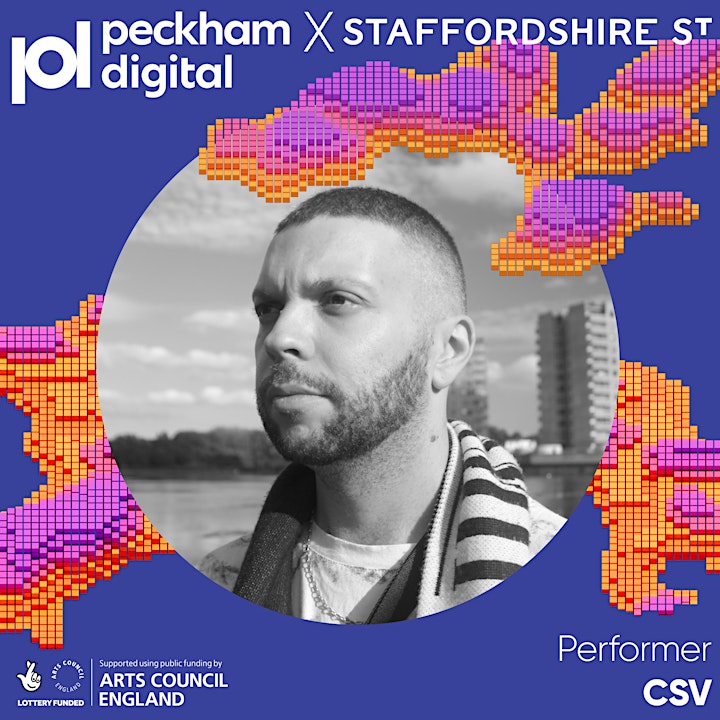 Chris Speed Visuals (CSV) is an audiovisual artist and DJ working at the intersection of art and digital technology. Born and raised in London, CSV began solely as a 3D artist but his musical output gradually developed over the years. Studying MA Computational Arts at Goldsmiths University allowed him to develop as a practitioner and he now incorporates generative composition into his productions, making for boundary-pushing results.
His graphical aesthetic uses similar computational approaches to the music, consistent across artworks, music videos, live visuals and virtual environments. Equally at home creating immersive installations for gallery spaces as mixing rhythms on the dancefloor, CSV has performed at numerous venues across the UK and is a member of multiple artist collectives.
Shelly Knotts is an improvisor who performs with computers and other humans. Interests in code, data and networks have lead her down strange and diverse musical paths from electroacoustic composition, through jazz and noise music to algorave. She experiments with generative and AI techniques and opinionated algorithms to make music. She has performed at numerous Algoraves and other live coding events worldwide, solo and with collaborative projects including ALGOBABEZ. In 2017 she was a winner of BBC Radiophonic Workshop and PRSF 'The Oram Awards' for innovation in sound and music.
Alex Mclean has been exploring algorithmic patterns as a live coding musician since around the year 2000. He's active across the digital and software arts, including founding the TidalCycles and Strudel live coding systems, and co-founding the TOPLAP live coding and Algorave algorithmic dance music collectives, and the AlgoMech festival. He has performed widely including at Sonar, Transmediale, Glastonbury, Ars Electronica, and No Bounds festivals. He currently holds a four-year non-academic research fellowship, exploring algorithmic patterns as part of the non-profit open access lab Then Try This.
Antonio Roberts is an artist and curator based in Birmingham, UK, working primarily with video, code, and sound. He is critically engaged with the themes surrounding network culture and in his practice explores how technology continues to shape ideas of creation, ownership, and authorship. As a performing visual artist and musician he utilises live coding techniques to demystify technology and reveal its design decisions, limitations, and creative potential.
His work has been featured at galleries and festivals including, Furtherfield, Tate Britain, Ukrainian Institute of Modern Art in Chicago, Birmingham Open Media, Jerwood Arts, Whitney Museum of American Art, Green Man Festival, Barbican, Victoria and Albert Museum, Czurles Nelson Gallery, and New Art Exchange.
He is an Artist Advisor for Jerwood Arts and from 2014 - 2019 he was Curator at Vivid Projects where he produced the Black Hole Club artist development programme. In 2021 he co-founded the (Algo|Afro) Futures programme for early career Black artists to learn about live coding and creative coding.
As a live coder and performing artist he has performed at events and venues including SXSW, Barbican, Green Man Festival, Supersonic Festival, British Library, BlueDot Fetsival, Cafe Oto, ICLC, Corsica Studios and more.
Peckham Digital is a festival celebrating creative computing, with a programme of interactive artworks, workshops, talks and performances run over 4 days.
We champion access to art through technology, support emerging artists and provide a space for digital art communities to meet in person. We deliver excellence by making creative computing accessible; championing digital art communities and emerging artists and getting people creating through a practical, 'hands dirty' approach: getting people to learn things they can develop at home.
Peckham Digital CIC is a registered not-for-profit Community Interest Company, limited by guarantee.
https://www.peckhamdigital.org/about/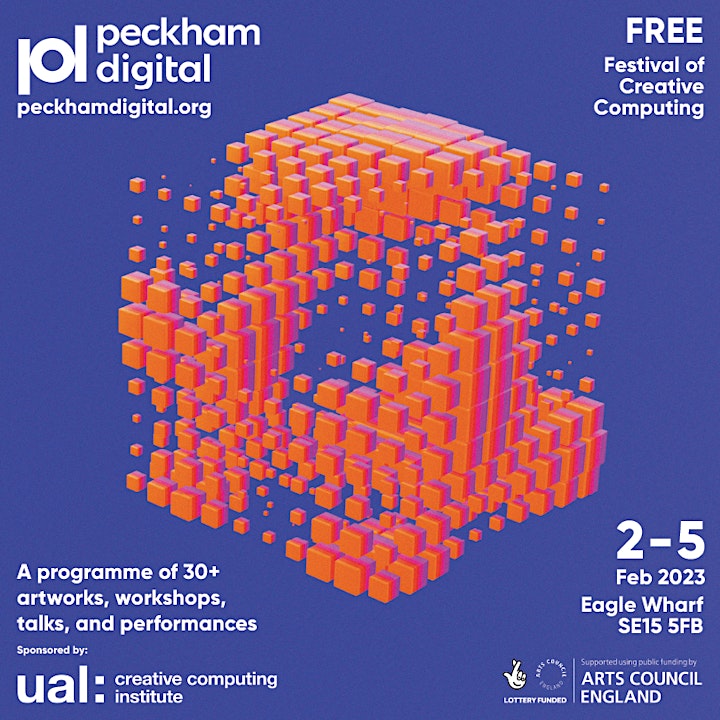 Staffordshire St
Staffordshire St is an independent project space in Peckham, South East London. The venue facilitates arts and cultural events and provides affordable studios for artists, makers and designers. ​
The venue was recently established as an art gallery, before then it was for many years a community centre and originally it was built as a Methodist Hall. Staffordshire St will build on the established record of these histories, opening up again to the neighbourhood and developing a welcoming interdisciplinary arts space.
More information on upcoming events at : info@staffordshirest.com or @staffordshirest
Accessibility: There is step-free access to the gallery via the door to the left hand side of the main entrance. There is a wheelchair accessible toilet. The event will be taking place in the exhibition space, which will be in darkness.