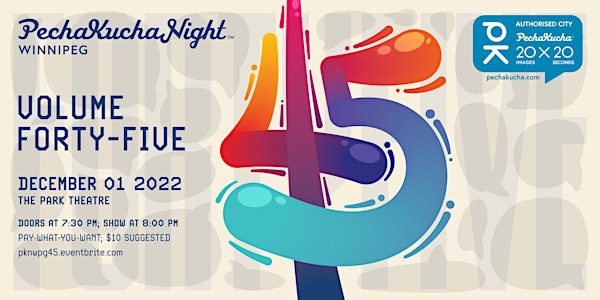 PechaKucha Night Winnipeg Vol. 45
PechaKucha invites local creative and creative-adjacent people to speak on whatever they want in 20 slides showing only for 20 seconds each.
When and where
Location
The Park Theatre 698 Osborne Street Winnipeg, MB R3L 2B9 Canada
About this event
Some people say winter is a little gloomy but PechaKucha Night Winnipeg is always full of colour no matter what season it is. We're back once again to show how colourful our city is with an incredible group of creative local Winnipeggers who are ready to present their work, ideas, and stories in the 20x20 format in Volume 45 of PechaKucha Night Winnipeg!
Doors open as usual at 7:30 PM, and the show starts at 8:00 PM.
Admission is pay-what-you-want, but we suggest $10. Tickets and registration are not required, but feel free to register to let us know you're going!
–––––––––
☰ SPEAKERS ☰
➪ Sean Audet, Photographer
➪ Liam Berry, Composer
➪ Earl Cabuhat, Motion Designer
➪ Amanda Chau, Creator, Chau Food Lifestyle
➪ Casey Nolin, Photographer
➪ J.D. Renaud, Visual Artist and Comedian
➪ Joanne Roberts, Reporter, CBC Manitoba
➪ Sophia Seng, Interdisciplinary Designer & Sound Engineer
–––––––––
☰ MASK REQUIREMENTS ☰
PechaKucha Night Winnipeg requests that attendees wear masks when attending our event in-person.
–––––––––
☰ WHAT IS PECHAKUCHA NIGHT? ☰
PechaKucha is a presentation format invented by Tokyo-based firm Klein Dytham Architecture in 2003. At every event, speakers are given 20 slides to talk about whatever they like, but each slide advances automatically after only 20 seconds. This 20x20 format gives each speaker a total time of six minutes and forty seconds. PechaKucha Night has over 1200 city chapters all over the world.
PechaKucha Night Winnipeg was established by the Graphic Designers of Canada in 2010. Each PechaKucha Night – or PKN – is a fun, and informal evening where creative and inspiring Winnipeggers talk about their ideas, stories, experiences, or work. PKN Winnipeg is held quarterly and usually at the Park Theatre.
–––––––––
☰ OTHER INFO AND SOCIAL MEDIA ☰
Follow us on Twitter and Instagram (@pkn_winnipeg) for more updates:
www.twitter.com/pkn_winnipeg
www.instagram.com/pkn_winnipeg
Follow us on Facebook (@pechakuchawinnipeg):
www.facebook.com/pechakuchawinnipeg
See some of our past talks on Youtube (@pkn_winnipeg):
www.youtube.com/@pkn_winnipeg
The official PechaKucha Night Winnipeg Vol 45 hashtag is #pknwpg45.
And for more information and to see past talks, check out our website at: www.pechakucha.org/cities/winnipeg
–––––––––
PechaKucha Night Winnipeg is brought to you by the Winnipeg Chapter of the Design Professionals of Canada.