C'est ENFIN ! le retour des beaux jours et l'équipe Pechakucha Lausanne est ravie de vous retrouver pour une belle soirée d'été!
About this event
L'équipe Pechakucha Lausanne se réjouit de vous annoncer que l'arrivée de l'été marque aussi le retour des Pechakucha en public et en vrai.
Cette première édition 2021 toute particulière aura lieu dans un lieu exceptionnel : La Ferme des Tilleuls, à Renens. C'est dans le Café plus exactement que nous vous accueillerons dès 18:00.
Si la Ferme est déjà un lieu d'intérêt, le Café l'est tout autant. En effet, la Ferme est un lieu unique où se mêlent de nombreuses disciplines créatives et artistiques et le Café permet à huit jeunes apprenti·e·s de se confronter aux réalités des métiers de la cuisine et du service en restauration. Nous sommes ainsi heureux de vous retrouver pour un programme estival et inspirant, haut en couleurs : du renouveau, de la renaissance.
Les soirées Pechakucha sont des événements festifs, durant lesquels des intervenant·e·s de tous horizons viennent partager un récit inédit, leurs histoires de vies, leurs idées, leurs projets, leurs passions… dans le format PechaKucha 20x20 : 20 images qui défilent chaque 20 secondes.
Même si la soirée est gratuite ! nous devons nous conformer aux règles sanitaires et la participation à l'événement est, pour l'instant, limitée à 30 personnes. Nous ajouterons des places selon l'assouplissement des règles sanitaires.
Merci d'avance de vous inscrire.
Vous pourrez consommer des boissons et des cocktails, proposés au bar et des plats délicieux, préparés par le chef Jean-Michel Pierlot et toute son équipe, après les présentations - pensez à réserver votre table. Encadrée par le Chef Jean-Michel Pierlot, cette petite brigade propose une cuisine de proximité, faite maison, sur base de produits frais, locaux et bios. Tout en prenant plaisir à leur table, vous permettez à des jeunes en difficulté de faire leurs preuves.
Nous vous attendons avec impatience.
L'équipe PK Lausanne.
-------
It's FINALLY! sunny days are back and the Pechakucha Lausanne team is delighted to see you for a beautiful summer evening!
About this event
The Pechakucha Lausanne team is excited to announce that with the return of the Summer the Pechakucha in public and in real are back!
This first edition of 2021 will take place in an exceptional place: La Ferme des Tilleuls, in Renens. It is in the Café to be more precise that we will welcome you since 18:00.
If the Farm is first a place of interest, the Café is just as much. Indeed, the Farm is a unique place where many different creative and artistic disciplines are mixed and the Café allows eight young apprentices to confront the realities of the kitchen and restaurant service professions. We are thus happy to welcome you to a summertime and inspiring programme, full of colours: renewal, rebirth.
The Pechakucha evenings are festive events, during which speakers from all walks of life come to share an original story, their life stories, their ideas, their projects, their passions... in the PechaKucha 20x20 format: 20 images that slide every 20 seconds.
Even though the evening is free! we have to comply with health regulations and participation in the event is, for the moment, limited to 30 people. We will add more places if the health regulations are relaxed.
Thank you in advance for registering.
You will be able to enjoy drinks and cocktails from the bar and delicious food, if you wish, prepared by Chef Jean-Michel Pierlot and his team, after the presentations - please remember to book your table. Supervised by Chef Jean-Michel Pierlot, this small brigade offers home-made, local cuisine based on fresh, local and organic products. While enjoying their table, you allow young people in difficulty to prove themselves.
We look forward to seeing you.
The PK Lausanne team.
https://www.instagram.com/fermedestilleulsrenens/
https://www.facebook.com/fermedestilleulsrenens/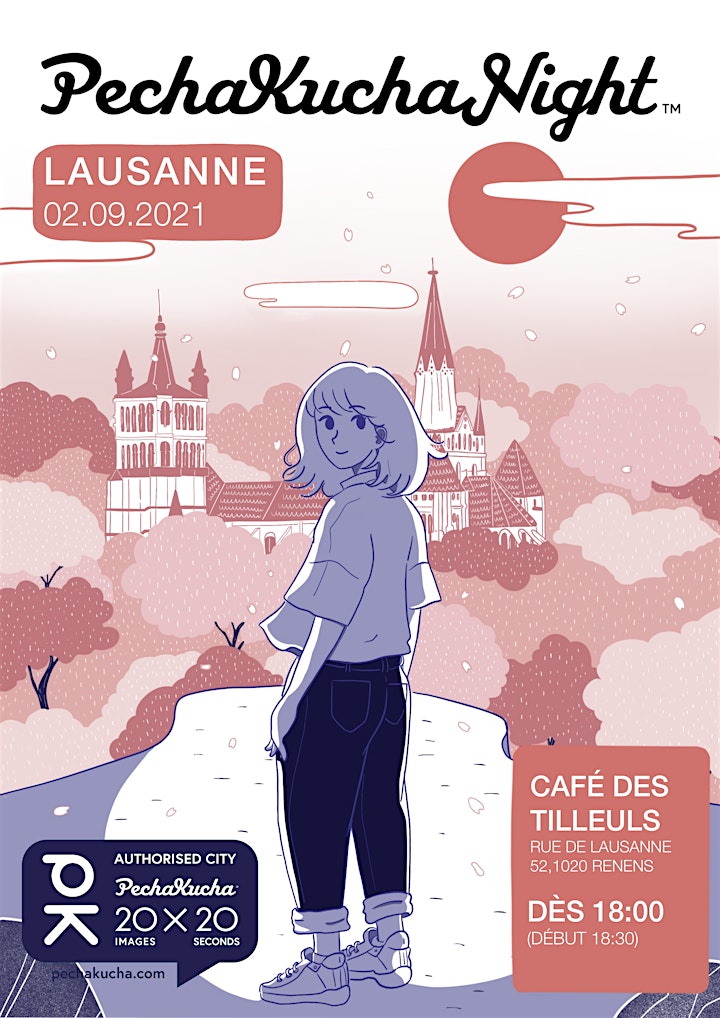 Organizer of Pechakucha Lausanne - Story telling à la Ferme des Tilleuls