Location
Garfield Park to Park Chalet
San Francisco, CA
Description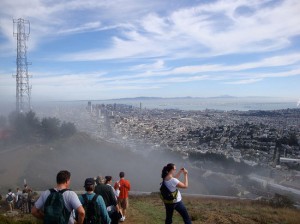 Peak2Peak 2012
14 miles. 10 peaks.
This is not your ordinary walk in the park.

See the city like never before! Discover hidden stairways and explore new paths while supporting Walk SF's work to make San Francisco a safer, more pleasant place for you to walk every day.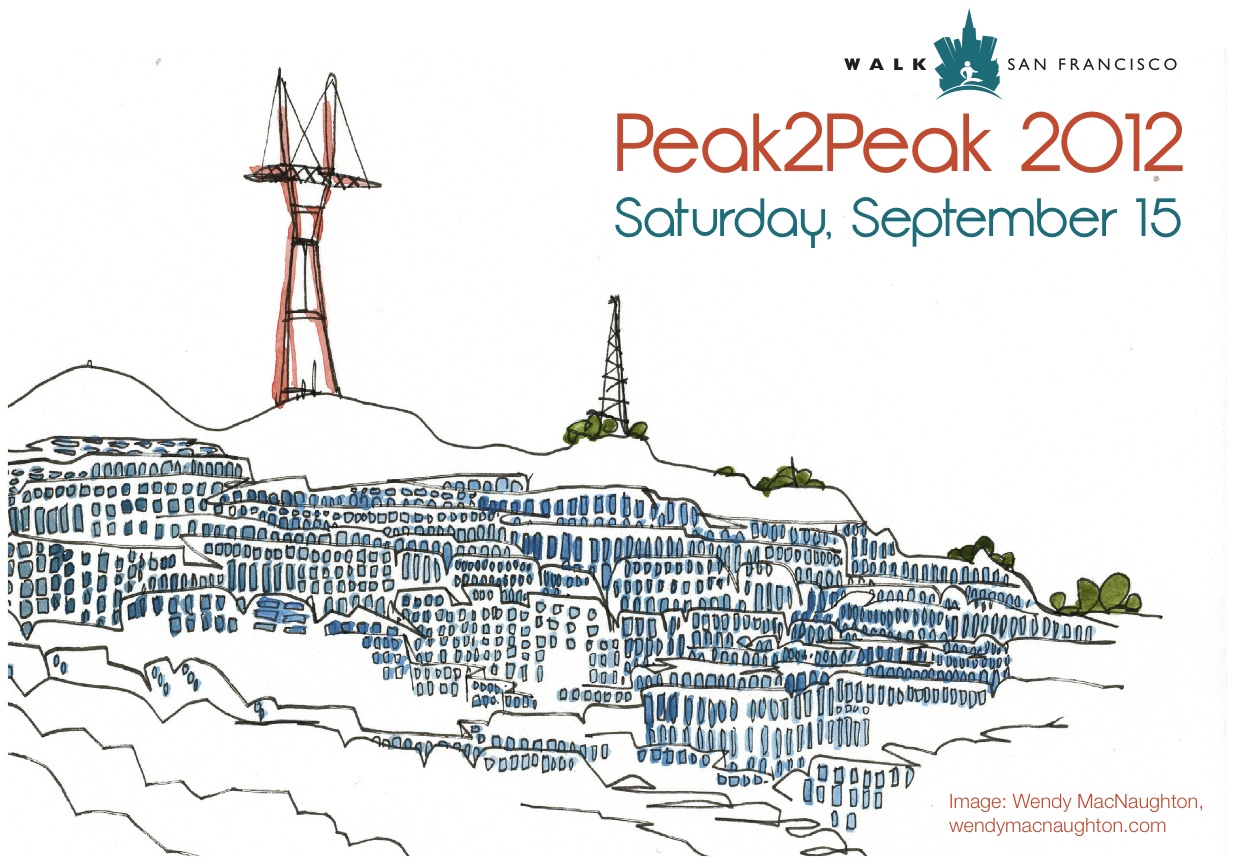 The route:
The 8th annual Peak2Peak walk begins in the heart of the Mission, climbs stairways, trails and quiet streets through Bernal and Glen Park and up Glen Canyon along the high spine of the city.
After a delicious picnic lunch served in a meadow in Golden Gate Park, it's on through the Sunset to Land's End. Finally we'll celebrate over well-earned beers at the Park Chalet across from Ocean Beach.
This guided full-day walk offers you a whole new way to experience San Francisco.
Drawing by Wendy MacNaughton
Date:
Saturday, September 15, 2012
Time:
Rolling departure times: 9:00, 9:30, and 10 a.m.
Ending depends on your walking speed -- around 4:00 - 6:00 p.m.
Location:
Walk starts from Garfield Park in the Mission, at Harrison between 25th and 26th Streets, just east of the 24th Street BART station.
Walk ends at the Park Chalet across from Ocean Beach, at the western edge of Golden Gate Park.
Cost:
Early-bird (by August 31): $65
Regular: $75
Get the iconic "I Walk SF" t-shirt for $20 more; see below.
Cancellations for any reason will receive a full refund up until September 10. Beginning September 10, 50% will be refunded & Walk SF annual membership remains in effect.
Raise funds, win prizes:
Get friends to sponsor your walk, support Walk SF's work to win safer streets, and win prizes! It's easy. Sign up, set a goal, let people know, and you're on your way! The top three fundraisers will win awesome prizes, including a $250 gift certificate to Sports Basement. Tell your friends why you care about better streets, safer walking, and a better city -- and help make it happen!
All participants who finish the route will enter a drawing for great prizes from local businesses, too.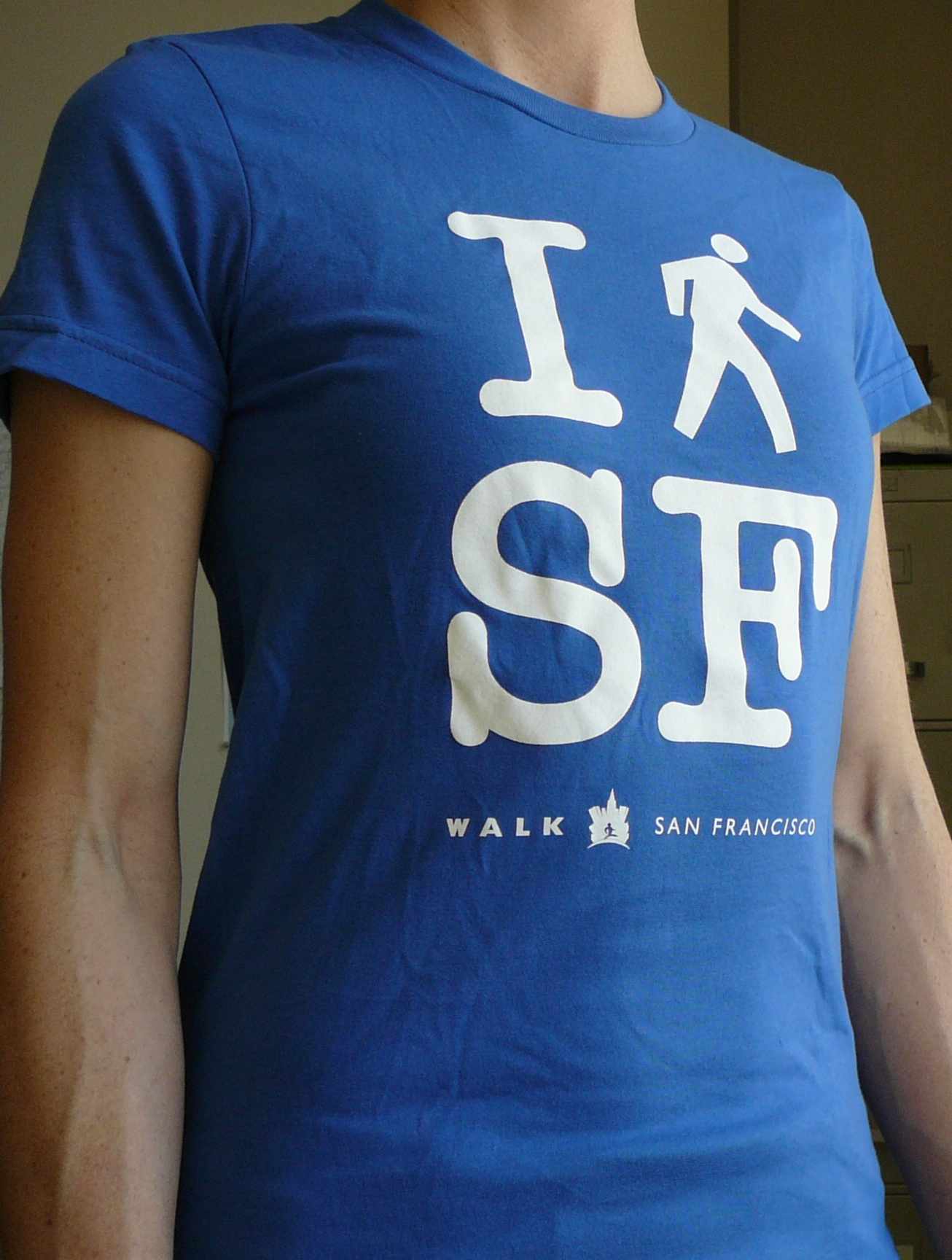 Rock the t-shirt:
When you register, you can order the popular "I Walk SF" t-shirt for just $20 more -- pick it up
at the event and wear it with pride!
Getting there and away:
The walk begins at Garfield Park, Harrison Street between 25th and 26th Streets in the Mission district, east of the 24th St. BART station. (Directions from 24th St. BART) Garfield Park is also on Muni lines 67 and 48. The walk ends at the Park Chalet; from there the 5 Fulton bus and the N Judah streetcar both go downtown, or transfer to the 49 Van Ness to return to the Mission.
If you need to drive, park in the Mission or downtown and use BART and Muni to return to your vehicle. Of course public transit makes the city even more walkable, so please consider this first.

Share your photos, support Walk SF:
Share your photos from the event on Walk SF's Facebook page and/or on Twitter (tag with @walksf, #peak2peak) and our generous sponsor GJEL will donate $5 for each photo, up to $500!
Thanks to our sponsors!