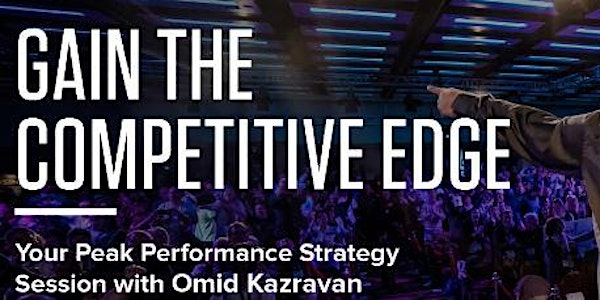 Peak Performance Strategist Omid Kazravan (Tony Robbins)
When and where
Location
Niles-Maine District Library 6960 West Oakton Street Niles, IL 60714
Description
THE FACTS
More that 60% of salespeople miss their sales goals.
The average salesperson makes two attempts to contact prospects, while 80% of sales are made after the fifth contact.
50% of sales go to the first salesperson to contact the prospect.
80% of your sales come from 20% of your sales force.
Only 11% of salespeople ask for referrals.
WHAT ARE THESE HABITS COSTING YOU AND YOUR TEAM?
WORKSHOP BENEFITS
Learn the three actions you absolutely must take to be successful in any business.
Destroy the two obstacles that are dramatically limiting your sales.
Discover the fastest method to doubling your sales without spending a penny.
Master a proven method for tripling your referrals in any interaction.
Develop an unshakable mindset that will give you the competitive advantage in your industry.