Description
Hey there!
Do you have the courage to speak confidently in front of a group of strangers?
Do you want to be recognized as a leader in your organization?
Whether you want to learn how to become a public speaker or be better at public speaking, you should attend this free event where you'll learn how to:
+ Speak with confidence and authority
+ Respond with poise and impact
+ Connect and build trust with an audience
+ Improve your leadership skills
We promise you're going to love the atmosphere and leave knowing how to become a better public speaker.
The event will be held in the main sanctuary just south of the water fountain.
Any questions, please contact Carlos at (623) 203-7037.
Below is a detailed image of where we meet on 75th Ave.
See you then!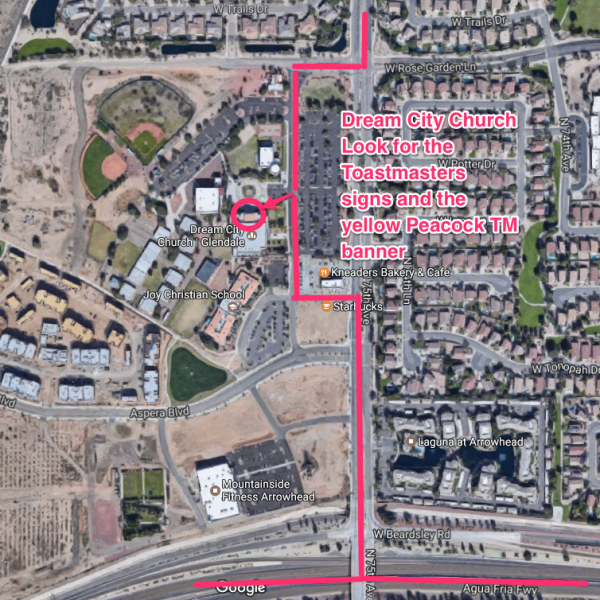 Join One Of The Most Distinguished Toastmasters Clubs In All Of Arizona
Peacock Toastmasters is a President's Distinguished Club - the highest level of recognition available by Toastmasters International. We have held this distinction for 8 straight years (since the year 2000) and are on track to be President's Distinguished for 2019.
Our club consists of members with varying levels of Toastmaster experience with the most tenured Toastmaster having more than 30 years of speaking experience.
The majority of our members have served as officers of this club and have also moved on to serve at the area and district level.
If you're looking to join a club that has a solid track record of winning awards, a great mentorship program to help you succeed, and has a consistent number of attendees every week then THIS is the club for YOU.
Come join us every Thursday – sometimes we even have a singing cowboy at our meetings!
Check out a few of our members who competed in our club contest in February 2019.