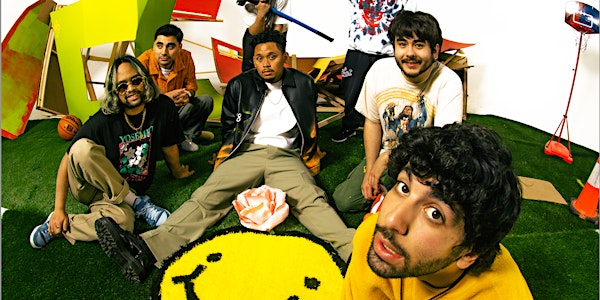 PEACH TREE RASCALS: DOES A FISH KNOW IT'S WET TOUR
Location
DC9 Nightclub
1940 9th St NW
Washington, DC 20001
Peach Tree Rascals

WEBSITE | FACEBOOK | INSTAGRAM | TWITTER | SPOTIFY

Peach Tree Rascals are a collective, dedicated to collaboration and community. They are a brotherhood, coming together to be more than the sum of their parts. Comprised of producer/mixer Dominic "Dom" Pizano,rappers-singersIssac Pech, TarrekAbdel-Khaliq, Joseph Barros,and creative director Jorge Olazaba, the group started as a teenage "do-it-yourself" attempt at music, based out of a shed in San Jose, California. With most of the members being second generation Americans (the sons of Palestinian, Filipino, and Mexican immigrants), they quickly realized a deep, natural connection with one another, and grew into a single, harmonious unit.As the band grew, they added Jasper Barros,the mastermind behind some of the guitar tracks on their biggest hits and EJ Atienza, Jorge's right-hand man assisting him with all things creative. 16 songsand a debut EPlater, the group has accumulated over 300Mstreamsand have received certified gold for their track, "Mariposa,"which also reached #1 on the Alternative Radio Chart. The Peach Tree Rascals have stayed true to the DIY mentality they had when they first started working together. As Issac puts it, "The future of PTR depends on what we wish to accomplish. It's totally in our hands and work ethic, but we know we want to be as big as possible." Signed to 10k/Homemade Projects, the Rascals are poised to ascend to even greater heights and are gearing up for some highly anticipated new music and live shows this year.

MILES

MILES' story might be almost as wild as his fusion of breezy hip-hop, earthshaking pop, and grimy rock. The St. Louis-born and Los Angeles-based singer and rapper bobs and weaves past genre lines with an unpredictable and undeniable style of his own. Predestining their son for music, mom and dad named him in homage to jazz icon Miles Davis. In turn, MILES cranked his old man's jazz records as well as Kirk Franklin, Bill Withers, Lauryn Hill, Black Eyed Peas, and Lil Wayne. MILES developed a following online in 2020 before cooking up "WHAT IN TARNATION" back in St. Louis. Beyond inspiring thousands of TikTok videos, it raked in over six million streams as he signed to Elektra Records. He maintained his momentum with the captivating, high-energy follow up singles "DESPERADOS" and "MOSH PIT." After generating 20 million-plus streams, MILES perfects his vision on his 2022 debut EP, NEVER HAVE I EVER [Elektra Records], with its title track featuring legendary multi-platinum and GRAMMY® Award- nominated musician Travis Barker. The project – due on Friday, July 15 – kickstarts a new era for this exciting artist to watch.