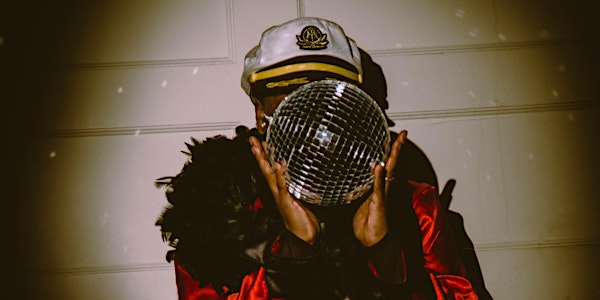 Peach Presents: PlayBOI Roller Disco & Pajama Party (The Launch)
When and where
Location
Chicago Athletic Association hotel (Madison St. entrance) 71 E. Madison Street Chicago, IL 60603
Refund Policy
Refunds up to 7 days before event
Description
Peach! Your favorite LGBTQ+ event series that unifies and celebrates queer women & femme family has returned for 2019!

This year's series is "Peach Presents: The Legends," with Peach recreating legendary parties and gatherings that made the history books with a modern, queer flair and Peach's unique flavor. The events include "PlayBOI," our rebellious and inclusive flip of the 1979 Playboy Roller Disco and Pajama Party; "Carnival," a Chicago-style recreation of the annual cultural celebration and global phenomenon; "Met Gala: Threads of a Riot," an evening inspired by the iconic annual event at the Metropolitan Museum of Art in NYC but with a focus on the queer community's impact on the fashion world; and "Surrealist Dinner Party," an intimate dinner party based on the famous Rothschild Surrealist Ball in Paris.

First up...Peach Presents: PlayBOI Roller Disco & Pajama Party

The PlayBOI party Hugh wasn't invited to – an iconic and edgy event newly seen through the queer gaze where our sexuality and individualistic community is celebrated. The original roller disco and pajama party wrapped up the 1970s by gathering musicians, performers and bikini clad models on roller skates jamming to disco hits at the Playboy Mansion in Beverly Hills. Peach revitalizes the party as an inclusive gathering where queer women and femmes of all shades, bodies and abilities can flaunt their authentic selves free from society's beauty standards and gender roles.

Part I: PlayBOI Roller Disco (6pm-8pm); ONLY 150 tickets avaialble for Roller Disco
DJ: VITIGRRL
featuring the Chi City Roll Models Kate Adams, Crimson Vixen, & Cuban Miss Elle!
Skate Rental $5 cash only at event/ not included with ticket

Part II: PlayBOI Pajama Party (8pm-12am)
DJ: Sunni D & Professor-Wrecks

Performances from The Femme FATales & Daddy tenderoni88!
Hosted by Kat Sass, Gnat Rosa Madrid, Bre Berry, Morgan Higgins & Hannah Kate!
Photography from Ethan Jollie!

Full bar and food will be available for purchase, but cute curated cocktails will be available all night long! We recommend sipping on some Tito's Handmade Vodka though, because with EACH Tito's Handmade Vodka drink purchased $5 will be DONATED to a deserving non-profit, to be announced soon, (up to $1,500!)

PlayBOI is the series' launch party, so get your tickets fast! Last year's launch party SOLD OUT before the event. Individual "PlayBOI" ticket sales will begin Monday, March 25th.

Grab your tix at thepeachparty.com!

Other details

This event celebrates queer women and femmes, but Peach encourages all friends, family, allies and identities to enjoy our welcoming, safe, and inclusive environment

All 21+ are welcome
Chicago Athletic Association hotel is wheelchair accessible
Restrooms are gender neutral

We have MANY surprises in store as we get closer to the launch date, so make sure to follow us on Facebook and Instagram to be the first to know!

Facebook: http://bit.ly/PeachFacebook
Instagram: http://bit.ly/PeachInsta
-------------------------------------------

ABOUT PEACH

Peach is an event series and brand born and raised in Chicago that is dedicated to unifying and celebrating LGBTQ+ women and femme family through music, drinks, food, art and visually stimulating entertainment. Peach brings a fully immersive design at a different venue for each event, partners with Tito's Handmade Vodka to give thousands of dollars away to nonprofits, and creates first-class, inclusive spaces. While the brand's mission centers queer women and femmes, allies and identities across the LGBTQ+ spectrum are encouraged to join in our safe space.

Peach is produced by Black Thread Agency (website: http://bit.ly/BlackThreadAgency)

Creative Team: Chris Tuttle, Ashley Thompson
Photo: Manuela Schreiber

Tito's Handmade Vodka:
Tito's Handmade Vodka is produced in Austin at Texas' oldest legal distillery. Love has always been at the heart of this company. Back in 1992, years before he sold his first case, Tito started making vodka to give as gifts. Its popularity quickly spread among his friends and family, and he soon became known as "the vodka guy." When Tito decided to really make a go of it in the spirits business, he started supporting charity events around Austin one bottle at a time, and gave away, by all reasonable standards, a ridiculous amount of vodka.

Free Write Sound & Vision:
Free Write Sound & Vision provides full-service sound reinforcement and production support for all sizes and styles of events. Our expert project managers and technicians work closely with our partners to execute their vision and offer world-class experiences for their audiences.Unlike similar services, Free Write S&V is committed to social justice and employment equity in the arts industry. We hire and train alumni of Free Write Arts & Literacy and other young, primarily African American and Latinx adults with barriers to employment. We then support them as they make their way into an arts industry that is in need of a diverse, young workforce.

Chicago Athletic Association hotel:
Once reserved for the elite and privileged for 122 years, the Chicago Athletic Association hotel opened its doors to the public in 2015, and now welcomes everyone to play and partake in its over 150 annual programs and events, stay overnight in its 240 guest rooms, and dine and drink at its seven restaurants and bars. Originally built in 1893 in the celebrated Venetian-Gothic style to impress crowds of the World's Fair the same year, the building underwent an extensive three-year restoration and opened its doors to all as a luxury boutique hotel – no membership required.