Description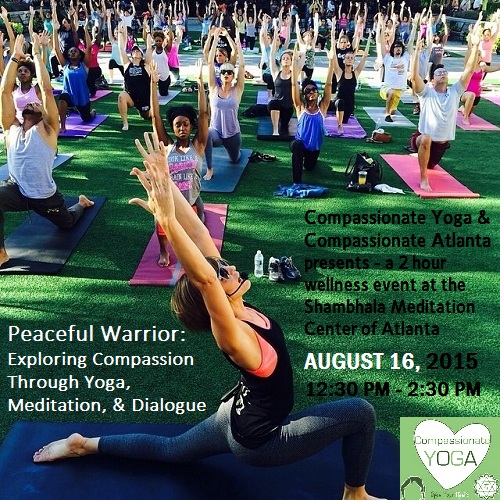 WHO: This wellness event is open to the general public and suitable for every fitness level, ethnicity, creed, age, gender, body type, sexual orientation, skin color, etc. Please come with an open-mind and open heart.

• For more information on Compassionate Atlanta please visit http://www.CompassionateATL.com

• For more information on Compassionate Yoga please visit http://www.HeartChakraYoga.com

WHAT: Compassionate Atlanta and Compassionate Yoga will be joining forces to bring to you, Peaceful Warrior: Exploring Compassion Through Yoga, Meditation, & Dialogue, a two-hour wellness event on the third Sunday in August 2015. We sincerely hope to enlighten you on how being compassionate can constructively transform your perception on people in your life, yourself, and the whole world. Our intention is to insightfully inspire you to ignite courage, consistency, cognizance, fearlessness, wisdom, kindness, and of course compassion -- within yourself. Our aspiration is to motivate you to practice cultivating compassion in your everyday life.

• Commencement: A fusion of Anusara Yoga, Ananda Yoga, Vinyasa Yoga, Tai Chi, and Qigong.

• Core: A fusion of Heart Rhythm Meditation, Mindfulness Meditation, and Shamatha Meditation.

• Culmination: The discussion leader will give a short presentation on Compassionate Atlanta, what compassion means, and how compassion looks in everyday life. This will be followed by an open discussion. Verbal interaction will be eagerly encouraged! Feel free to ask questions, relate compassion to an experience you are facing or have faced in life -- positive or negative, share what compassion means to you, share ideas on how the world can move towards a more compassionate future, etc.

WHEN: Sunday, 08/16/15, from 12:30 noon to 2:30 afternoon. This event is scheduled to take place outdoors, however if it rains, if the ground is wet, or if it is overwhelmingly hot it will be moved indoors.

WHERE: Shambhala Meditation Center of Atlanta, located near the intersection of Church Street and North Decatur Road. It's located around the corner the Dekalb Medical Hospital, across the street from Suburban Lanes, and one mile down the street from the heart of Downtown Decatur. The address is 1447 Church Street, Decatur Georgia 30030.

WHY: Spiritual Growth. Cultivation of Compassion. Improves Mental Health (Mind), Fitness (Body), and Meditation (Soul).

HOW: The recommended donation is $20 or simply pay what you are able to afford. Bottled water will be provided. Please bring a yoga mat. If you are unable to bring a yoga mat and need to rent one, please contact me well in advance. ALSO please be sure to arrive at least 10 minutes early if possible. Please RSVP on Eventbrite, Meetup, or Facebook.

PARKING: There about 15 parking spaces available at the building, and a few dozen more directly across the street. All parking is in a parking lot and all parking is free!