Come to Peacebunny Cottage and spend some time out relaxing and enjoying time outside while helping supervise our bunny playtime.
About this event
Come to Peacebunny Cottage and spend up to 1.5 hours out relaxing and enjoying time outside while helping supervise our bunny playtime with rabbits from Peacebunny Island rabbitry.  Feel free to come sit in the shade of a tree or plop down in the middle of the pasture but we don't want you out walking around.  
We'll have limited chairs, plenty of blankets or feel free to bring a lawn chair.  You are invited to come sit with in the field with them and unwind, de-stress and find your sweet spot.    This kind of event helps the rabbits to trust humans and allow the rabbits to be in charge of the playtime.  If they come over to you, of course you are free to interact with them!  So it's designed to be mutually beneficial during this human-animal interaction.  This is a one hour session in one of the pastures; throughout the summer there will be different levels of grass depending on what area is being mowed for bunny food, but you're basically welcome to hang out in their salad bar while they play and munch. 
OTHER EVENT OPTIONS: To become a foster family for up to 2 months at a time or volunteer, go to Bunny Boot Camp . Kinderbunny sessions are for spending time helping us train the comfort rabbits. We host Little Vet classes which is hands on learning skills for little ones with stuffed animals & real bunnies. Bunny 101E is a super fun rabbit playtime without the details about how to care for a rabbit in your home. Lots of fun ways to learn with our educational programs for all ages.
To be clear about expectations: After orientation, guests will be shown where to go in the pasture where you'll be spending your session.  Guests will be invited to sit in the grass, on blankets, in chairs  in the grass for 12-15 minutes , then rotate areas to other sites in the pasture. 
WEAR STURDY/CLOSED TOED SHOES (NO FLIP FLOPS/SANDALS). L ong skirt or pants are highly suggested, especially for children because we'll be in the grass.
The rabbits have the choice if or when they wish to come visit us but some are in pens nibbling and we can go visit them.
  Food: No eating in the field but you are encouraged to bring a water bottle. 
If you bring treats for the rabbits, they may not be fed during your visit because we want the rabbits to eat the natural organic grasses that are growing in the pasture.  Thanks for not tempting them with other food.
Photos: Please plan on just unwinding and not spending the whole time with a camera which can be interrupting to the rabbits and to other guests. No commercial photography is allowed unless prearranged. Remember to ask permission if you're taking photos that might include other guests.
Pasture playtime allows our bunnies to go out and truly act like a rabbit.  Run fast.  Dig.  Jump.  Sniff around.  Nibble on yummies warm from the sun.  Bonk their noses on humans.  All good stuff.  They also will become accustomed to people and the larger rabbit colony which are a first steps in their socialization training to determine if they will make good comfort rabbits.
The bunnies thank you in advance for you sharing your time and for your financial gift which goes towards their care.  We have only volunteers at this event, so every dollar you give goes towards the rabbits' year round care.
This working farm is covered under Minnesota Agritourism Law 609.604, 97B.001.  Your ticket is your written authorization to be in the pasture only, the volunteer building for handwashing and to park in the lot.  Please stay within these areas.
We look forward to seeing you at the Cottage! If it's over 85 degrees, rainy or the ground is super soft we may cancel the event and allow you to pick from other upcoming dates to roll your registration over OR you may transfer it to another person if you are unable to come on another date.
ALWAYS CHECK YOUR EMAIL 2 HOURS BEFORE EVENT FOR ANY LAST NOTICES.
At the end of your session we will remind you to wash your hands. Although we aren't aware of anyone ever getting a tick, please be sure to check your clothes, especially sock lines before you leave and when you get home
DIRECTIONS: The farm is located near the roundabout on McColl Drive in Savage, just off Highway 13.  Look for the white fence and the big white barn.  Drive up the steep driveway and park in the row with other cars by the orange cones. Because it's a working farm, please stay in your vehicles until your start time and we'll meet up as a group in the driveway.  We look forward to seeing you soon!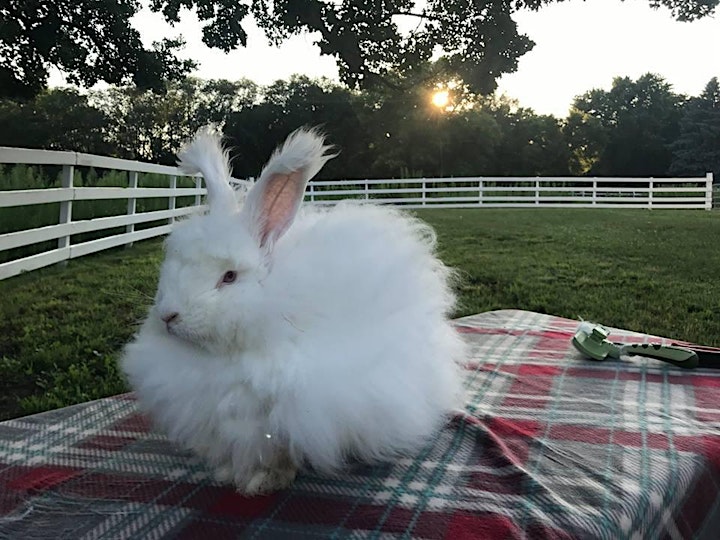 Organizer of Peacebunny Pasture Buddies July 11 (B)
HUGS * HOPE * HOPPINESS
We provide community educational programs with rabbits
"STEMbunnies" programs contain content in the areas of  E-STEAM: Environment, Science, Technology, Engineering, Arts & Math.  These classes aim to:
1) Prepare  & Engage Students in E-STEAM
2) Preserve Endangered Heritage Breed Rabbits
3) Prevent Pet Abandonment
4) Provide Service in the Community
We learn from & share the rabbits from the Peacebunny Island rabbitry.
www.PeacebunnyIsland.com