CPTSS "Peacebuilding Careers: In a Time of Global Change and Disruption with David J. Smith"
About this event
Careers in Peacebuilding Talk Story Series
"Peacebuilding Careers: In a Time of Global Change and Disruption" with David J. Smith
Learn about exploring the journey into the profession.
The Session
David J. Smith will explore options for careers and professional pathways for those pursuing peacebuilding work. He will focus on the present moment. David will consider myriad challenges facing us today: social justice, political polarization, climate change, and the pandemic, and look at opportunities that come from the present conditions.
About David J. Smith
David J. Smith is the president of Forage Center for Peacebuilding and Humanitarian Education, based in Washington, DC. The Forage Center offers experiential based training for those pursuing humanitarian careers. He is also a career coach, working with those seeking peacebuilding careers. David is adjunct faculty at the Jimmy and Rosalynn Carter School for Peace and Conflict Resolution at George Mason University in Arlington, VA. He was previously a senior program officer and manager at the U.S. Institute of Peace in Washington, DC which was created as a result of the work of the Matsunaga Commission chaired by Sen. Spark Matsunaga in the 1970s.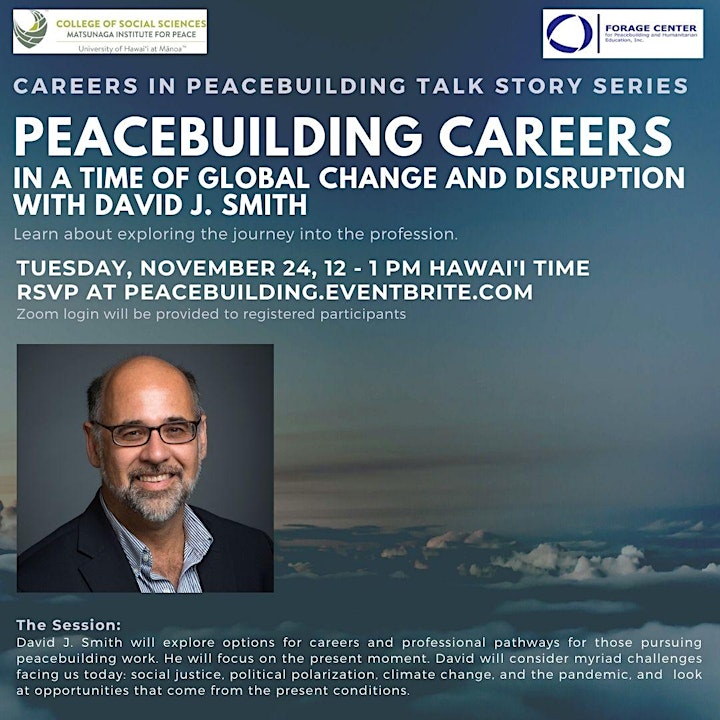 Organizer of Peacebuilding Careers
The Matsunaga Institute promotes cross-cultural understanding, collaborative problem-solving, critical thinking, and lifelong skills to groom leaders to address contemporary and complex issues near and far. Equipped with these skills, students are better able to address issues of war, injustice, human rights, cross-cultural conflict, and collaborative governance through facilitation, mediation and negotiation.