Description
Join others, peaceably assembling in petition for Truth - and Peace - at noon on June 10, 2018; everywhere - yet especially upon (even radiating from) the public "River Terrace" of The Kennedy Center, Washington, DC.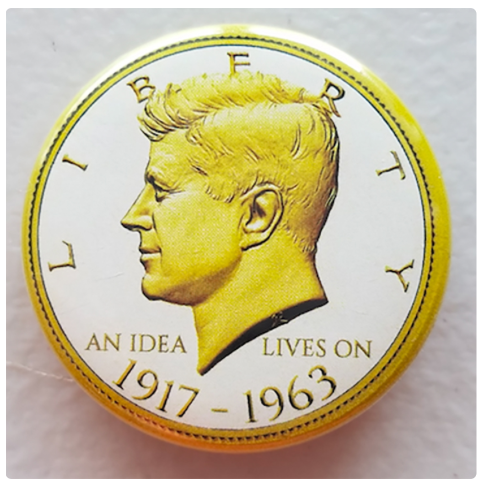 Without signs, speakers or entertainment; simply wear a "JFK Badge," as will be available free to each participant.
Petition by your presence for redress of this grievance: that over 15,000 documents related to JFK's assassination are still withheld, partially or in full, from public access via the National Archives, even without redaction-specific explanations of any purported "national security" justification, in violation of the 1992 JFK Records Act (Public Law 102-526).
Records of September 11, 2001 events similarly remain withheld from public scrutiny.
June 10th is the anniversary of the "Peace Speech" delivered by JFK in 1963 on the nearby campus of American University. In advocating mutual nuclear disarmament, JFK encouraged considering the perspectives of percieved adversaries (notably the Soviet Union, with 20 Million deaths in World War II) in pursuing the resolution of geopolitical tensions. JFK advocated adopting a "Strategy of Peace" between the nations.
As this message seems equally relevant today as 55 years ago, an MP3 audio of the speech will be played (for the edification of those present and in petition for redress of related grievances) via a single portable megaphone.
A video of JFK's 27 minute speech is available here, courtesy of CSPAN: https://youtu.be/0fkKnfk4k40 .
Please read this related OpEdNews story, to which is forwarded domain: www.AnIdeaLivesOn.net
Directions to The Kennedy Center by car (including on-site parking information) or via Metro (closest station: Foggy Bottom), are avaialble here: https://www.kennedy-center.org/pages/visitor/directions .
Organizer of Peaceably Assemble for Truth: From JFK to 9/11
Karl Golovin retired in 2007 as a Special Agent of the U.S. Customs Service, by then known as DHS/ICE. His ongoing investigative and public service interests include prompting: Full release of all JFK assassination records still withheld from the public; Awareness that the virtually unpublicized collapse of a third, 47 story building (WTC 7) in NYC on 9/11/01 undermines the entire "official conspiracy theory" of 9/11; Restoring respect for and adherence to the U.S. Constitution, especially the monetary provisions - why they were establised and relevance in establishment of a beneficial, geopolitically neutral, "Bretton Woods 2.0" internaitonal monetary agreement.
Contact information:  P.O. Box 1947, Alexandria, VA 22313-1947; (703)599-0567;  karlgolovin@gmail.com